Wi-Fi On Off For Google Android: Quick and Effective Wi-Fi Management from Your Home Screen
Overall Use (4 out of 5)
The team at CurveFish has a knack for creating ultra simplistic utility widgets for Google Android that are actually helpful when it comes to quickly launching certain utilities on the Google Android OS. Now available through the Android Market their WiFi OnOff application is in my opinion their most useful application to date.
In it's most basic terms the program works by placing a WiFi toggle switch on the users Google Android homescreen. The toggle switch itself only takes up one home screen cell space which means it doesn't get in the way of other apps as it's being used.
Here's a quick look at the Android app in action: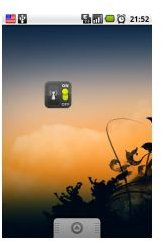 As you'll notice when the toggle switch is in the on state the toggle points to "On" but also the switch is a green "for go" color. If users tap on that toggle and deactivate their WiFi the toggle switch then points to "off" and turns red.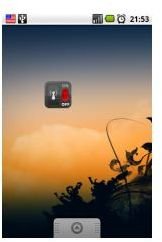 The program also offers the ability to add a secondary piece of information onto the toggle switch, a "settings" feature that allows users to see the actual WiFi settings, this is a great option if you want to figure out what your current WiFi settings are and adjust them to your needs, without having to go through various different menu options to play with your WiFi.
Here's a screenshot of the program with the addition of the WiFi setting: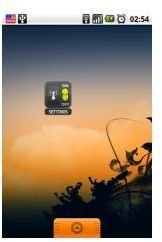 I appreciated that adding the settings quick launch button was just a matter of selecting that option from the program, it couldn't have been any easier. While the toggle switch can easily be moved around anywhere on the homescreen you'd like to place it, again more easy functionality for the device.
Conclusion
I know the program is extremely simple, but I'm constantly turning WiFi on and off and this was a great way to avoid menu options. I also appreciated that the developers appeared to put some real time into creating their toggle switches which offer nice rounded corners, great coloring and easy to read lettering, even if those letters are extremely tiny.
I also appreciated the quick launch settings option which adds to the WiFi access abilities of the application.
The WiFi OnOff Widget is free from the Android Market so you have absolutely nothing to lose by downloading it. Give it a try today and if you use WiFi on a regular basis you'll wonder how you lived without it in the first place.