SportsTap For Google Android. Simple Sports Tracker For Your Smartphone
Overall Use (3 out of 5)
I would love to have rated SportsTap higher because of it's intuitive user interface that's extremely simple to use. However the graphical part of the interface is rather plan and at times I felt like I was browsing around on a Motorola Razr more than on a Google Android device.
With that being said the interface is simple, just click on one of the nicely created icon on the main screen and you're taken to that sport. For example click "MLB" to check up on your favorite baseball team.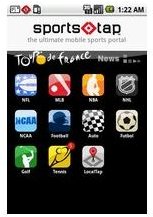 The amount of sports is rather limited, however as a U.S. phone user it had all of the "major" sports found in the United States including the NHL, MLB, NFL, PGA, NCAA, Tennis and even a few other sports thrown in for good measure.
Once a sport was clicked I was quickly taken to the main menu screen for that sport. In most cases this includes any recent news stories, standings and transactions (these may be trades or players called up from the minors). Along with season leaders and for team sports even upcoming schedules for the teams of your choice.
The actual screens are not all that impressive in terms of design, but they do offer the information you'll want and they load quickly thanks to their simplicity. A good example is the screenshot below featuring an in progress baseball game with up to date scoring: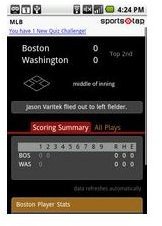 News stories are also simply laid out with just the text laid out for quick reading with no flashy formatting or other links that could slow down the application. News is pulled from Sports Network which means you'll get the most up to date and correct information possible from a trust source in sports news.
Aside from the simplistic layout for news, sports scores and standing the application also features a homescreen widget that's really handy for finding up to date scores from your favorite sport. Take a look at the MLB homescreen setup shown in the screenshot below and it's simple to see how this part of the app can be handy. Follow your favorite sports teams and their daily games by pressing up and down on the home screen widgets arrows to find more scores.
Finally users can mark their favorite teams to receive any important news and score updates directly onto their Google Android device. I placed the Chicago Cubs and Chicago Bears on my list and sure enough within a few hours I was receiving regular updates via my Android's notification screen.
Conclusion
Whether you're following one sports team or various sports across several seasons SportsTap is a great application for quick updates. The program offers a simple interface that lacks much of the Web 2.0 graphics I've come to expect from mobile applications, however with that being said the pages which are text heavy load much more quickly when using the T-Mobile G1 on the Edge network instead of 3G.
I loved the homescreen widget although more options such as a search function to pull up your favorite teams would have been nice and the ability to receive my favorite team notifications is still sitting on my application at the time of writing this application.
SportsTap is by far not the best sports tracking application I've used to date, but for a lightweight and FREE option I do like what it offers. You can download it for free through the Android Marketplace.
Give it a try, you won't be disappointed.