My Tracks for Google Android: Track Your Movement In Real Time
Overall Use (5 out of 5)
If you love to hike, bike, run, jog or participate in any other outdoor activities you'll love Track Me, a GPS tracking application developed by the programmers at Google. It's sleek, easy to use and 100% free.
The program is extremely simple to use, you essentially tell the program to start when you begin your journey and it begins tracking all of the important information from your jog, run or other activities. The program offers a simple tracking screen that shows the current speed your traveling, the distance you've traveled, total time spent traveling, the time spent moving when traveling, and even the elevations you have traveled. The program also includes your minimum and maximum speeds, elevation grades and gradients.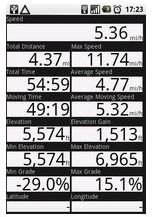 Aside from simply examining a grouping of numbers I also liked the ability to track my entire route via Google Maps. The mapping software is simple, just choose the Google Maps option and you're route is auto displayed with a bright red path that's easy to follow and pass along to your friends.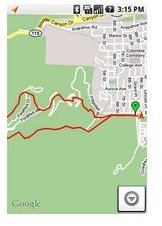 Users can also choose to export all of their route information into Google Docs for simple record keeping and for sharing records with other users who may want to check on your progress or see your best travel times. Your past maps are also saved inside the application so you can also choose your past maps if you want to follow the same path while trying to improve upon your old travel times.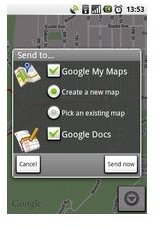 Conclusion
My Tracks is a competent GPS tracker, as it should be considering it was designed by Google Programmers. It's a lightweight application that runs perfectly in the back of your Android devices system while still allowing you to utilize any other applications you want to use at the same time.
Overall a great piece of GPS tracking software that I would highly recommend you try out. You can download it from the Android Marketplace directly onto your device.