FBabble for Google Android: Real-Time Facebook Chat Profile Management and Twitter Updating
Overall Use (5 out of 5)
FBabble is one of those unique applications that attempts to focus on several difference uses and actually succeeds in all aspects of its operations. Featuring a sleek Web 2.0 interface the app allows Facebook users to chat in real time over the Facebook chat function, while also allowing them to upload photos and change their status messages. However it doesn't stop there, it also includes a useful Twitter update function that's integrated directly into the application.
The main screen for the application is very well thought out, I was able to update my status directly at the top of the screen by simply typing in a new status and clicking the "OK" button. This made it easy to keep my network of friends updated with my newest messages. The screen also has a "Camera" button that's used to upload new photos directly into your Facebook account. I clicked on the photo option and chose a picture off my device by navigating to the correct photo folder and then clicking OK, it was that simple. Here's a look at the main updates screen: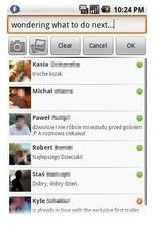 Underneath the main updates screen you'll find each of your available friends and their online status, red equals offline and green means online. By clicking on one of those users you're then brought to the live chat screen.
The chat screen is a fairly simple threaded message screen with a "Type Your Message" option and a "Send" button, once I typed my messages they were instantly displayed in my colored bubble on the screen, while my friends messages were in another colored bubble on the opposite side of the screen. This display allowed for quick and simple chat navigation.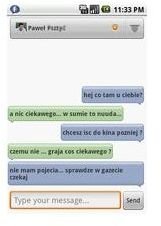 Finally, the program offers the ability to handle some additional functions, most notably you can choose the "Enable Twitter" option which will post your updated Facebook status messages to your Twitter account, ensuring that your entire network receives your updates. This is a great function, you simply set it with your Twitter account login information and forget about it, it couldn't be any easier. The program also offers text to speech functionality and TTS functionality with the simple press of a checkbox.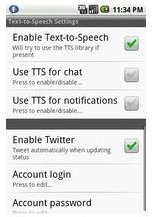 Conclusion
The FBabble application is extremely simple to navigate, offers quick updating for both Facebook and Twitter and displays information with a graphical interface that's optimized for ease of use.
If I could make one suggestion for future releases it would be that the developers include a check box that allows users to only post to Facebook or Twitter, rather than always to both. Perhaps just three buttons under the message updater that says "Facebook, Twitter, Both" or something along those lines.
Overall a great and 100% free application that every Google Android user should download from the Android Market.