Free Dictionary Org for Google Android: Competent Mobile Dictionary App
Overall Use
Using Free Dictionary Org on your Google Android device couldn't be any more simple that it already is. The program displays a single search bar at the top of your device which is used to enter in the word you're currently looking for: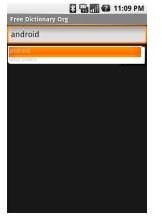 As you can see from the screenshot shown above, as you start to type in a word the program automagically displays possible matching word choices. I like to think of this as T9 for my dictionary searches. For example if you type the letters "Lov" you would see choices such as "Love, Lover, Loved, etc" and you can then click on the word you want to choose or complete the typing process and then click the large search button located just below the search bar.
There is then a slight delay as the application pulls up your words. This delay occurs because the application is sending a query command to Freedictionary.org where your word information will be displayed from.
Once your definition is displayed you'll see it pop up right under the search bar. The definition will also include synonyms, pronunciations and any other given information. I found on about 30 words that I tested that all information was complete with no missing synonyms or other information. I also loved the fact that the search bar stays on the screen, making it easy to search for other strings of words once I was done with my current word.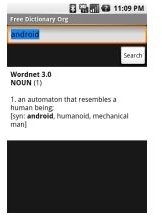 Finally, the automagic word displaying is great if you don't know the exact spelling of a word, simply type in the first 3 or 4 letters and the entire word will display in the list of available choses, at which point you now have the correct spelling.
Conclusion
Free Dictionary Org is a great application if you simply need to find the definition, synonyms and pronunciation or words. It queries a competent database from Freedictionary.org and it offers automagically found words which can help you when your not positive on the spelling of each word.
This application is free from the Android Market so you simply can't go wrong, give it a download today and enjoy your newfound dictionary browsing freedom.