Meebo for Google Android: Access All of Your Instant Messaging Accounts on One Interface
Overall Use (4 out of 5)
The online version of Meebo has long been a favorite of users who can't access a downloaded messenger application on their computer, but who still want the functionality those services provide. For example users behind a company firewall or users without administrator rights. The program works by allowing users to sign in via an online browser to all of their IM accounts at once (Google Talk, Yahoo, AIM, etc).
In the case of Meebo for Google Android the application is downloaded directly to the user's device for no cost, that's right it's 100% free at the Android Market. Once downloaded the program offers a crisp interface that mimics the companies online presence. Users simply choose an online account such as MSN Messenger and log into that account, they can then log into their other accounts while logged into that account. Here's the main login screen: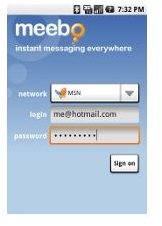 Once you've logged into your accounts the display is very simple to use, essentially all of your buddies are displayed with the symbol for the IM program their using shown next to their usernames. While each away message for your buddies is also displayed next to their screen names.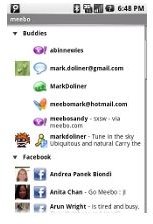 Once you click on any of your buddy's icons using your touchscreen device the main messaging window appears. I like the simple interface of the messaging window, it essentially looks just like the interface you see when using AOL Instant Messenger. Also when messages are typed each user's name appears along with a timestamp for the time of their messages. Finally the program offers a simple text input field at the bottom of each screen and input is accomplished using your device's keyboard for quick message entry.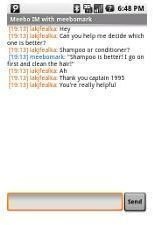 I would have liked to see more icons at the bottom of the screen to better switch between conversations and easy to access emoticon sections to give the application a more complete feel.
Finally, recent conversations appear at the top of the user's buddy list for a quick reminder of your recent conversations, while Meebo can also store your conversations so you can pull them up at a different time, a great option if you want to keep track of what you said during your last conversations with any of your buddies.
Conclusion
Meebo for Google Android is a competent IM application for your smartphone, it offers the ability to easily connect to multiple instant messaging applications at one time and it comes with an excellent interface that mimics the feel of AOL instant messenger.
I do wish there was more functionality for holding multiple conversations at one time with quick navigation buttons, but barring that fact it's an excellent and free application that I would highly recommend you try out with an Android Market download. For alternatives check out the best IM apps for Android.