Funny Jokes Android App Review
Overall Use (4 out of 5)
It would have been really easy to dismiss Funny Jokes if I hadn't decided to give it a try, the app created by the Swiss Code Monkeys at a first glance appears simplistic and bland. However, after loading the application I developed a new appreciation for it. Funny Jokes contains thousands of jokes in a variety of topics which include "Yo Momma" jokes all the way to "Chuck Norris Facts" and everything in between. Simply pick one of the available categories which also shows the number of jokes available, that's all there is to reading jokes: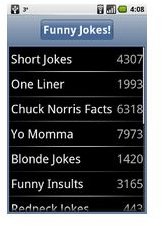 Once I launched into the jokes section I was pleased with the joke layouts. Jokes can be voted on by users and therefore it's simple to choose the "All-Time Top" option at the top of the display to see the funniest jokes according to the apps users, this is a great option for cutting through many of the horrendously not funny jokes that are contained in the application.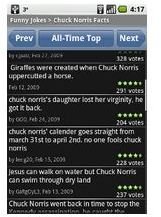 Unfortunately there is no type of search function, which means if there's 5,000 jokes you have to keep clicking "next" over and over again to read through the jokes, this isn't a huge detractor since knowing what to search for could be a hassle, although some sort of tagging system would have been greatly appreciated.
The program creates the "social networking" feel in several ways. First, the program allows users to create their own profiles which can contain a photo chosen by the user and a little blurb. The program lets users see the users profile when viewing their jokes and even see "more jokes from this user" and add the author to their favorites section. It's not the most complex profile, but it still allows users to find other users who share there sense of humor which is a big plus.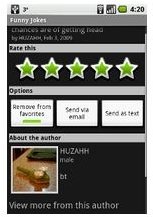 Also as you'll notice in the picture shown above, you can send jokes you find funny to your friends, family and co-workers by clicking on the "Send via Email" and "Send a Text" options. These options require you to enter in the users information or pull it from your Google Android integrated contacts information. Once you send your jokes you can simply go back to searching for more.
The program also allows users to add their own jokes which become attached to their own profiles, while also deleting jokes they no longer want to share and even flagging jokes that are inappropriate or possibly duplicate content already found on the site. Since flags are induced by users the site serves to be very much self regulating, like a Wikipedia of jokes.
Conclusion
Funny Jokes for Google Android is great application if you like to laugh during your day's busy schedule. The application acts like a funny jokes social networking site, although I would have liked to see the ability for a little more interaction between users.
This app is free via the Android Market and knowing what I know now I would even be willing to pay a few dollars for it. It offers a sleek interface, funny jokes and a good "Top Rated" jokes search filter that helps weed out some of the truly bad jokes that do show up on the apps servers.
Overall it's worth a laugh if nothing else.
References
Android Market, https://market.android.com/details?id=com.appspot.swisscodemonkeys.jokes