MyBackup Pro: A Simple Backup Tool for Your Android Smartphone
Overall (4 out of 5)
MyBackup Pro works like many of the mobile backup applications that came before it. The program takes the information you specify and stores it remotely (on your memory card or their secure servers) so you can access that information at a later time. However, the program also offers one of the best backup interfaces I've experienced to date, and plenty of customization options for choosing which files you want to backup (applications, contacts, call log, bookmarks, SMS\MMS, settings, shortcuts, alarms and more).
Analysis
When first launching the application, I was pleasantly surprised to see a finger friendly touch-screen layout that offered large buttons that are easy to press. This main menu gives users intuitive options to follow such as "Backup" or "Restore." It also offers the ability to create different backup sets using the "Manage" icon, while providing a data "View" section and a scheduler. I love that I can set a schedule for my backups, which I did for every 24 hours just to test out the application. If you choose to backup to your memory card, you just need to have it plugged in. To backup to their secure servers, you need to have a data connection. Here's a look at the main menu: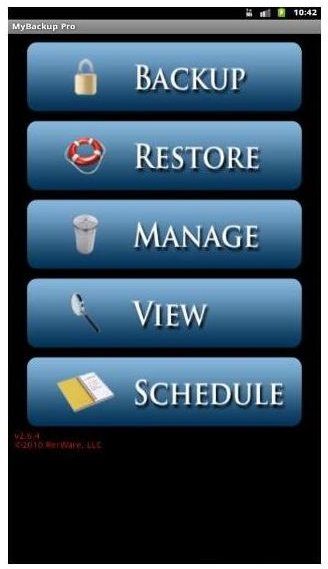 Choosing where you want to backup your files ("SD Card" or "Online") is also a simple process. Once the user chooses "Backup," they simply choose where they want to save their files:
I found that my Class 4 MicroSDHC card saved information very quickly and all data displayed on the card effectively. Users with slower cards should also have no problems as the information tends to be lightweight on devices and therefore any card speed should work quickly.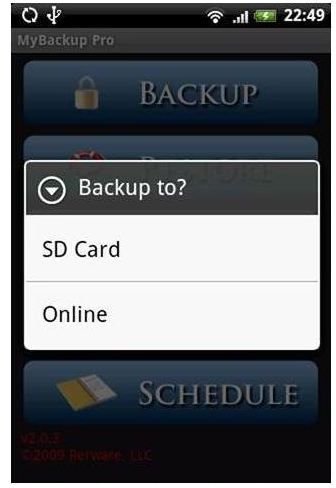 Finally, choosing which types of files would be backed up was also a simple process. The program offers a checkbox for each type of file such as "Applications," "Contacts," "Ringtones," "Music," "Videos," and many others. Users simply touch each checkbox to check or uncheck specific file types to back up and the program does the rest. I loved the fact that the application backs up anything from contacts to SMS and MMS messages and everything in between.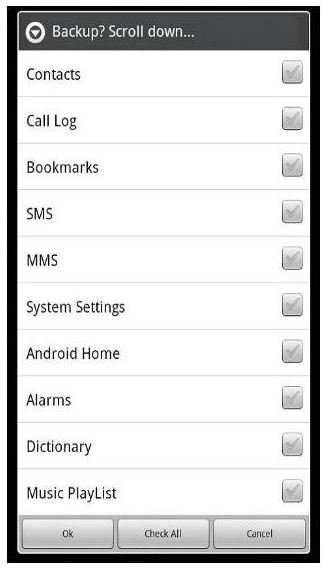 Final Thoughts and Where to Buy It
MyBackup Pro is a very effective, sleek and useful tool that can be picked up at the Google Android Market or the RerWare website. If you need to back up your data due to its important nature or you simply want to transfer your Android device's information to another Google Android device, this is a must have application.
I highly recommend backing up your smartphone's information on a regular basis and as of the time that I'm writing this article, MyBackup Pro is one of the best options for Android devices.
References