Dogcatcher for Google Android: RSS, Audio and Video Feeds
Overall (4 out of 5)
Immediately upon launching DoggCatcher I was impressed with the smooth interface that the application offers. The interface is very "web 2.0" with bright fonts, large icons and a simple user friendly interface that's second to none.
The first part of the application I tested was the RSS Audio feed. Using this part of the app I was able to scroll through my various feeds and automatically launch any podcasts I wanted to hear. The application as you can see from the screenshot shown below offers large and finger friendly play, rewind, fast forward and pause buttons.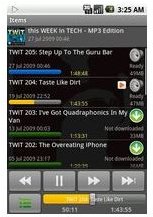 The audio (podcast) function also offers the ability to download files via WiFi and 3G and stream audio feeds over those same mobile data connections. The program also remembers where you leave off when stopping feeds so you can pick up from that spot the next time you launch the DoggCatcher app.
The program also offers video feeds which share a surprisingly identical feed layout, with one exception, a thumbnail included with each feed. The program also integrated with the Google Android video player, thus ensuring all Android supported files are supported.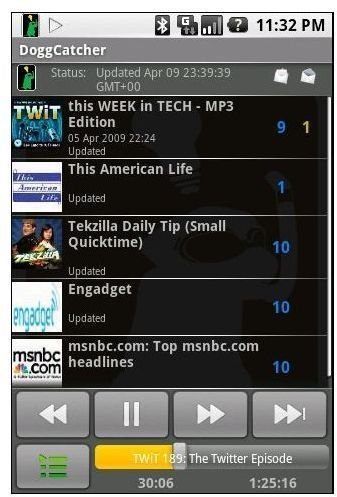 Traditional RSS users will also enjoy the simple to navigate RSS feed program that shows off RSS articles with full pictures and text. The program is perfect if you want to launch a single article or read various articles from a single feed. Just click on the next or previous tabs at the bottom of the screen, navigation couldn't be any easier.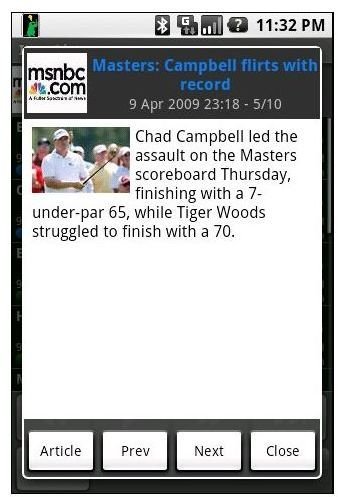 One of the most important aspects of a good RSS program is the ability to find new feeds and import your favorites. The DoggCatcher network offers over 100 feeds from major sites that you can choose to import, while also allowing for OPML and RSS 1.0 and 2.0 feeds.
The program can also be configured to auto delete files after a user specified time table and even auto update feeds based on the users own preferences, a great option if you don't have an unlimited data plan or your traveling outside of your coverage area.
Conclusion
DoggCatcher is simple to use, offers excellent downloadable and streaming capabilities and is fully integrated to work with the included video player for Google Android. If you're looking for a great RSS feeder I highly recommend heading over to SnoggDoggler and downloading this app.