Samsung I7500 Preview - Multimedia and Operating System
Samsung I7500 Preview - Multimedia and Operating System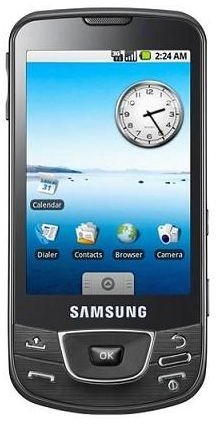 Multimedia:
The hardware in the Samsung I7500 is much better than in previous Google Android Devices. The specifications are much better than both - the HTC Dream (G1) and the HTC Magic (G2). It sports 8 GB of internal memory and has 128 MB of RAM and it's powered by the Qualcomm MSM 7200A CPU clocked at 528 MHz.
Besides all these hardware upgrades, the Samsung I7500 has the best multimedia capabilities of any Android phone currently available on the market. For example it sports a superb 5 MP camera with autofocus and a LED flash - a vast improvement on the G1 and G2's 3.2 MP cameras. It also shoots pictures at a maximum resolution of 2592 x 1944 pixels. It is also expected to support MPEG4, H.263, H.264, WMV and MP3, AAC, AAC+, e-AAC+, WMA, RA natively. It also has a built in FM Radio with RDS support. Android 1.5 also has a music player widget which runs in the homescreen.
Operating System:
The Samsung I7500 is going to be powered by Android v1.5 with cupcake updates. The latest version of the Android operating system brings a lot of improvements to it. Some of the notable improvements are the new Linux kernel version 2.6.27., the polished user interface, the performance updates which increase the speed of execution on most applications, the upgrades to the browser, the inclusion of the onscreen virtual keyboard, the addition of video recording support to the camera, the inclusion of stereo Bluetooth profiles - A2DP and AVRCP to the platform etc.
Even the developer API has had some significant changes which makes it easier to create new, powerful applications. There is also this new thing called Live Folders which is a mix of aggregated content in folders, the content can be anything from contacts, bookmarks, emails, feeds etc. The virtual keyboard is very functional and is available in both modes - portrait and landscape.
Overall, the Samsung I7500 is a great addition to the Android group.
In other news, even Sony has announced an Android based phone on Android v2.0 soon. Stay tuned for info on that device as soon as its available. Samsung released the new Samsung Galaxy S recently. Check out the Samsung Galaxy S Preview.
This post is part of the series: Samsung I7500 preview
A preview of the latest Android phone on the block - the Samsung I7500. Read on to know more about it.