Review: Yellowbook.com Mobile Search App for Google Android
What's New?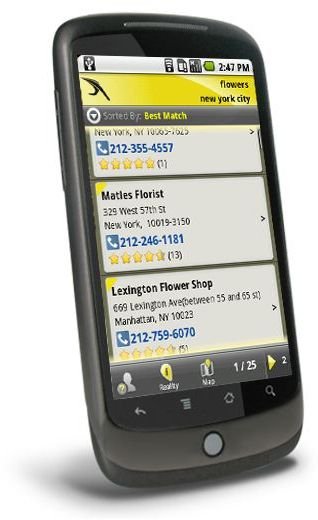 You are no doubt familiar with Yellowbook, and of course you can just use the web to get a lot of the same information, so the first thing you are probably wondering is if it's a worthwhile download.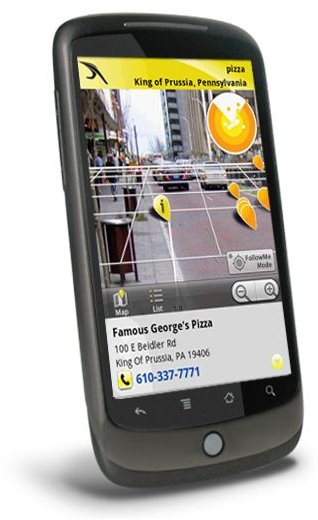 Actually there are many extras on the Android app that make it stand out from just a regular search for a business you might do on the Internet.
You can obviously do things like save to contacts, and voice search (which we've come to expect on most apps now), but there are also a few other neat things this app can do like using Google Maps and street view, and even augmented reality, which really does take your searching to a whole new level.
There's even a facility for you and other users to add reviews to certain entries, so if you're wondering whether a particular place is a great place to eat, you can check out the reviews beforehand. It's a pretty complete package, but how well does it work?
Overall Use
Is it easy to use? If you've used the Yellowbook.com website you should have no problem figuring out how to use Yellowbook Mobile for Android. This useful application allows users to perform business based searches using a variety of information types. The interface on this app is extremely easy to figure out. For instance on the main screen you simply type in the product or service you want to find, or the name of the business, and then the location (Zipcode, City, State or City and State). Here's a look at the main search screen: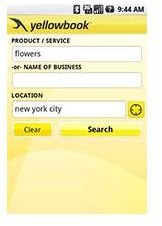 Searching
Once the search is performed, a list of all the available matches will be displayed. If you type a specific company you will see their page, if you use the option such as the "Flowers" search in the image provided above, you will be given a list of all flower shops and flower-related companies within the search area you used. Oddly enough, though, it shows the address for those areas and not the phone number on the main screen. Here's a look at that list: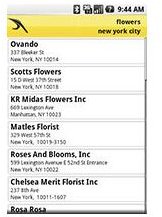 Finally, once you tap on the selection for the store you want to choose you'll be taken to the main business screen. On this screen you can find the phone number for the business, the business's website, videos for the business (if available) and Google Map directions to the store. If you want to call you can also click on the "call button" which will auto dial the business directly from your Google Android based device. You can also find the business hours from the main screen to make sure the business you want to visit is open.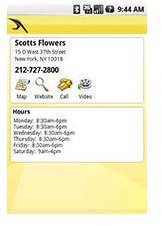 Make Use of the Extras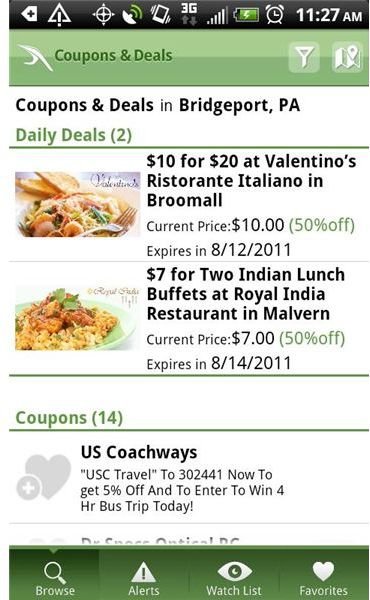 One of my favorite functions of this app, is the use of augmented reality. If you're in strange territory and just want to check what's around you, you can easily just use your phone's camera as a view finder to bring up loads of information about the businesses that surround you. See a restaurant you like that isn't open, a tap will take you to their website or you can call to make a reservation – you can also look for user reviews using the app before you do this. Of course there are great food and drink apps that do this too, but having it all in one place can be particularly useful.
There are also some hidden gems in this app – it can link you up with coupons and deals relevant to your whereabouts.
Disadvantages
Given the ease of use, added functionality, and the fact that this app is free, it's hard to find anything much to dislike about it. My main grumble would be that this app isn't available for Android users outside of the US. I think this would be a really useful app to have when traveling, so not being able to get it onto your phone for when you reach the US on a visit is a little annoying.
The added extras on the app do mean that sometimes getting a straightforward number can seem like a laborious process with more steps to go through than is probably necessary.
Other than that, there aren't really any downsides to using this app.
Conclusion
The Yellowbook.com Mobile app is an easy application for Google Android business based searches. The searches pull up quickly using the user's data connection and the functionality certainly matches the Yellowbook.com web page. Given that the application shows a full offering of business functions and is easy to install and to access, we highly recommend this great mobile search app.
Where to Get it
Yellowbook Mobile app is available on Android Market, or you can use the link in our references section to be taken to the Yellowbook website. From there, you just need to enter your phone number and a link will be sent to you to get it downloaded.
Alternatively, just visit the following link to download it through Android Market. [Download Link]
References