Sleepy Time for Google Android Smartphones
Overall use (4 out of 5)
If you've ever wanted one of those "natures sounds" sleep machines for your bedside you can now have one via your Google Android device. Sleepy Time allows users to choose natural sounds to play as they drift into slumber. The actual screen for Sleepy Time is very simple to use, basically you choose the sound that you want to use, then you choose the "sleep time" for the app, this is the time that the sounds will stop. Then simply hit the "Start Sound Timer" to begin your sound until time expires. You can also choose to stop the sounds by clicking on the "Stop Sound Timer" on the main screen. Here's a look at the easy to use setup: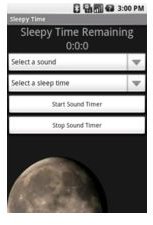 It's also easy to determine which sounds you want to run by browsing through all of the devices included sounds. The screen for these sounds can be navigated by simply swiping your finger up and down on the main sounds screen which is setup much like the iPhone choice screens.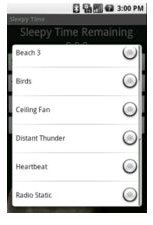 Sleepy Time will also run when your Google Android screen turns off which means your battery won't drain as quickly as it would if your backlit screen was left on, not to mention that you can fall asleep much more quickly if you don't have a bright light blaring out of your device. Simply tap your Google Android screen and your program comes back to life for quick access when turning off your sounds or when starting a new sound.
Conclusion
Sleepy Time For Google Android is a great sound machine for anyone looking to fall asleep to the sounds of nature. The program is easy to operate thanks to an intuitive and simple main screen and it offers great sleep functions with the ability to continually play while the devices screen turns off and thanks to the ability to set sleep timers so your sounds turn off after you fall asleep. It's a simple app but we liked it and we recommend it to anyone looking for a sleep aid.