Review: Alarming! Alarm Clock for Google Android Smartphones
Overall Use (4 out of 5)
The basic premise of Alarming! Alarm Clock is simple. Users program multiple alarm clocks as they see fit, but the app offers much more! For instance, users don't simply press a "Dismiss" option to turn off their alarms as they awake. Instead, they must answer a "captcha" puzzle. This is done by pressing only the lit buttons displayed on their Google Android device's display. Here's a look at an example of the "captcha" screen output: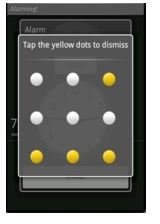 How to Use
Simply tap the yellow dots and your alarm turns off. Get it wrong, however, and you'll have to start all over until you get it right. If you tend to sleep in, this is a great way to wake up quickly.
Users can also set the volume for each alarm they choose to use. This volume can be set for one alarm or for multiple alarms. If you tend to wake up early and you have a roommate, you may want to set the alarm at a lower volume. it's up to you. The screen displays an alarm volume from 1-100 levels and you simply choose where to set it: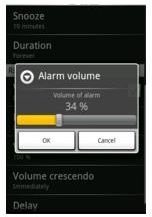 Next, you can choose to set multiple alarms and then attach notes to those alarms. The process is simple, just create the option to choose a new alarm and then set the time based on a twelve hour schedule such as 8AM or 8PM. You can also set "notes" for each alarm. In the screenshot, you can see the option to "Wake Up" in the morning and for "Tea Time" in the afternoon. The notes are set with the alarm, which means you are always entering the reason for the alarm before it goes live.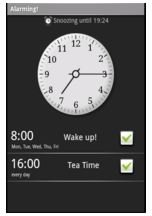 Features
The current version of Alarming! Alarm Clock has some great features. If you like to sleep in, the app allows you to simply shake your phone in order to set it to snooze. No more fumbling with your phone! The app also gives the user over 11 choices of alarm clock displays so you can choose which one you like and prefer to look at. You also get the choice of solving simple math problems instead of pressing lit display buttons in order to turn it off. This is good for those users who don't mind doing math problems in the morning.
Conclusion
Alarming! Alarm Clock is an excellent option for every Google Android user. Not only does it work easily, thanks to an intuitive design, it also offers a unique snooze option that can help wake up even the most adamant morning snooze button user and it offers easy to write and easy to read notes for your multiple alarms. Check out this alarm today and we promise, you'll be thinking of your "Snooze" button in a completely different way.
References