Review: Absolute Fitness for Google Android
Food Database (5 out of 5)
My favorite part of Absolute Fitness is the program's extensive food database and the ability to search foods by category and by food names. The database also offers a very "Web 2.0" feel that makes browsing the directory very simple. Here's a look at the category section. As you can see, the category results are listed in alphabetical order for easy perusal.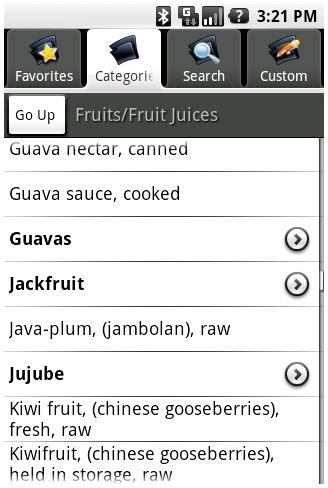 The Absolute Fitness food database also offers screenshots of "Nutritional Value Labels" which you typically find on the back of food items in your local grocery store. You can examine the serving size on the label or you can adjust the serving size if you're having larger or smaller servings.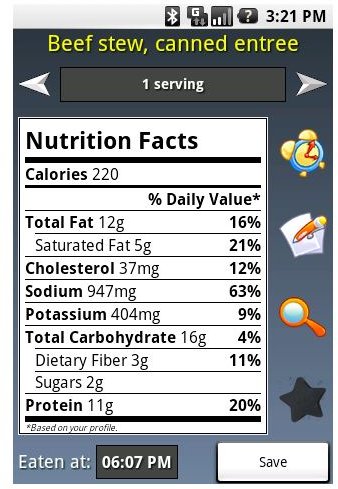 Overall, the Food Database offers thousands of choices with easy to navigate and very easy to read screens. If you want to find the foods you eat quickly and with accurate information, the Absolute Fitness database is a great option for Google Android.
Food and Activity Tracking (4 out of 5)
Once you've used the food database to find the items you're eating, you can then place those items into the included "Food Diary." This diary is a very effective way of tracking exactly what you eat. It features morning, afternoon and night tracking – simply choose the foods you've eaten and place them in the right part of the day. The program then keeps track of your food consumption on a daily basis. The food diary screen is, once again, very simple to use and offers easy to follow views.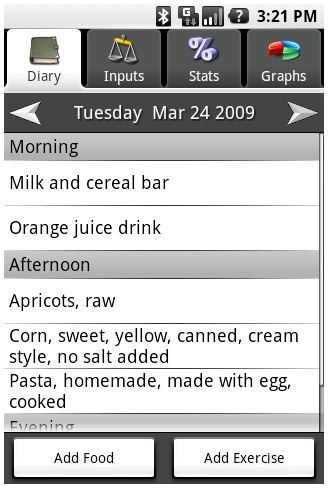 My favorite part of the program's food tracking abilities, however, was not the food diary, but rather the ability to track workouts and other physical activities along with other "external factors" such as the amount of sleep I had the night before (in hours) and the number of glasses of water I consumed. The workout screen allows users to pick from a wide variety of exercises while also providing a time input. Simply enter the amount of time you spent on the activity and the program will offer an estimate of the calories burned for that activity. The workout screen also offers a very nice "Calorie Override" which is a great option if your workouts are only moderately active and therefore may burn up less calories than a regular workout.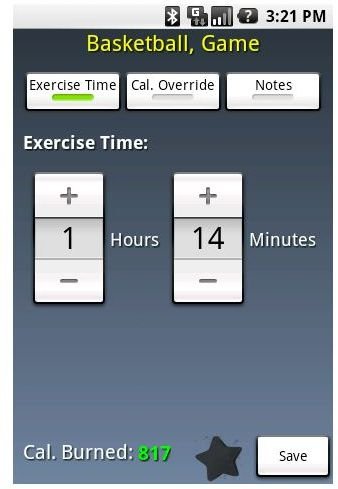 Whether you want a simple diary or the ability to fully track your daily routines right down to the exercises you participate in, Absolute Fitness offers something for everyone.
Personal Results Tracking (4 out of 5)
Absolute Fitness not only lets you know what you ate at any given time and the calories you've burnt, it also allows you to easily track your own personal changes in health. For instance, you can view your weight at any time, the goal you want to reach, the changes in your weight and your Body Mass Index easily. The screenshots below show the simplistic nature of this screen along with the sleep and water consumption screen. You'll also notice the nice "Notes" section where you can place any type of information you deem important.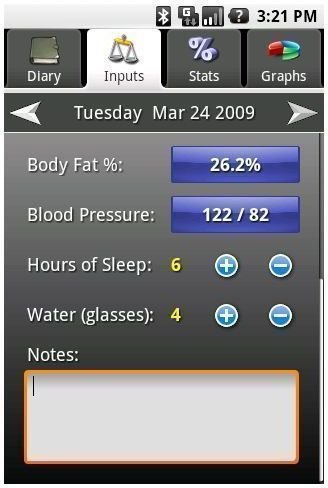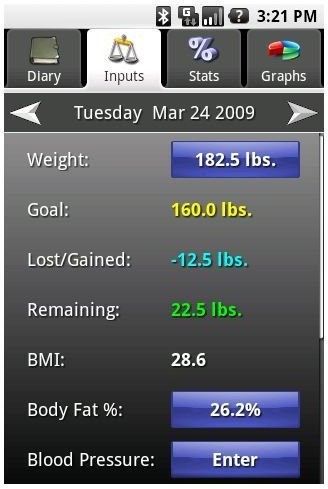 Custom Food Data and Exporting (4 out of 5)
While Abolute Fitness' food database is rather large, there will inevitably be foods that information is not provided for. In these cases, it is very easy to create your own food item information right down to the smallest of details such as calories from fat, saturated fats, serving sizes and other pertinent information. I was pleasantly surprised with the ease at which new items could be added.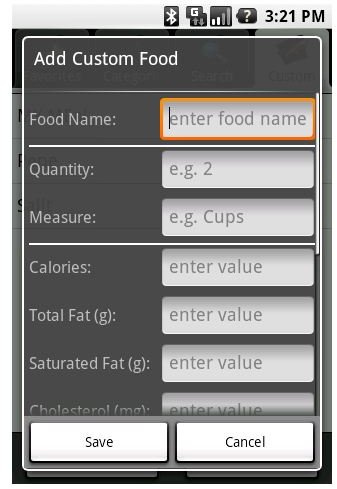 Finally, users have the ability to easily export all of their information from an easy to use export screen. I chose to download all of my information from a 3-day period by choosing the export option for "All Available Data." However, users can also "Specify Dates" if they want to check out just a certain period of time. I find the date option great if you splurged over the holidays and you want to look back after a long holiday weekend and see what you need to do to get back on track.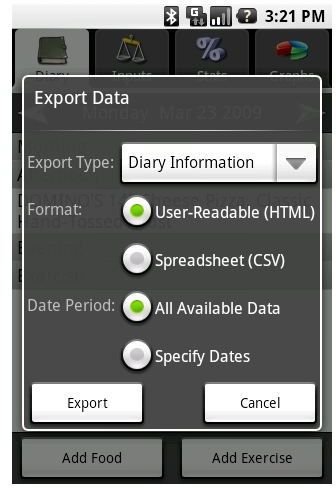 Conclusion
Whether you are attempting to find the nutritional values for meals and specific food items, want to track your workout routines and daily food consumption or want to track how close you are to reaching your own weight or BMI goals, there is something offered for everyone via Absolute Fiteness.
I highly recommend Absolute Fitness to all health conscience Google Android users.
References