Review: Tag-To-do-List for Google Android Smartphones
Basic ToDo Listings (4 out of 5)
The first ability found on Tag-ToDo-List is the option to key in new tasks that are then added directly to your ToDo list. Simply click on the "Add a new task to the list" option at the bottom of the screen and you can then use your on screen keyboard to type in a new task which then appears on that same screen. After you complete a task simply leave a check mark in the available box to close it.
You can also choose to create separate lists such as "Personal" and "Business" lists that can easily be pulled up from the top of the screen.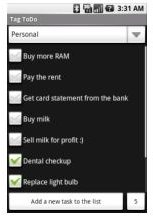 Doodle Listings (4 out of 5)
Sometimes a simple typed in note won't capture all of the information you need for later use, for that purpose Tag-ToDo-List offers the ability to draw directly on your Google Android screen, you can then save those images for later use by simply clicking on "Close and Save." Thanks to the excellent touchscreen abilities found on the T-Mobile G1 it was really easy to draw out mapped directions and create quick notes on the fly. Check out the screenshot below to see the app in action directly from the Google Android Market: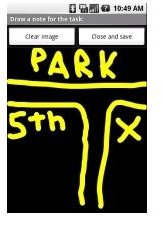 Voice Recorded Notes (4 out of 5)
Users can also choose to record their own voice notes and then access those notes through their lists as well, simple use the included voice recording option by clicking on the record button and stopping the message with the record button when your task is recorded. You can save those tasks again as Personal or Business messages as you choose.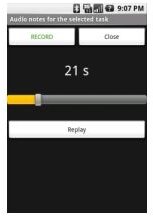 Task Editing (4 out of 5)
Once you have all of your tasks saved in your device there are a few very nice features you can use to manage those tasks. The first option allows you to set a determined number of tasks that are saved before others are deleted, by default this number is 50, however you can set your own numbers to lower or increase that number. This is a great option if you tend to change up your tasks on a regular basis, however if you need to perform a task on a regular basis you will have to add that task each time to ensure it remains on your list, however it sure beats manual deletion of old tasks.
Second, users can easily use the edit screens to perform options such as deleting tasks, editing tasks, moving tasks to a new folder and even adding task specific notes if your tasks are more involved.
Overall it's very easy to set new task parameters as needed via an intuitive user screen.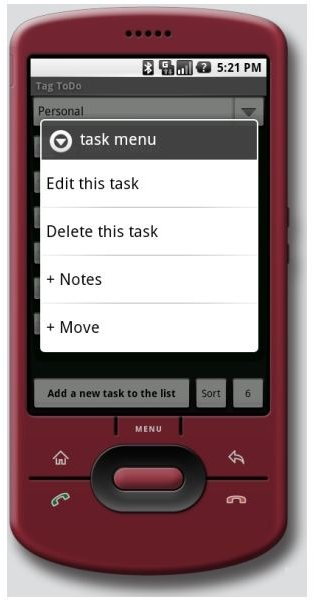 Conclusion
Tag-ToDo-List offers a simplistic yet useful application for all Google Android users. The application is free, it offers a nice clean user interface and it uses very little system resources. If you need a personal, business or personal/business To-Do-List App I would suggest giving Tag-ToDo-List a try, you literally have nothing to lose.