iMap Weather for Android Review: Weather Forecasts, Warnings, and Radar on Your Phone
How it Works - The Basics
iMap Weather for Android uses Doppler Radar data to display current weather conditions in each location a user selects by entering in the Zipcode, or City and State of the location they would like weather from, that information is then displayed including the following conditions:
Time
Temperature
Wind Speed/Direction
Sunny, Partly Cloudy, Rain
Humidity
Dew Point
Barometric Pressure
Sun Rise/Set
Visibility
The information listed above can be displayed for the current day, or it can be displayed for up to 7 days into the future. In terms of these offers the iMap Weather app isn't any different than a Fizz Weather or Weather Channel app.
Safety Is A First Concern
While iMap Weather may be similar, with its basic displays, to other mobile weather apps where it really excels is its ability to offer advanced weather notifications delivered right to your device as you enter hazardous areas.
The safety warnings use location based services to determine your area and local weather mapping abilities to alert you when you're in the vicinity of severe thunderstorms, tornado and flash flood conditions, high wind, flooding and Hurricanes, as well as heat advisories, winter storm conditions and ice or fog conditions.
Because location based services are utilized when you leave one area and head into another, your alerts will change to match the conditions found in your location, this is a great way to ensure you're kept up to date on all conditions in your immediate area.
The best part? Those notifications are sent directly to your Android Notification system, meaning you can pull down the notification window-shade and click to see the details for the event directly from your Google Android homescreen without actually opening the application and having to navigate to the warnings. I personally found this quick homescreen access to be one of the best attributes of iMap Weather.
"Smart Map" Technology
I don't know what WDT Inc. calls it but their mapping abilities are definitely top notch, for instance, users can take advantage of the "Follow Me" option which plots them against the weather map and offers suggestions as to the safest routes they can take to avoid severe weather conditions.
iMap technology also allows users to pan and zoom over map locations, each time the map is adjusted the information from the map is then updated assuring that each new view has the most accurate information available, it didn't seem to matter where I zoom or panned (in terms of directional changes) the information was every changing and easy to read.
Overall the mapping is excellent and with guaranteed 5 minute radar refreshes you're guaranteed to always have the most up to date weather information available for any mobile weather app.
Lightning Strike Warnings
iMap Weather for Google Android puts plenty of emphasis on its lightning strike reporting, users can find 25 of the most recent lightning strikes in their given area, while receiving time and location information for those strikes all throughout the United States and Mexico. It's a strange app for most everyday users, but it definitely showcases the application's ability to track weather and report on it quickly and accurately.
Overall (4 out of 5)
With easy to follow intuitive weather screens that display all of the pertinent data you'll need iMap Weather is definitely a top notch application. Where it really excels, however, is its ability to provide 5 minute radar updates that render themselves every time you pan and zoom on the radar map, while also providing their proprietary "Follow Me" function that allows you to navigate yourself out of harm's way. If you want a competent weather app this is a great way to go. It's free, it's intuitive and it works as advertised, what more could you possible need?
iMap Weather Screenshots: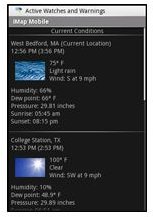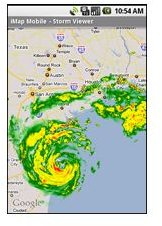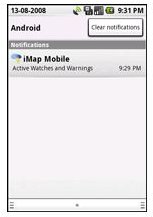 References
Android Market, https://market.android.com/details?id=com.weathertopconsulting.handwx