Review: Google Talk for Google Android
Google's All Around
Chances are, if you're reading this article, you're a fan of Google. From their popular search engine to their free online collaboration of Google Docs, the search engine company has their hands in just about everything. And now those hands have combined three important facets of our social communication - the cell phone, the chat or IM program, and the social network.
Google Talk is a little over five years old, first being released in 2005, but the popularity of the product has only grown, especially with its inclusion of both Gmail and the new social offering of Google+. Here, we'll take a look at the core of Google Talk and how its interoperability can help you, your friends, and even your business.
User Interface (5 out of 5)
Simplicity at its best – Google Talk has an easy interface, both as a desktop widget, enhancement online and even as a mobile app for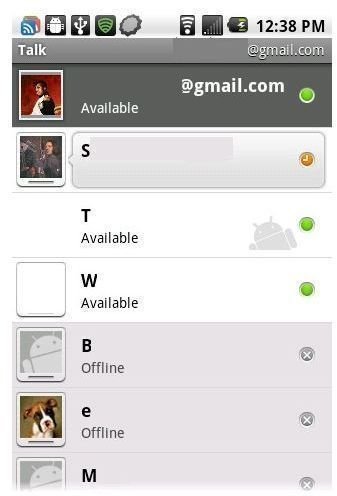 Android phones. In terms of the online integration, the small chat widget can be seen at the lower left hand corner for both Gmail users and now anyone using Google+.
You can view your chat list (which can either be your contacts or the people in your G+ circles), which can easily be collapsed and hidden if you don't want to be bothered. People who are currently online will show a green circle next to their names, while people who are away have a little time clock. Grey circles are for people who aren't on – however, you can still send them a message so when they are next online, they can respond to you.
The mobile app is just as straightforward. As I'm also using G+, Talk automatically lists the people that I'm allowed to chat with on G+ – their profile pictures are shown from G+ (obviously for privacy reasons, not all of my friends are shown here).
Chat Abilities (5 out of 5)
In all honesty, I had Google Talk already installed on my Samsung Transform and never actually used it. I didn't really see a point when I had text messaging, Twitter, and Facebook to choose from. This has all changed since getting invited to Google+. The mobile app allows you to send messages from your phone, as well as to have other people join you in the current chat for group chat. This is a great way of getting a hold of someone when they can't be at a particular place.
There's also the added benefit of being able to text from either your phone or desktop and then see the corresponding message show up on the same device. For instance, if I start a chat with my friend on my desktop and then need to head out, I can resume and check for any new messages from my phone. Then, when I return home, I can continue the conversation on my desktop again.
Seeing as I've only started using this in conjunction with Google+, I don't know if this was the case beforehand – either way, it's a very cool feature.
There's also the ability to take a conversation "off the record". This means that the conversation from that point to when it's back on, won't show up in your Gmail chat history. This is only for people with Gmail accounts, but is still a great idea in the case you need to talk about something private without it being found at a later date by someone you didn't want to know about it.
Features Not in Mobile (3 out of 5)
One of the features that is offered in the desktop and web versions of Google Talk is voice and video chat, something which is missing from the mobile version. Since this started out as a purely desktop interface, it makes sense that this would be something that people using their computers would use.
However, with the evolution of the smartphone, along with the availability of front facing cameras, the video and voice chat should be something that could easily be added to the mobile app. For many business travelers, the ability to attend meetings while on their smartphone would be a great way to keep in touch with work, without the need to miss that important meeting just because you aren't in the same office or even the same country.
With that said, the same thing is being suggested for the Google+ app, as the network has the Hangout feature for its site, so it'll be interesting to see which one of these will get the addition. Providing this for Talk would be a good idea for those who aren't on G+, but because the app is already a part of Google, it may be interesting to see if Talk gets merged in.
Overall (4 out of 5)
For Android users or Google lovers, Google Talk is a great program for talking to your other Google friends. The app alone is simple, with an easy to use interface and it's quick and simple to chat and add others to group chat. One thing that would probably upgrade the app for mobile would be the inclusion of video and voice chat, especially when it's a part of the desktop and online interface.
However, the inclusion of Talk into the new Google+ network could make an interesting move. G+ users have made suggestions to include the Hangout feature in the G+ mobile app, so it will be interesting to see if Google only does this for G+, if it includes it for Google Talk, or if it combines the two, allowing for both G+ and non G+ users to use video and voice chat on their smartphones.
Most Android phones will come with Google Talk already installed – to use the desktop app, you can download it below.
References