Cooking Capsules for Android Reviewed: Recipes and Instructions for Food
What is Cooking Capsules?
Cooking Capsules was a top 50 finalist in the Google Developer's Challenge and from the moment I installed this useful application, it was easy to see why. Cooking capsules provides easy to follow and delicious recipes that combine written word directions alongside video instructions for those of us who are more visual.
I personally tested the Cooking Capsules Taster edition as that was the only version available at the time. Below, I've included my overall experience with the program.
Overall Use
The Creators of Cooking Capsules are promising tons of instructional videos and recipes in the near future, however, the Taster pack only came with 8 recipes – four Indian and four French inspired recipes.
Each recipe's written instructions were easy to follow thanks to an interface that allowed me to put a checkmark next to each instruction after I had completed it. This was great for some of the longer recipes as I tend to forget where I left off (I get easily distracted).
Options
I also tested the included "Grocery List" option. This option allowed me to see all of the required ingredients needed for the recipe and then save any of those ingredients to my shopping list in case I needed to pick them up when I was at the grocery store. This is a great option, especially as the number of recipes increases and users continue to create new dishes on a more regular basis. Perhaps if you're like me and you try to get all of your bigger shopping tasks done once a month, you can use the new recipes as they become available as a monthly or weekly roadmap to show you what you need when shopping, creating a budgeted list that reduces waste. The shopping list option also allows you to increase or decrease the amount you want to serve, thus increasing or decreasing the amount of each ingredient needed. This is another great way to stop wasteful spending and prevent the overcrowding of your cupboard space.
Watching the actual recipes being created is by far my favorite part of the Cooking Capsules program. I'm a very visual person and being able to see how the recipe is actually created was a great way to put everything together in my head. The videos are shown directly within the program on the included and simplistic video player which offers a rewind, play and fast forward button. The screen was a little small on the T-Mobile G1, but it showed the food, the process for creating that food, and what the final outcome should resemble in enough detail to follow.
Here's a screenshot of the three options I've explained above: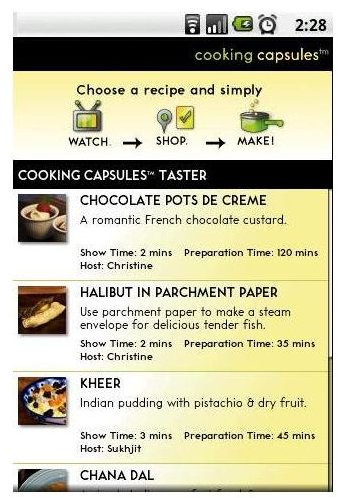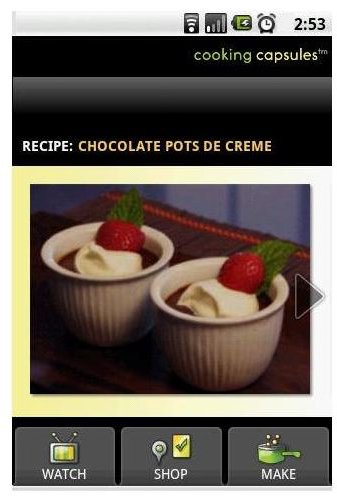 Conclusion
The Cooking Capsules program was not only a Google Developer Top 50 award winner, it has also been featured in Time Magazine, The Wall Street Journal, Time.Com, and Wired Magazine, and for good reason. It's basically a mini mobile version of the Food Network and with the promise of many more recipes to come, I'm personally excited to try out new recipes on a regular basis.
If you love to cook, need new recipes to try, or you simply want to learn how to cook, the Cooking Capsules app is a great way to learn the ropes without having to sit down in front of your TV to do it. I'm pretty confident that if you try out the Cooking Capsules Taster you won't be disappointed. If you like the Taster edition, you should also try the Brunch version too. You might also want to check out some of the other great Android cooking apps on the market.
References