Maverick App for Android Review: Share Photo and Text Messages with Other Droid Users
Maverick is a great way to stay in touch with your friends by extending text and instant messaging abilities through the use of the programs "Scribbles" technology. Scribbles and other Maverick offerings such as a look at the program's contact screen and IM capabilities are also listed below.
Contact Screen (5 out of 5)
Maverick features one of the best laid out contact screens I've seen on a mobile social networking application. The top of the screen shows when the user is online based on a green or red marker, while each of the users contacts on their friends list also feature a green or red market next to their name to show their online status.
The contact screen also shows the away message of each contact such as "Away From My Computer" or "Available" which makes it easy to know if your contacts are available for chat.
Next to the users name is their avatar (a picture chosen to show with their name) if a red marker with a number appears that means the user has left a voice or text message which can be displays by clicking on the mailbox that will also have a red market with a number that indicates the total number of messages left by all contacts combined.
Overall the Contact Screen is simple to use and has a very good Web 2.0 feel to it. Take a look at it below: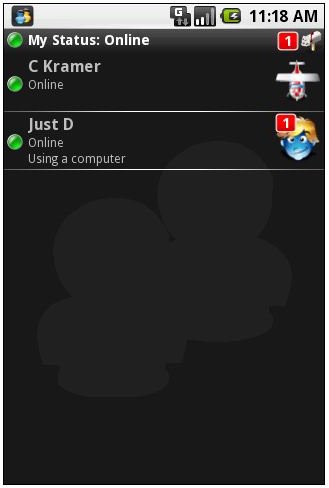 Conversation Screen (5 out of 5)
The Conversation screen is a dynamically changing offering that allows users to keep track of their most recent text and IM conversations with their contacts. For instance, each newest message appears at the bottom of the screen and shows whether the user has sent a simple text message, photo, location info or a "Scribble" which is basically a picture message with added detail, i'll explain scribbles later on in this article. Each message type is shown based on a picture next to the users name.
Here's a look at the the Maverick Conversation Screen: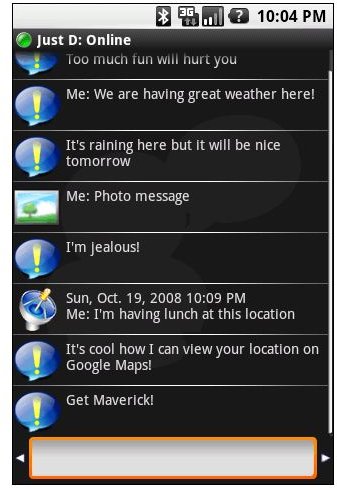 Each user will have their own conversation screen and each screen can be easily accessed by simply swiping your finger left or right across your devices display which will bring up your next conversation.
Overall the conversation screen allows for easy access to many different types of messages and its easy to pull up new and past conversations as they become available. The conversation screen combines on screen access to text messages and integration with other multimedia offerings to create an easy to use, dynamically changing interface of expanding user to user messages.
Scribble Messaging (4 out of 5)
I like to think of "Scribbles" as a dumbed down version of MS Paint (If that's possible). Users have two options with Scribbles, they can simply use their finger to draw out anything they desire, or they can actually take an existing photo and create scribbled on top of those photos. In order to take full advantage of photo scribbles the program offers several editing tools including a brush, the ability to draw rectangles and ovals, and even a "text" drawing tool.
Here's a look at the well thought out Scribble Editor: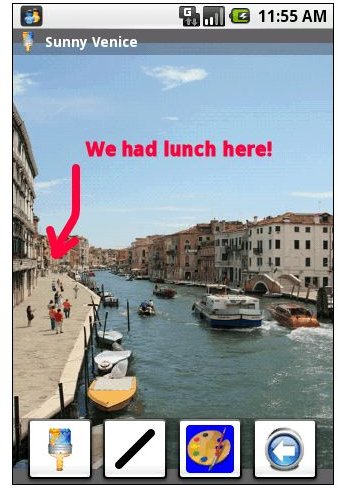 Google Maps API Usage (5 out of 5)
In order to really compete in the quickly growing Android Social Networking market applications need to enable Geo-Location tracking and the Maverick App uses Google Maps to the fullest of their abilities. The Geo location based services on this app allows user location information to be sent directly to their contacts messaging screen (As shown above), at which point their friends can access the message and see their location. The program also allows users to send their location directly to their blog.
Along with a simple location the program also allows messages to be attached to the location and when locations are attached to a message users who receive them can even pull up their own locations in relation to the location messages they've received.
Here's a quick screenshot of the Google Maps API: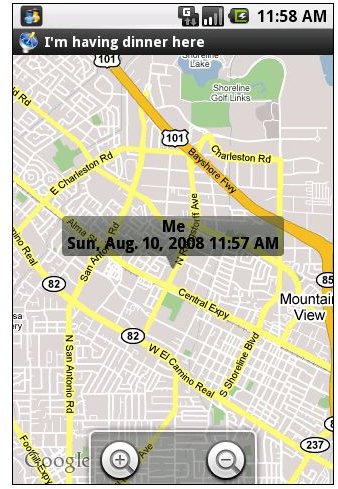 Inbox Capabilities (5 out of 5)
The last important part of this application is the Maverick Inbox, an offering that allows users to quickly and easily pull up their Gmail's inbox messages and to find IM Invitations from people in and out of their networks.
The Gmail part of this app involves the user clicking on a message at which point the Gmail client is opened on their mobile browser, users then need to sign into their account to retrieve their messages. Is this the most convenient way to receive Gmail messaging? Probably not, but it does add in more Google services and its a great start for this new application.
Here's a look at the Maverick Inbox: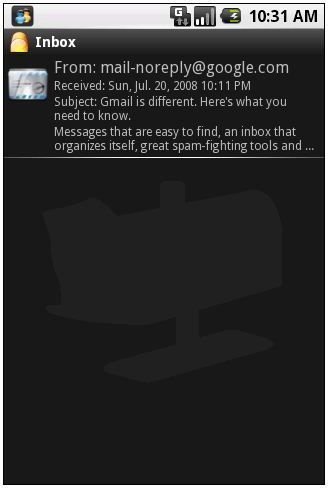 Conclusion
Maverick is a well thought out and useful application, the programs geo-location based services are top notch, especially combined with the Google Maps API service which comes standard with the app, while the Maverick App also allows users to take advantage of a fairly competent yet simple photo editor program. I would have liked to see a better email handler, but overall the app works well, has a great interface, and couldn't be more simple to use.
If you want to stay in touch with your friends while adding new messaging abilities, I highly recommend taking a look at Maverick for Google Android.
References
Android Market, https://market.android.com/details?id=com.codesector.maverick.lite