IM+ Android App Review: The All-In One Messenger
What Can it Do?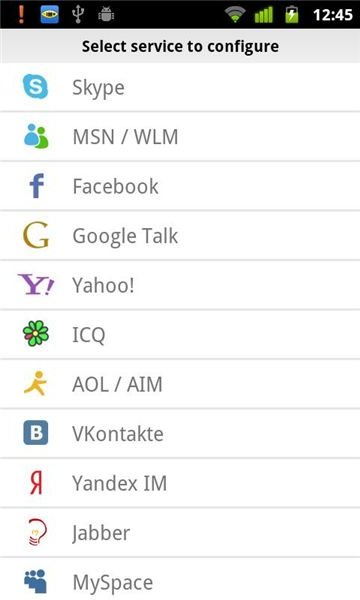 IM+ for Android is the best instant messenging app period for your Android smatphone or tablet. It supports a variety of clients and seamlessly integrates them into a single buddy list so that you can easily keep up with all of your friends from a single screen no matter what service they use. Here are several of the popular services that it can support.
Skype
Facebook Chat
AOL Instant Messenger (AIM)
MSN (Windows Live Messenger)
Google Talk Chat (GTalk)
Yahoo! Chat
Myspace
ICQ
Total Functionality (4 out of 5)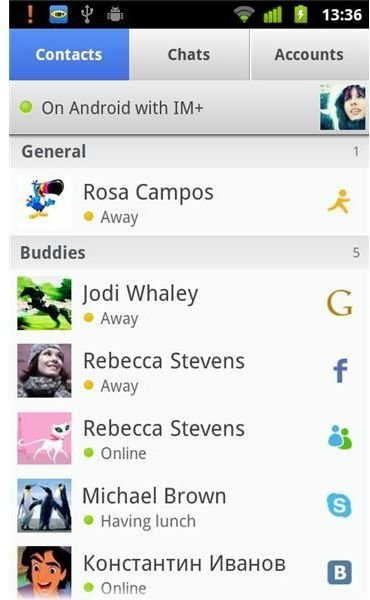 IM+ All-In-One Messenger does more than just deliver mobile messaging, it allows users to send those messages using their mobile devices data plan rather than spending money on a per message basis.
One of my favorite features of the IM+ program is the ability to access multiple messaging programs from one single window. Essentially your friends lists will be combined into one easy to follow and even easier to access IM window. This is great for consolidating your messaging to a smaller display size, a precious commodity on a small handheld LCD display.
I also liked that I could set my status message and have the message display across multiple IM applications at the same time, with no need to individually set messages on each program. I use Yahoo, AIM and Google Talk and this is a nice convenience considering how much I tend to to change my status and messages as I head into meetings throughout the day.
The app also allows for full emoticon support. The collection of emoticons are pretty standard fare, but they serve a purpose and are easy to access via the device's controls and touch screen abilities.
The application also offers easy to pull up screen options, for instance, you can click on the "Active Chats" option to pull up a list of your current conversations which is a great time saver, while your buddies list can remain on the front of your screen when you're not messaging, this I found to be a great option when I just wanted to see who was online without having one or two conversations crowd up my screen.
Usability (4 out of 5)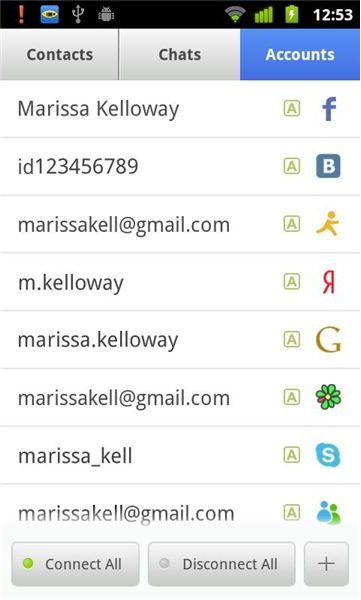 IM+ is extremely easy to use on any device. This free Android app can be downloaded from the Android Market (link below in References). The paid version is $9.99 and is probably not worth it just to remove the ads. $10 is pretty pricey as far as mobile apps go. The life free version has all of the functionality of the paid version, except with ads, which does not affect the usability, making it a great deal.
The hit on battery life from running IM+ is quite noticeable. On my HTC Sensation on a given day, it pretty much takes the battery down below 20% (wheras before it would reach about 50-60%). This is definitely not an app I would leave open the entire day, which is unfortunate given that it's such a useful communication tool. But since I don't have time to chat the whole day, it does work out alright.
Improvements
Other than the battery issues, an addition that we would like to see to the already stellar IM+ app is the ability to voice and video chat from the app itself. Currently, you would have to download the official Skype or Google Talk app to video chat for example. Also notably lacking among the chat service providers is Twitter and Google+. The app, though, is still great for what it can do and how many potential apps it can replace on your phone. If you need those other features, it's probably best to also download those apps and use those when you need to (to video chat).
Final Verdict (4 out of 5)
Overall, the ease of use and ability to learn the application quickly made for a great experience. I've used IM+ on Windows Mobile devices and I found the Google Android version to be on par, if not much better than the WM version thanks to the cleaner screen designs and the consistent updates for Android since its release back in the early days of Android. I think that you will find that it supports most of your needs and probably most, if not all of the chat services that you currently use. It will free up some space on your phone and allow you to consolidate all of your chatting into one convenient little app. If you use one or more chat clients, it's definitely worth the try and free download.
References