Android 4.0 Ice Cream Sandwich Review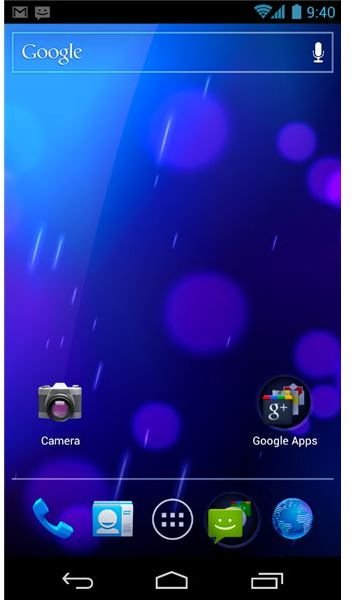 The Android platform has been growing more and more popular, but it always falls prey to the same criticisms – it's difficult to use and the platform is fragmented. Ice Cream Sandwich addresses both issues by offering a unified platform for smartphones and tablets, and by presenting the most intuitive version of Android ever. There are plenty of new features and some great tweaks.
It Has Got the Look and Usability
Ice Cream Sandwich takes the best from Gingerbread and Honeycomb. The interface is extremely clear and there's plenty of black (possibly to help save battery life). The Notifications bar pulls down as before and displays everything you need at a glance. To remove an item you simply swipe off to the right. The home screen has plenty of space for resizable widgets, which is great because you have a large choice of widgets as standard now. The widgets can update in real-time and they are scrollable. They can be chosen from their own labeled panel in the apps menu. You can also drag shortcuts to apps from the apps menu and long pressing on the home screen is now reserved for changing wallpaper. At the top of the home screen there's the Google search feature and the bottom is home to your four shortcuts which are Home, Messaging, People and Internet by default. Under that you've got the new three virtual button set-up offering Back, Home and Latest Apps. The Latest Apps button brings up a list of your recently used and running apps with thumbnail views of the last content you viewed. You can simply tap on one to launch it or swipe off to the right to remove it from the list. For organizing your apps the folder system is easier than ever. Simply drag an icon on top of another and a folder is created. You can tap to rename it. Each folder displays the stacked icons of the first three apps it contains; so recognizing the folder you want is easy. The touch screen keyboard has been tweaked to improve accuracy and you'll find very few mistakes when typing. The auto-correct works well and you can add new words or get replacement suggestions easily. The interface looks great and it is very easy to use.
Face Unlock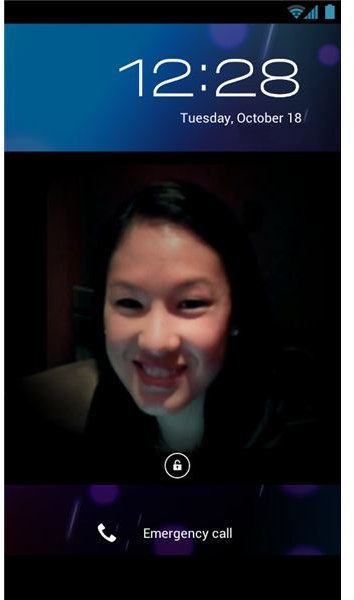 You now have the option to unlock your phone by allowing it to scan your face and recognize you. This is a bit of a gimmick right now and you'll find the PIN or pattern unlock options are faster and more secure. The Face Unlock doesn't always recognize you and it can be fooled by a high resolution photo. It is a bit of fun though.
Android Beam
This nifty new feature uses NFC and allows you to transfer content from one phone to another. Say you have a YouTube video or a map and you want to share it, simply hold the phones close and tap share and your screen is beamed across to the other phone. The other potential uses of NFC such as Google Wallet and multiplayer gaming are more exciting, but Android Beam is very handy.
Calls, Messaging and Contacts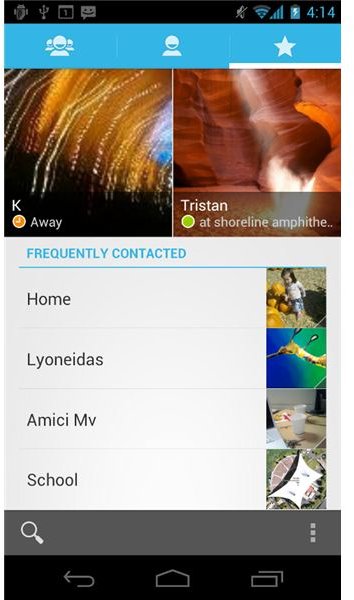 The People app has been overhauled so it looks much clearer than before with large photos of your contacts in the Favorites tab and consolidated information from their social networks. There's also Google+ integration which is great if you use Google+. You also have quick text message responses now for when you can't take a call and you can create your own custom versions. This is great for letting the caller know you'll get back to them later because you are in a meeting or otherwise engaged. The voice recognition has also been improved and you can dictate text messages and emails to your phone and see the text appear in real time. This is great for hands-free operation.
Internet Browsing
The Android browser has always been pretty good, but the Ice Cream Sandwich version is even better. It is extremely fast and smooth in operation. It supports up to 16 tabs and you can view them in a thumbnail list and swipe tabs off to the right to close them or just tap them to open. You'll also find you can go Incognito like with Chrome on your desktop for private browsing sessions. The glaring omission is Flash, but it will be along by the end of the year.
Camera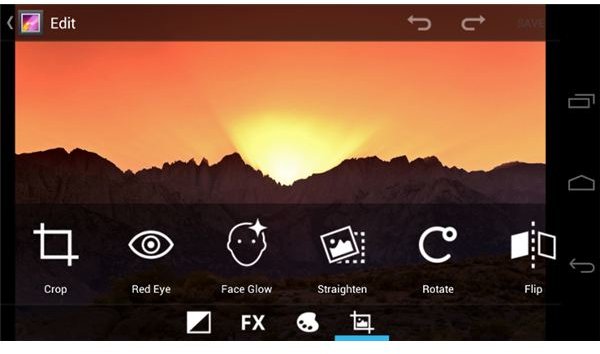 Perhaps the biggest area of improvement is the camera app. It is much faster than before and there are far more options for setting up your shot and then for editing it after you've captured it. With zero shutter lag you can capture photos quickly and the time between shots has been dramatically reduced. The scene modes are good and the auto-focus or tap to focus work well. You can also tap to capture shots while you are shooting video which is pretty nifty and there are some real-time effects. You'll also find a bunch of effects and filters of the type you'd normally get in a photo editing app and you can capture panoramas. It's also easier to organize your photos and videos into albums. It's also worth mentioning that you can now capture screenshots too. You just hold the volume down and power button and a shot of your screen is saved to your gallery.
Gmail and Calendar
Both are faster and better looking in Ice Cream Sandwich. With Gmail you can swipe to look through your email messages, you can get a cache for viewing offline and it's really fast. You'll find that swiping and pinch-zooming have been added to the Calendar for easy navigation. Nothing major, but all welcome changes.
Data and Battery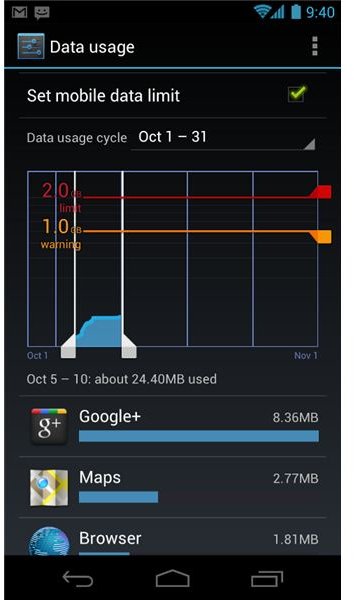 Since a lot of data plans have limits it is very handy to be able to review how much data your apps are sucking down. You can check out a graph of data usage to see which apps are the main culprits and you can even set alerts and limits to avoid any overage charges. You can also see a graph for battery usage and find out which apps you should be limiting or turning off to preserve that battery life. It's always an issue with smartphones so this is very useful.
Verdict
Ice Cream Sandwich is the best version of Android yet and it combines the customization options you are used to with a more intuitive and attractive interface. The range of small tweaks and improvements will take a while to discover. Little things, like being able to access music controls from the lock screen and notifications bar are great. Overall Android 4.0 is extremely good and it stacks up well against iOS 5. It's still not quite as slick, but it makes up for that with customization options galore. For first time Android users it will prove intuitive and enjoyable to use and it offers enough that's new to please Android veterans as well. It launches on the Galaxy Nexus and it will be rolled out for a few high-end Android smartphones in the near future. We can also expect to see it on a wide range of new smartphones and tablets in the coming months.
References