Pixlr-o-matic Review: Create Nostalgic Shots on Android
Photography apps can be a lot of fun. They allow you to edit your photos to remove blemishes, add effects or filters, and make all sorts of other creative tweaks and additions. The Android platform offers loads of great options so it's tough for any new app to break through the crowd, especially if the focus is retro effects. Pixlr-o-matic is a new offering from Autodesk Inc. and it is really impressive. It's also completely free.
First Impressions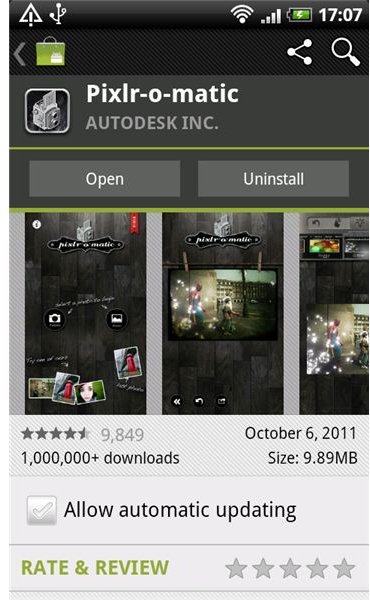 The Pixlr-o-matic app is easy to download and install and it starts up quickly. My first impression was that this is a polished app with a very simple interface. It has a nice style to it. The app is just under 10 MB and you can move it your SD card. It works very quickly compared to many other photo editing apps and the effects are impressive. I especially like the fact that you can layer up your images with a color filter, a lighting effect and a border. It really is as easy as one, two, three.
User Interface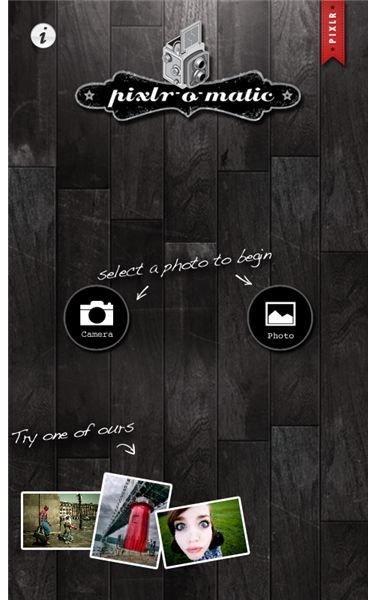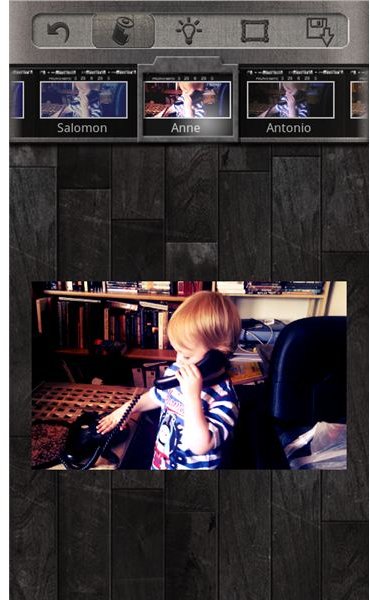 The initial menu screen allows you to choose an existing photo on your phone or take a new one. Once you have the image you want to play with you'll find yourself at the edit interface. This is well laid out and super easy to use. Your options are – Back, Color Filter, Lighting Effect, Border and Save.
The Color filters are all named using various male and female names. You can tap to select or swipe to scroll through them. The filters are applied very quickly so you can instantly see the impact on your photo. I counted 25 color filters to choose from.
The Lighting effects work exactly the same way – you simply tap to select or swipe to scroll through them and the image is updated before your eyes. The names are a little more descriptive than the color filters but you'll still want to have a flick to really explore the options. There are currently 30 different lighting effects to choose from.
The Border is next and you can choose from all sorts of options including a Polaroid style border, a scrapbook frame and a film strip effect. There are 31 different borders to choose from.
Pixlr-o-matic has obviously been designed to be easy to use and it succeeds in this aim.
Save and Share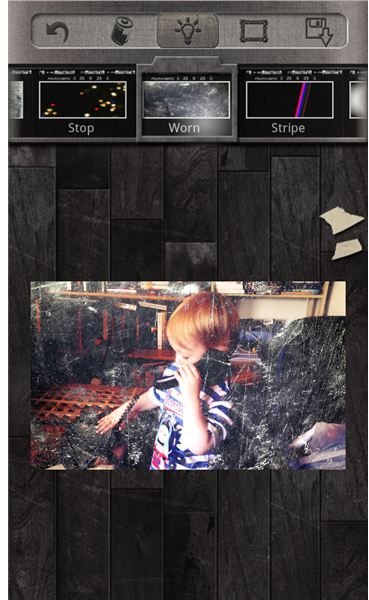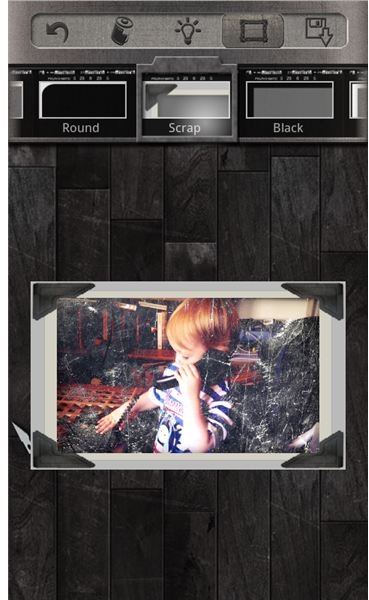 Once you have an image that you are satisfied with you can save it or share it. You can choose to save it on your SD card or you can share through the usual options – Facebook, Twitter, Flickr, email, Picassa, etc. You can export the photo as small, medium or large. You can also use the imm.io service to share your photos.
When you load the app back up it will display your last photo on the main splash screen so you can easily go back and tweak it again if you want to.
The Results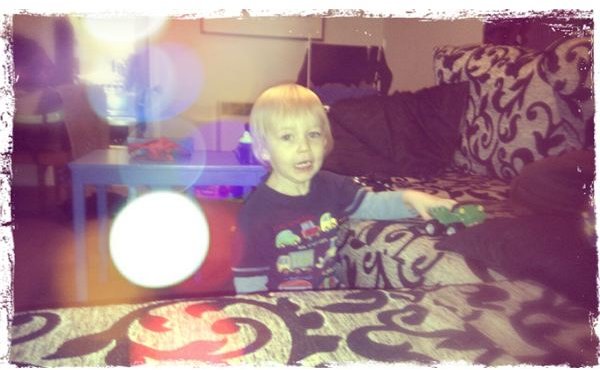 With the three options for editing each photo, you end up with a huge number of possible finishes, the app developer says 25,000. Assuming the original photo was high definition you can also save it in HD, but the size option as you export is a welcome addition. You can decide on the quality based on what you are going to do with the photo.
The results are great. The real attraction here over some other apps is that you can very quickly apply a number of different effects and see how they'll look immediately. You don't have to wait for processing. The fact you can layer them and flick back and forth between your selections making changes is great. The app is a lot of fun to use and the final images look really good. It is only when you save the images that you'll need to wait for it to process, but even saving a large image is surprisingly fast.
This is retro photo editing heaven. It is accessible enough for anyone to use it. You don't need any real photography knowledge to get some great looking results. It is definitely one of the fastest and easiest to use photography apps on the platform.
Pixlr-o-matic is also completely free and it doesn't even have any adverts in it. There's no reason not to give this app a try. If you want to create some nostalgic shots with that authentic retro feel then it's a winner.
Here are a few more of my favorite Android photography apps to check out.
References