Titanium Backup Pro Review
Why do you Need a Backup App?
You can back up your SD card by hooking up your phone to your computer, and you can use your Google account to back up and restore the apps you've purchased or downloaded from the market, but you'll need an app like Titanium Backup if you want to back up your settings and data. With the exception of a few apps, your saved data is stored in the data partition of your phone, so you'll need root access to make use of this app. While Titanium Backup shouldn't have any problems with your apps and games, if you try to transfer any of your system settings to a new phone, or even a different style of ROM, you might find yourself running into issues.
Ease of Use (5 out of 5)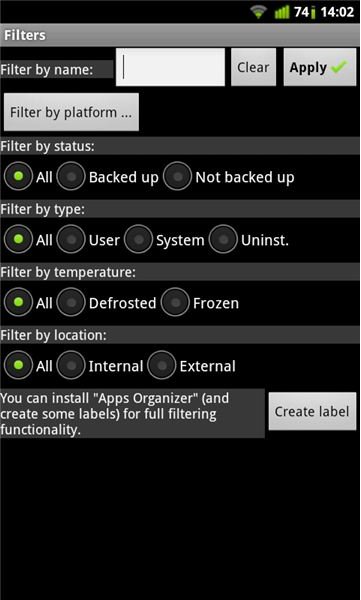 Titanium Backup Pro can be as easy or as complicated to use as you like. In order to take a full backup all you have to do is open the app, press menu, batch and choose from a selection of preset backup operations. I like to use "Backup all user apps + system data", because it backs up all your system settings (things like your stored Wi-Fi networks, SMS and call logs) as well as all your installed apps and their settings. That's all there is to it, everything is backed up to a folder on your SD card, so you can easily transfer it to your computer for safe keeping, or put the card into a new phone. Restoring the data can be as simple as choosing from one of the restore batch options, but if you use the free version, you have to manually confirm the installation of each app, so it's well worth the $5.99 asking price just to avoid having to do that.
Flexibility (5 out of 5)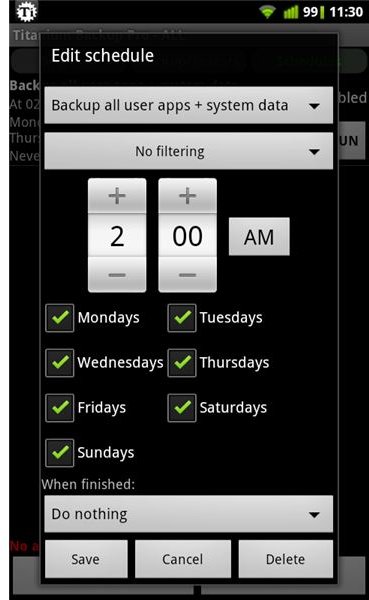 It's all very well being easy to use, but if you still need to remember to make a backup, there's a good chance you won't have one when you really need it. Fortunately, Titanium Backup allows you to schedule backups, so you can run them on a daily basis at a convenient time. You can also set multiple schedules, so you could, for example, only backup modified data on a daily basis, but do a full backup every few days, or once a week. Although, you are limited to setting the schedule by day, so you have to run something, say every Sunday, or every Monday & Friday. If you run a schedule overnight, you also have the option to reboot your phone after it's finished, giving you a fresh phone at the start of the day.
Features (5 out of 5)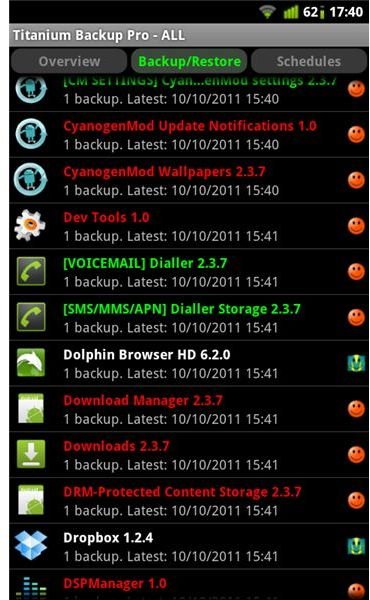 Titanium Backup Pro can do more than just backups, as well as the batch options, you can also see a full list of every app you currently have installed, along with all the apps you have previously backed up that aren't currently installed, which can give you access to a huge library of apps, without having to redownload them from the market. This list is conveniently ordered and color coded, but if you've got a lot of uninstalled apps, you might have to wait a few seconds for it to sort them into the correct order.
As well as backing up and restoring individual apps, you can freeze them at their current version to prevent updates appearing in the market. Long pressing on an app opens another menu, giving you options to attempt to move the app to/from the SD card, install the app as a system app and attach/detach it from the market.
There's also a wealth of options in the preferences section, allowing you to set the number of backups (default to 1 per app), change the storage location of the backups (useful if you have a device with both internal and external storage), or even backup directly to your Dropbox account.
The Verdict (5 out of 5)
Although it's perhaps a little more pricey than some apps and games, Titanium Backup Pro is worth every penny, but only when you really need to use it. If you just want to keep a simple, peace of mind backup, then the free version will do everything you need, at least up until the point where you have to restore a backup. Some of the other features covered in this review, such as Dropbox integration, freezing apps, multiple backups per app and converting apps to system apps are paid features, so my advice would be to download the free version, and use it to its fullest until you need a feature that the pro version offers, but when you do upgrade, you won't regret it.
References