Action Snap for Android Review
When Action Goes Wrong
We've all done it. A parade is going by and we start taking pictures of people moving, jumping, dancing, etc. However, when we get the pictures back or we view them from our phones, the action shot we took is now blurry and as time goes by, we forget what it was or even who it was that happens to be the blue blob behind what could be your mom dancing.
Or maybe that's Uncle John.
Professional photographers know how to get an action shot, but they also have high class, quality cameras that can take pictures of a fast-moving target. Why can't we average folk get a good action shot once in a while?
Concept & Features (4 out of 5)
Action Snap is an Android app that was developed by OurSky Ltd and it basically gives Android users the ability to take action shots. A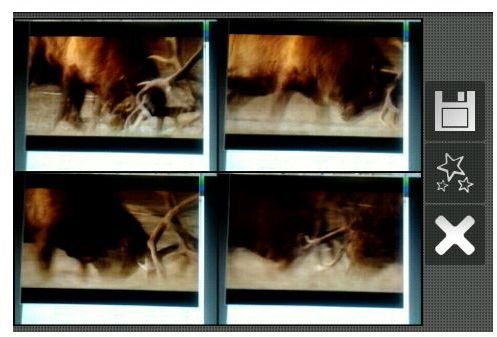 simple app that taps into your camera, Action Snap takes photos like a professional camera, quickly taking shots of whatever action is being seen onscreen.
While I'm not a photographer by any means, I have turned my Android phone into my primary camera, allowing me to take various pictures and videos of events that are going around me. I'm still playing around with the app, but some of the features include being able to choose between four or nine combinations of actions, the ability to share to social networks or with friends, and the option to use special effects on photos.
The gallery, called Steply, allows you to view and play around with your pictures, as well as share them to Facebook or Twitter so your friends and family can see that awesome catch your son had at the football game or the human pinball game that was performed by the local marching band.
User Interface (3 out of 5)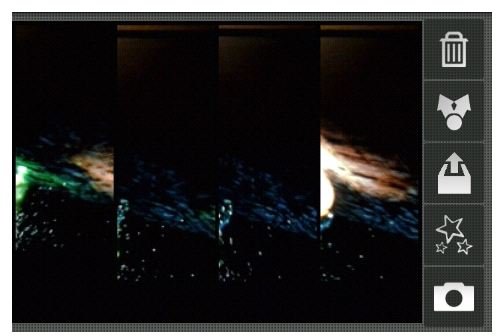 The user interface of the app does take a bit of time to figure out, more so than the upgraded features of the phone's camera. However, just like any new device, finding out what each button does is fun. Sadly, this week nothing of interest was going on in my city or even nearby cities that my friends live in, so my action shots had to be from some videos. The above nature shot was from a video about something that didn't have anything to do with nature really, while the image to the left is the beginning of the Borg fight from First Contact.
The listings allow for deletion of images, as well as sharing and something called Steply, which is like your camera's gallery with the ability to share to Facebook or Twitter. The camera button you would think would switch you over to the phone's camera, but I didn't see any difference when I switched.
I haven't played with the special effects yet, but they do offer the ability to make your photos stand out. One of the downsides, as you can see, is the resolution of the photos. I have a 3.2 megapixel camera, but I've heard it doesn't matter about the camera's resolution, as you'll still get a low quality picture from this app.
Depending on what you're planning for these shots - such as adding them to a website - this could be a major downside. However, many of us upload the photos from our smartphones to our computers, meaning that, should we want to do some Photoshopping, we can. This does allow for upping the quality a bit, though if you're just sending these out for friends and family, you may not care about the whole magazine fancy gloss.
Bottom Line (3 out of 5)
Action snap is actually a pretty fun little camera add-on for you to take action shots with. You might ask - why would you want to take action shots when you can just use your phone's video camera? Excellent question! What if your phone doesn't come with a video camera or has a low quality one?
As mentioned, if you plan on using action shots for a website or professional portfolio, using a video camera might not work in that case. With that said, if you're looking for professional looking photos of actions, this probably won't be the app for you; but if you're the average picture taker who wants action shots for holiday cards or invitations, you will find this to be an adequate alternative to that $1,000 camera.
Action Snap can be found in the Android Market completely free and can be used by phones running Android 2.1 and up.
References
Image Credit: Samsung Transform/author.