GroupMe Offers Easy Group Messaging and is Cross Platform
"Oh, another messaging app," is the first reaction for many people when they see the description of "easy group messaging" but GroupMe really does offer something a little bit different in terms of messaging from a mobile phone – at least in terms of the Android platform.
You may be aware of BlackBerry Messenger, a private messaging service exclusive to the BlackBerry platform with which users can send messages to a specific user or group of users in real time, similar to a desktop computer instant messaging service.
GroupMe attempts to bring this level of functionality to Android, but with the added bonus of being cross-platform – it's available for iPhone, BlackBerry and Windows Phone 7 as well. Taking advantage of mobile Internet, the app is also capable of switching to SMS if you have a poor signal, ensuring that you never miss a message.
But how good is GroupMe when in use? Does it succeed in delivering BlackBerry Messenger-style features to Android?
System Requirements and Compatibility (2 out of 5)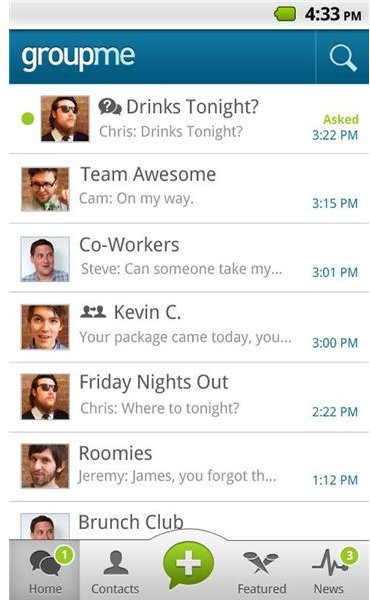 As with all new Android apps, GroupMe has a minimum system requirement, so if you use an older device that cannot be upgraded to Android 2.1, then you're sadly out of luck.
You can download and install your free copy from the Android Market, although note that the user reviews on the Market are not totally positive. Some report issues with notifications for new messages appearing late, while others are more concerned with the app spamming their contacts with advertising texts. Of course, these messages are intended to encourage your friends to start using the app, but this does sound like a bit of a shot in the foot. In this situation an app like this should be letting its functionality do the talking rather than taking advantage of the trust of its users.
Using GroupMe for Sending Messages (4 out of 5)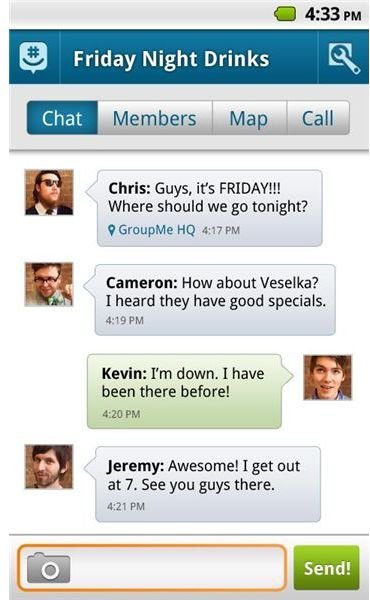 Getting started with GroupMe is really easy, requiring you to add your phone number into the app to create a verification code which will allow you to enter the setup screen. Your name and email address are also needed, and once entered and saved you're ready to start sending messages.
Despite the multitude of features that GroupMe offers, the most impressive thing about this app is the user interface. Once the app has been set up it offers users the ability to get straight into the act of chatting, presenting a nice large plus symbol in a speech bubble which then offers you the chance to start a group (which means adding people that you can start chatting to straight away), ask a question to start conversation among your contacts or simply message someone directly for a one-to-one chat.
Contacts are copied from your Android address book, and if you're short of reasons to create a group, a selection of pre-set groups can be created around bands, TV shows and events.
Extended Features (4 out of 5)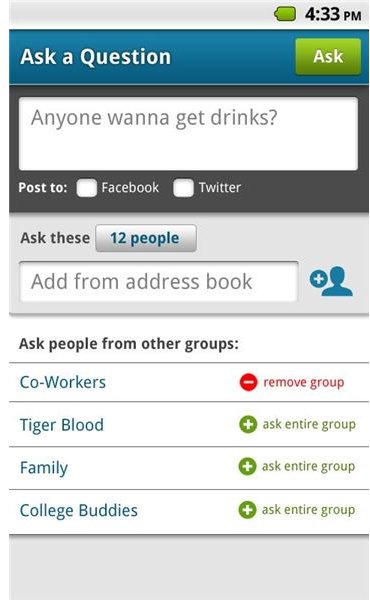 In addition to the basic messaging features, GroupMe offers a nice selection of extended options, allowing you to use it for more than simple text messaging.
For a start off, there is a conference calling feature, accessed when you create a group. This isn't limited to GroupMe users either, and is activated in the group view by tapping the Call button. Clearly this is a great feature, although note that it will use your call credit to contact the phone number hosting your conference call.
Another handy feature is photo sharing, available by adding an image (or any file) as an attachment to a message. This enables you to instantly share a photo that you might have just snapped with your group of friends, although remember that they will also be able to share the same image with other friends…
SMS text messaging is also available, a useful option for when mobile Internet connectivity is restricted by location or perhaps weather conditions. You can also check the location of the contact you are currently communicating with, useful for if you want to arrange a place to meet.
Join the Group! (3 out of 5)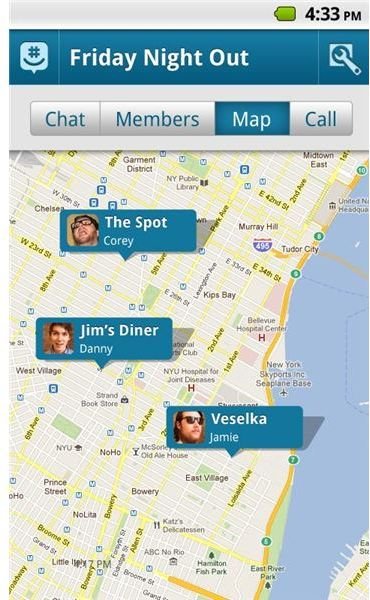 Housing pretty much every mobile phone-based communication method in one great app that allows file sharing, one to one and group chat is a genius idea, and by making the app multi-platform the developers clearly see this as a long-term product.
The concerns about spamming contacts should not be ignored, however. If you know your friends won't be bothered by this then don't spend time worrying about it, but you should consider an alternative service if you feel that this will be taken badly. After all, it isn't a great feature; indeed, it is enough to lose the app a further rating point in this review, leaving it with a score of 3/5.
References