Historypin Android App Reviewed: Explore the Past
If you're a fan of getting out and about and discovering new things, then you might consider checking an interesting new app, Historypin. Available from the Android Market, Historypin collates photographs of various locations into an easy to use view of how a particular area has changed over the years. By combining this index of images with your Android phone's GPS and other localization tools you can achieve an interesting new look at the places you pass through every day or discover more about a town or city that you are visiting for the first time.
Historypin also offers an augmented reality function, allowing you to view historical images of particular locations through your phone's camera, where the photos are overlaid on top of the "live" image.
There are various other features in this app that might interest, such as taking replica photos of old images to show the contemporary update as well as stories and recollections about particular locations.
It all sounds pretty good and is certainly ideal for anyone with an interest in real history – but do these features sit together in a usable manner within the Historypin app?
System Requirements and Installation (4 out of 5)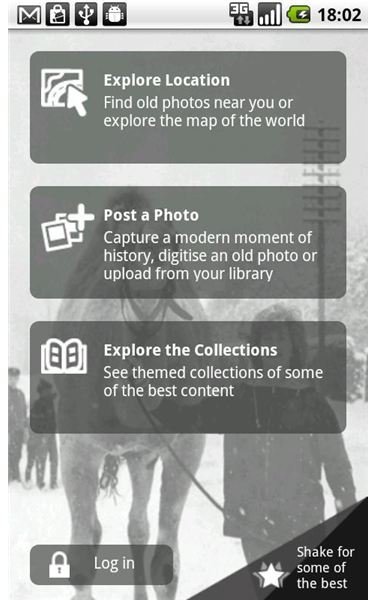 History should be for everyone, but sadly that isn't the case if you own an older Android phone. Historypin is only suitable for devices running Android 2.2 or later, so if your device is compatible with the Froyo release now is the time to look into getting an upgrade!
There seem to be few issues with the app other than occasional problems with the camera launch tool, so you should find that Historypin works without any problems on your phone. Best of all, this app – with all of the knowledge that it provides a gateway to – is free, and can be downloaded from the Android Market.
Installation shouldn't take too long (the download is just 1 MB) but note that the app does use your location by default. This is in order for historical images of your current surroundings to be found and downloaded to your phone; Historypin also requires Internet access while it is in use.
A Simple User Interface (2 out of 5)
The Historypin app doesn't go over the top with user interface bells and whistles, but for a simple UI it does keep things looking good. When the app is first launched you're presented with three options, to explore, post a photo and explore collections. These are simply accessed with a single click, and are styled in gray over a black and white background photograph for the full "history" effect.
Essentially, Historypin is a mash-up, and the UI reflects this in some ways. The app utilizes the camera for some tasks (see below) and also features Google Maps. Neither of these tools feels as though they're as closely integrated as they might be, however, so there might be room for improvement in future.
Great Collection of Features (5 out of 5)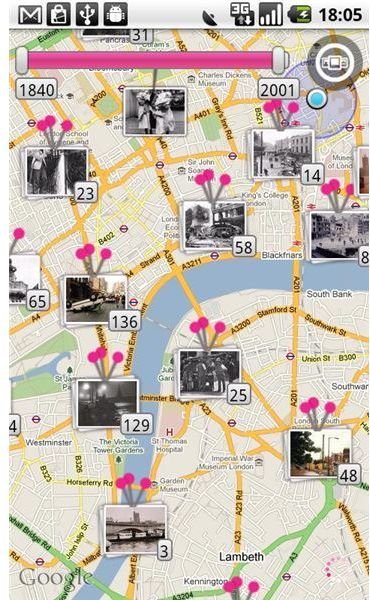 Anyone who tries Historypin will gain access to a great series of features and tools, as this app basically brings history to life in a number of interesting ways. For instance, you can use the app to find old photos of your current location or anywhere in the world (providing images have been uploaded), and images that are snapped using Historypin are automatically uploaded and pinned to the map.
You can also use the app to create modern versions of classic photos, and view the world as it is now through your phone's camera with a useful augmented reality feature. Most impressive of all, however, (besides looking at thousands of photographs from the past 150 years) is the ability to use your phone's camera to effectively scan old photos and upload them.
If that's not enough to break the boredom, simply try shaking your phone to view some random images and memories from people who have uploaded their photos!
Get Exploring! (4 out of 5)
Historypin is such a cool app – but really only if finding out more about your surroundings is something that interests you. An app with "history" in the title is really going to turn a lot of people off (unless they happen to be looking for ways to delete embarrassing records of previously visited websites), so perhaps the name could do with some work, as there is so much more to this than text books and blackboards.
In fact, I would even venture that this simple, free app with a few photos, photographic tools and GPS localization access brings history to life in a way that few teachers ever could. While it depends on areas that have people providing images of the locations (typically large cities) the features in Historypin are strong enough to entice newcomers to add their own photos and build up a record of their homes and visited locations over time.
A brilliant, well-realized app!
References