Travelocity for Android App Review
The Android Market is not lacking in applications that you can use to book travel, but Travelocity for Android brings a well-known name into the mix. While a big name doesn't always mean a big result, it does at least mean that the creators of the application had enough resources to make a quality application.
The Travelocity app is designed to help you not only book travel, but also to help you keep informed of your travel plans and find things to do at your destination. Being the go-to app for all your travel needs is a tough task, but theTravelocity app may just just have what it takes.
Booking Travel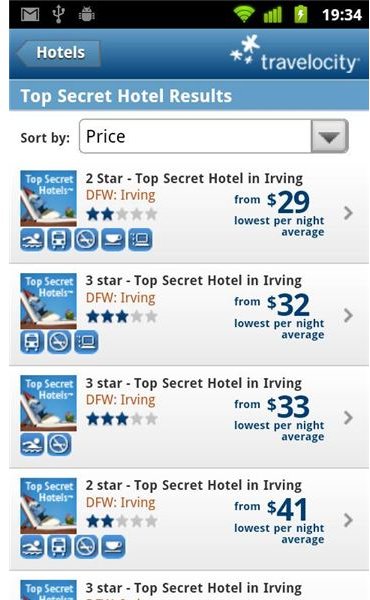 Booking travel is probably the main reason that someone would visit the Travelocity website, so it's also a large reason why someone would use the application. The app allows you to book both flights and hotels, each section getting a different button on the app's main screen. Once you start the booking process, you are greeted with a very strong interface. Just tap the text fields and start typing your desired city's name. The app will automatically list all the cities that match what you type without you having to do anything, and will even list airports if you just enter in the airport code like "JFK" or "LAX.". This makes it very easy to find the city or airport you are searching for. Occasionally, it will ask you to confirm your city selection from a list, which is a little annoying, but a fairly minor problem.
As expected, the application has access to a large number of flights and hotels, so you will certainly have a good number of options to choose from. However, sometimes the app does take quite a while to bring up the flight and hotel information, even when using a broadband connection. Depending on the hotel or flight you want to book, you will have the option to log in to your Travelocity account to complete the booking or to tap a button and call Travelocity to complete your booking. Additionally, no matter what page you are on, Travelocity's number is on the bottom of the page, and you only need to tap it to call them.
All-in-all, if you use Travelocity to book travel, the app is a must-have just for these features alone. Being able to easily book while on the move is a big bonus, and the booking section of the app is truly high-quality.
Flight and Destination Info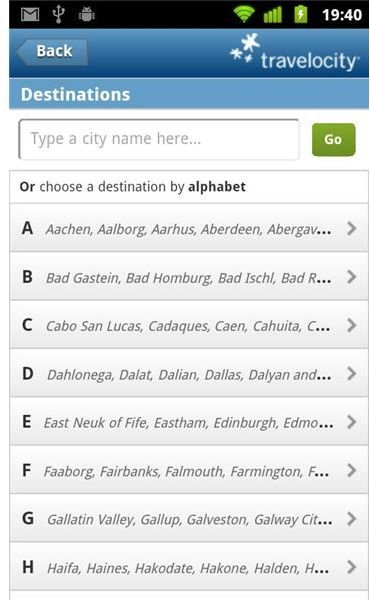 While booking travel may be Travelocity for Android's big draw, the application does have a few additional features. The "Flight Info" button will take you to an interface where you can check flight schedules, arrival gates and times, security line wait times and general airport delays. While this all sounds pretty good, unfortunately the polish of the booking area didn't make its way over to this area of the app. The application has no feedback when you make a selection, which, combined with a delay between making a selection and the app changing screen, leaves you wondering if the app recognized your selection. Very frustrating when you are trying to quickly move through the interface. On top of that, not all of the information is very good. To look up gates and arrival times, you'll need the flight number, which someone who is picking up a loved one at the airport may not know. Additionally, the security wait times can be several days old, making them less than useless.
The Travelocity app also gives you the option to explore things to do at your destination. This area of the app gives you a long list of cities to choose from, and then provides nightlife, dining, events and general information about each city. While there are a number on cities on the list, unfortunately quite a few of them have little or no information, making me wonder why the city is even listed in the first place. However, for large destination cities like New York or Las Vegas, the app has a wealth of information.
Finally, the app includes a section to help you find gas in your area. Unfortunately, I live in an area where the app didn't list any gas stations, so I was unable to verify if the prices were even close. The interface, however, is fairly nice and intuitive.
Other Features
Travelocity for Android does have a few smaller features that you may find helpful or interesting. The first is the "Find Deals" button, which takes you to a special deal at an airline or resort somewhere in the world. While you don't get to pick where the deal is, if it is good enough it may just spark your interest in taking a trip. The second small feature is the ability to visit the mobile version of the Travelocity web site with just the press of a button. The web site offers the ability to book car rentals and cruises, includes travel alerts and gives you access to vacation packages. The web site is optimized for mobile browsing, so it should look good on any Android device. Finally, the app gives you one-touch access to Travelocity's Facebook page, Twitter stream and YouTube videos.
The Verdict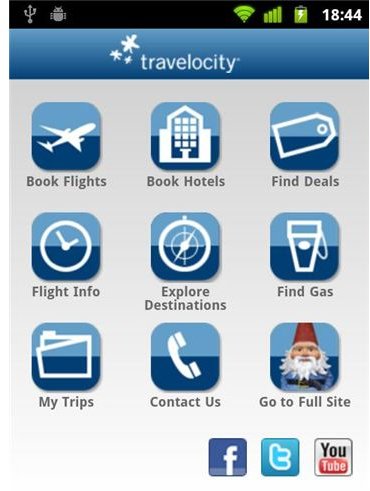 The Travelocity for Android application has a good amount of things going for it, but some questionable interface choices make it difficult to fully support this application. The lack of selection feedback is a major screw up, and led to a good deal of frustration as I tried to figure out if the app was responding to my touches. Additionally, the fact that the slick interface in the booking areas wasn't carried throughout the app is a little surprising.
In the end, if you use Travelocity to book your travel and need to be able to book it on the go, this is a great app to have. If you are looking for flight times, airport delay times, city information or gas prices, there are better apps out there. Ideally, you can just download the Travelocity app for bookings, and flip over to other Android air travel apps for all the rest.
References