Movies and TV on the Spott - Spott App Review
Useless Entertainment Knowledge
I admit it. I have useless entertainment knowledge. I'm the person my friends go to when they need to know the name of a show with a particular theme song or what the name of that character was who looked like Shaggy from Scooby Doo but worked on a car (the answer, FYI, is Tinker and the show was Speed Buggy, which was one of the many 'mysteries inc' cartoon imitators of the 60s and 70s).
While in an everyday setting, this useless knowledge is, well…useless, guess who's getting the call when someone gets the option to phone a friend from a game show set. Oh yeah. Me.
But sometimes my useless entertainment knowledge can fail me. Often, I might not know the answer to a question in regards to the location of a movie or film (gasp!). Lucky for me and you other entertainment lovers out there, Android developers knew that one day, at some remote time of the day, we'd need to know this stuff.
So they made an app.
Concept & Features (5 out of 5)
Spott is an Android app from Inochi Ventures that allows you to learn more about your favorite films and TV that was made

within your own backyard. Using your phone's GPS system, Spott allows users to either browse by movie/show or their location to learn interesting facts about that movie, show, or actors.
For example, Stapleton International Airport (now Denver IA) was the airport in the movie "Die Hard 2" with Bruce Willis. Up until recently, I had no idea that the hotel in the movie "Dumb and Dumber" happened to be the Stanley Hotel, which was also the inspiration and setting for Stephen King's popular book and movie, "The Shining".
Along with giving users the ability to see their town in a whole new way, you can also purchase movies through the app, plus you can send in your own photo from a famous locale in your town.
User Interface (3 out of 5)
The interface for Spott is easy to manuever around - you can choose movies or shows by title, location, or movies that are near you. Obviously the nearby feature is the best, especially if you're traveling or recently moved. As noted, movie locations near my new city of Denver and the state of Colorado are pretty popular.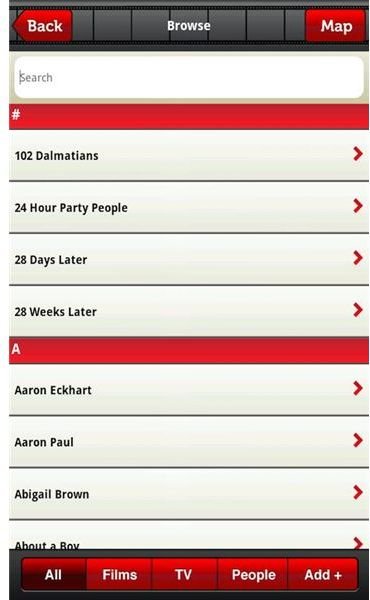 Another highlight is the ability to view stills from movies, though for some there aren't as many as you would find if you did a simple Google search, and as mentioned, you can buy DVDs of movies from the app. While an interesting concept, I'm not really sure if I want to purchase movies on the go. It would probably be better if you could watch said movie instead.
One downside to this app is the fact that there aren't a lot of Spotts yet. For instance, as a former Tucson High Badger, my claim to fame is that the movie "Can't Buy Me Love" with pre-McDreamy Patrick Dempsey was filmed at our school, but I couldn't find a listing when putting in my former zip code. High point though is that I learned parts of Casablanca were filmed in the nearby city of Flagstaff, it's nice to see that a classic black and white film is listed.
There are other downsides, such as actor listings, that are meh at best, however, this is where the Spotters thing comes in. Too bad this app didn't come out before I moved.
The Bottom Line (4 out of 5)
As a movie and TV fan who happens to love trivia, this is actually a pretty good app to have if you've got an Android phone. Definitely the highlight of this app is to view a wide variety of locations of different film scenes, though I think most people will be interested in where their hometown or current town factors in various movies and shows.
A disappointment is some areas are lacking, which can be annoying for users who know a certain movie or show was filmed in their neck of the woods. But to counter this, users can supply images and upload them to Spott. This is actually a great social interaction that gets fans involved as they proudly show off their cities and states.
I think a big let down is the fact that this app isn't free; with only a small amount of information, this really should be a free app that gets upgraded to pay for more expenses (like the ability to buy and download movies). Luckily, the price isn't too hefty – only a dollar and some change, so it might actually be worth the purchase if only to hope Inochi builds up the app with fan interaction and loyalty.
You can find the app here from the Android Market.
References