Netflix for Android: The Best Video Streaming App?
Netflix, Now in your Pocket
Arguably, Netflix's arrival on Android has been long overdue. The service has long been available for a number of devices including gaming consoles, Blu-Ray players and HDTVs. Perhaps more insulting was the debut of Netflix for iOS, which was made available in summer of 2010, while the company remained quite silent about the prospect of bringing the same out for Android users.
Now, the wait is over. Though originally made available on the LG Revolution, the app now supports a large number of devices, including most of the new handsets from HTC, Motorola and Samsung. New phones are being added over time, and a full list of the supported devices is constantly being updated on the description of the app in the Market.
Netflix is no doubt a big name in this space, but it's also not alone. Google itself just added movie rentals to the official Market, and there are also streaming video players available from other large organizations. CBS, for example, has published a TV.com app that provides mobile access to shows from CBS, the CW, and Showtime.
So, was this app worth the wait? Let's find out.
Interface (3 out of 5)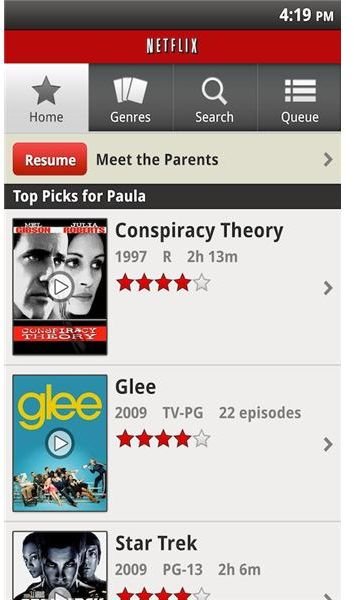 Streaming video content to your phone is great, but it can be frustrating if you can't find the content you want in the first place. This is the number one problem with online video on smartphones, because the displays are small, and only so much information can be displayed. Even YouTube's app can be a bit messy on an Android device.
Netflix has some history in designing interfaces, however, the service is now available via an app on so many different devices with so many different types of displays. In order to accommodate for smartphones, Netflix has designed a vertically oriented interface that offers four different tabs.
By default, your Recently Watched content will be the first thing you see. Your mileage with this will depend on the type of content you watch. If you enjoy TV shows, this is great, because you're likely watching a few TV shows repeatedly and they will likely be at the top of your Recently Watched list. If you're into movies, however, it's not of much use.
Scroll down, and you'll find categories of Netflix recommendations tailored to your watching habits, as is common on all Netflix interfaces. As on any other Netflix enabled device, the accuracy of these recommendations is questionable, but they often present at least a few interesting options. The other tabs also open familiar Netflix options, such as the ability to search for titles by category or by name.
One major gripe with the Netflix interface is the lack of support for horizontal viewing. This even includes the virtual keyboard. Want to hold your phone width-wise to access the wider keyboard while trying to search for a title? Too bad. You can't. This is particularly confusing because videos are, of course, viewed with the phone held width-wise, so you have to switch the phone's orientation every time you switch between watching content and finding content.
Quality (4 out of 5)
Sending video to a mobile device has one obvious obstacle – bandwidth. Video content takes up gobs of bandwidth as the quality increases, and while today's smartphones do have access to quick networks, there are still limits to what they can carry. How does Netflix cope?
Generally, quite well. Admittedly, my HTC Thunderbolt has access to Verizon's 4G LTE network, which is much faster than 4G networks from other carriers at this time. It's no surprise that video content appears extremely crisp. To be fair, I turned off the 4G network and switched to 3G, and this did seem to result in a video quality decrease in some instances, but at other times the quality was on par with what I received with the 4G network.
With both the 4G and 3G connections, image quality did take some time to reach its maximum potential as the app buffered content. This was a bit jarring at first, but the situation usually resolves itself within a minute.
Reliability (2 out of 5)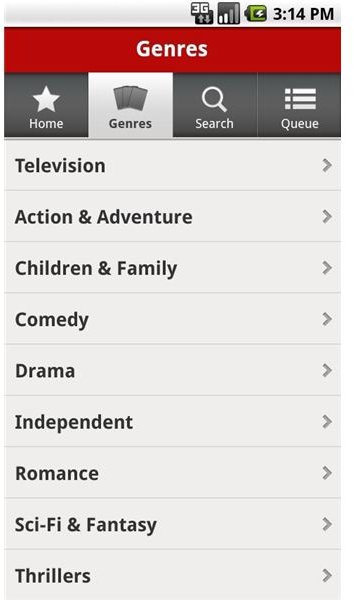 Besides bandwidth, the other problem that can impact streaming via mobile data is reliability. If you don't have a data connection, you obviously can't stream content. In addition, a weakening of signal quality also has the potential to disrupt service.
This is the biggest weakness of the Netflix app. During my testing at home, I had no problem viewing content, one service disruption aside. On the road, however, access to Netflix varied greatly.
This may be more true for me than for users in other locations, because I live in an area with many variations in terrain, which can disrupt signal strength. Still, it was an annoying issue that made the true mobile use of the app questionable. For example, users hoping to watch Netflix while in the passenger seat of a car may find that content quality changes frequently, or all service is lost at random intervals.
Verdict (3 out of 5)
Netflix for Android is free, and its use comes at no additional charge for subscribers to Netflix's streaming content package.
And that's a good job, because as it stands, the Netflix app wouldn't be worth much money. Yes, the content library is staggering compared to anything else available on Android, including the official market, but the interface feels a bit amateur and connection reliability can be touch-and-go.
To be fair, these are issues that tend to plague other streaming video services, as well. It's very difficult for any true streaming content to keep its quality up to par when a user is moving about, switching between areas of differing signal quality. Network reliability will need to be better in order for high-quality streaming video to be enjoyable outside of your home.
References