Loky App on Android Reviewed
There is always a risk when you're using a mobile phone that your personal privacy will be compromised in some way. You might, for instance, have a service on your phone that tells your current map reference location to the world, or you might have apps running unauthorized key logging software keeping tabs on you.
Something that has the potential to create some considerable changes to your life is text messaging. A quick browse through the top celebrity news headlines of the past two or three years reveals a growing number of people abusing their fame and taking advantage of mobile phones and the remoteness they bring to human interaction to carry out extra-marital affairs and even send photographs of themselves in various states of undress.
Naturally these people get caught out, just like those of us in the real world do. Does it have to be this way, though? Surely some sort of useful mobile app could help to prevent discovery of this type of misbehavior?
Compatibility and Availability (3 out of 5)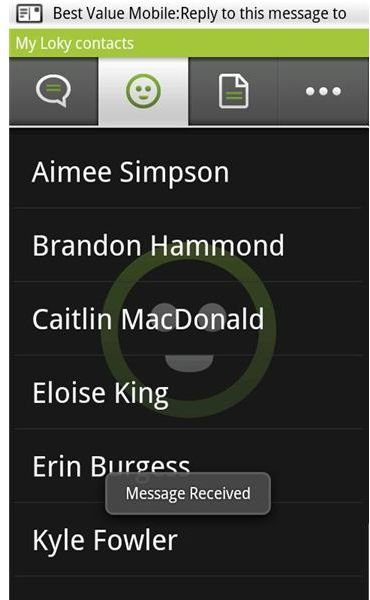 Loky has proved to be a popular app, with the Android Market listing it in the 1000-5000 downloads category. Designed for pretty much all Android phones (requiring version 1.6 and above) Loky is available for $4.99 and there are no device-specific issues reported.
However, according to user reviews, Loky does seem to have a few issues in competently performing the tasks it seems to be designed for. Certainly in this reviewer's experience, the SMS sending function doesn't obscure the sender's name on the recipient's phone when instructed to. For an app that claims to be designed to assist users in keeping certain messages and images on their phones under wraps, these issues seem to be moments where the developer has totally "dropped the ball,"
Features and Functions (2 out of 5)
In attempting to fulfill its brief of protecting your most personal text messages and files on your Android phone, the Loky app offers the ability to send text messages via SMS to other Loky users or people without the service. These can be sent to existing contacts or new ones (it is made very easy to add or import a contact from your phone) and obfuscating details can be added to prevent the recipient from getting into trouble; you can configure Loky to make the text message resemble an advertisement, for instance.
The other key feature in Loky is the file hiding tool. This appears to remove a chosen file (perhaps a sensitive image) from the file structure of all other apps other than Loky, but only as long as the app remains installed.
User Interface (4 out of 5)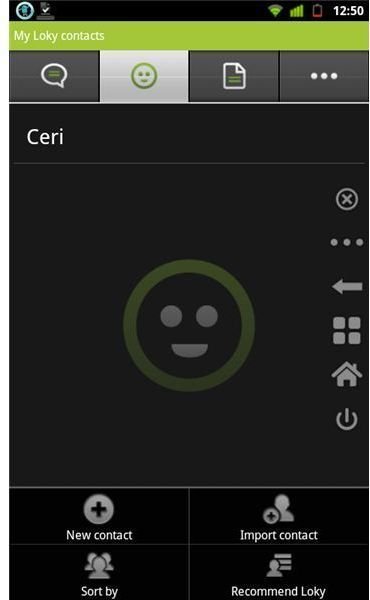 Where this app probably succeeds is in offering the various secretive, divorce-avoiding functions in a very easy to understand user interface. On first use, you will be invited to set up a PIN to allow access to the app, and only this PIN will allow you access to the full app; a fake PIN can also be configured (0000 by default) that will open an empty version of Loky should your phone end up in the wrong hands.
Once logged in, the UI offers three main tabs, messages, contacts and files, with a fourth tab providing you access to a security log and some app settings.
All in all, Loky is very easy to use. The sensitive file storing tool allows you to browse your phone and hide images from the standard file manager view, as well as offering a direct link to your device camera for taking a photo. Why you might want to hide photos is anyone's guess, of course…
Secure Your Secret Life – But Not with Loky (2 out of 5)
Let's not beat about the bush – people use their mobile phones for more than just calls. The fact that people have access to a wealth of options for multi-media entertainment, web browsing and email on smartphones doesn't stop us from using the devices to conduct relationships with other people.
Apps like Loky make it very easy to create and send adult rated images to other people along with suggestive text messages and more, all without alerting the suspicions of a trusting loved one.
However, there does need to be awareness of the moral issue here – mainly because putting your trust in one of these apps is pretty dangerous. In the case of Loky, the app simply isn't reliable enough to competently keep your messages and photos secret, and given the expensive price of this app, you would be best advised to exercise discretion without relying on technology – or at least try a different app.
You can purchase Loky (no trial is available) via the Android Market.
References