The Economist Android App Review
Plain and Simple Digital Version of an Informative Magazine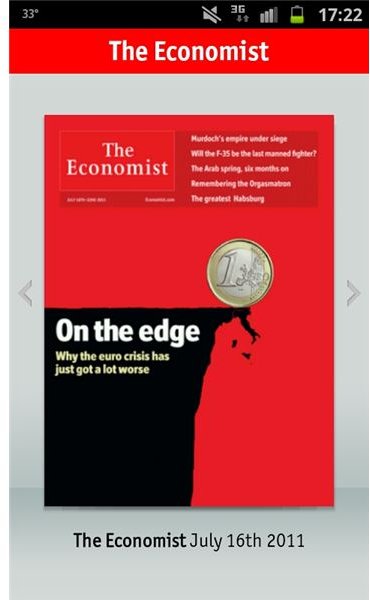 As I said, I was never an avid reader of The Economist. Every time I chanced upon an issue of this magazine sitting in the Periodical Section of the Library where I work, I couldn't find the urge to pick it up, even if the cover caught my attention. I find the magazine's straightforward approach to publishing too "serious" for my liking.
Then I learned that an Android app of The Economist was to be released in the Android Market. I got curious and checked it out. It's a good thing that the app is free, that gave me more reason to download it, just for the sake of seeing how it would look on my Samsung Galaxy S II.
The first time I fired up the app, I was greeted by a plain and simple main screen with the familiar red banner bearing "The Economist" on a white background. After checking if my phone was connected to the Internet, the app went straight to another screen with the cover of a particular issue of the Economist. While I was checking out the menu options, the app proceeded to download the issue related to the cover that was being displayed.
That's how fast this app works! It wastes no time in delivering free content covered in the current issue displayed. In a very short time you can start reading or listening to the available content.
Seems like a pretty straightforward app, right? Well, as a matter of fact it is. The Economist Android app, like its printed version, is as simple as it gets when it comes to overall layout and theme. Even while reading the pages of content, there were hardly any obstructions and you will find no distractions while you are reading.
For some, this might be well and good, especially those who want a simpler approach to the digital presentation of their favorite magazine. However, some will find the app's simplistic approach too basic for its own good. I personally like the simple and clean interface of the app and I don't even mind the lack or shortage of images accompanying the content, but it won't please everyone.
What Are the Features Offered by this App?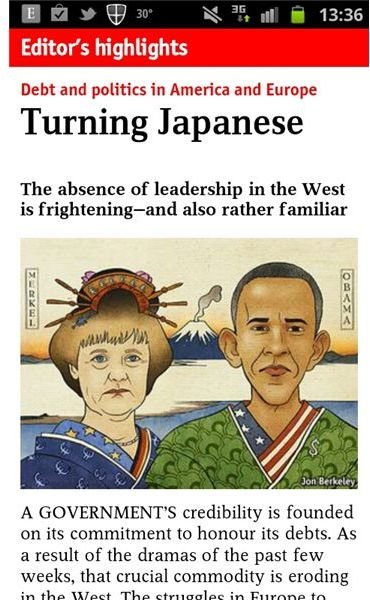 The Economist may be too simple when it comes to layout and overall design but it is not lacking when it comes to features. The Economist's fans, as well as those who are voracious readers, will love the content on offer here. One key feature of this app, which we mentioned briefly in the previous section, is the fact that you can listen to free content instead of reading it. I have to agree with the app's Android Market entry by saying that this app offers the best way to read The Economist using your Android device.
To entice readers to download the app and eventually pay up for premium content later on, the app offers free access to the editor's highlights which are actually a weekly selection of must-read articles coming out.
The app also allows you to download individual content, whether free or paid, on your Android device. You can also easily switch between reading and listening, store and access back issues, and purchase individual issues through the app's In-App feature.
The Economist on Android operates on Android phones and small and medium tablets running OS 2.x, however, take note that early adopters of the app are experiencing some problems when firing it up. Folks from The Economist have also recognized these problems and have promised to deliver updates that should fix them soon.
Should You Download this App or Not?
I'll be honest, the main reason that will convince you to download this app is if you're already an avid fan and reader of the magazine. If you are a subscriber, this Android app is a good companion and should obviously give you another way of experiencing The Economist on your device, while on the move.
For those who are new to the magazine, whether print or digital, and are still unsure whether to download this app or not, well just look around you and decide whether being informed of what's going on in the economy, whether world or local business is important to you or not. My feeling is, we should all be informed about the business and economic conditions, not only of our country, but of the world as well.
Do yourself a favor, get this app and be in the know about what's going on in the world as seen by economists and researchers specializing in this field. Yes, go get this app now.
References