Pulse News for Android - Top RSS and Facebook Feedreader
If you're looking for a new way to read the news on your Android phone, or have tried other newsreader applications and felt they were a bit old school, there is one app that you should consider as an alternative.
Offering built-in news feeds from popular websites as well as the ability to configure custom news based on RSS feeds or search terms, Pulse News is a free Android app with an impressive user interface, offline sync, easy sharing tools and integration with Google Reader.
Pulse News for Android is already one of the most popular news reader apps for the platform, something that has been made possible thanks to its overall ease of use. Also available for iPad and iPhone, this app lets you see the news as well as read it!
Availability and Compatibility (5 out of 5)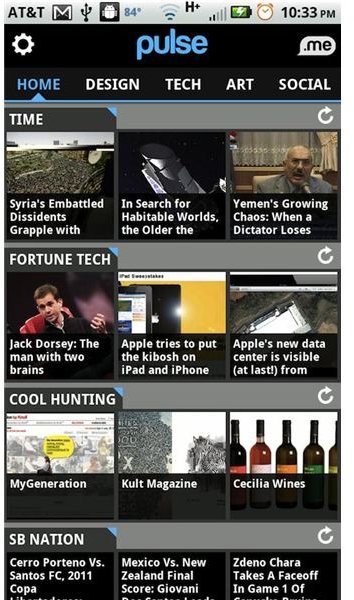 You can get your free copy of this app from the Android Market (which includes a full summary). It is a 1.97 MB download so it shouldn't take too long to install over the air.
Designed to be used with all Android versions, Pulse News also supports App2SD so you can install it on your phone's expansion card rather than on the main storage.
A quick check of the listing on the Android Market reveals that there are no apparent issues with Pulse News, with good results posted from the HTC Desire HD and Nexus S devices among others.
User Interface (5 out of 5)
Bundling a load of news feeds into one app and then offering users the opportunity to add even more feeds could sound like a recipe for disaster in many ways, but that's certainly not the case with Pulse News, where considerable effort has been put into making the entire user experience as pleasing as possible.
News feeds are organized into rows, with an image and headline for each item; you can scroll left and right on each row to see other items in the feed, or tap the image and headline to find out more. Pulse News gives users to opportunity to read items either within the app or on the original web page, useful for situations in which that would be more appropriate.
It's all beautifully arranged, too, making it very easy for you to navigate your different feeds and sharing is provided via a useful floating menu; Facebook, Twitter, email and SMS sharing options are available.
Ease of Configuration (4 out of 5)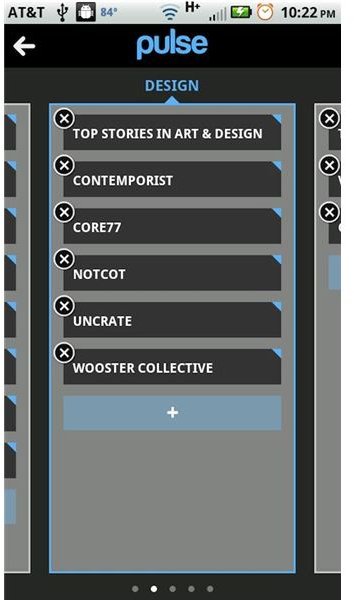 With a quality user interface you can expect any app to be easy to use and that is certainly the case with Pulse News. Adding a new feed is frighteningly simple – even without reading the instructions that the app has displayed for you when you first launch it!
Adding new feeds is simply a case of tapping the configuration cog icon on your Android and tapping the + button to search through any of the featured feeds. You can also browse through various categories to find the type of news that you are looking for and even use the app's search function to create your own feed. Google Reader account feeds can also be imported, while the app also supports Facebook, allowing you to view status updates, your newsfeed and any links shared by your friends!
Offline Reading and Other Options (4 out of 5)
Pulse News really is a feature-packed app, but beyond the slick user interface, easy configuration and social networking interaction there are a couple of very useful features that you can use that barely require configuring!
First of all there is Flash support, which can be enabled at any time, although this will require the app to be restarted. With Flash enabled, rich media content can be effortlessly displayed in Pulse News, allowing for video clips and audio along with the usual text-based news feeds.
Better still, the Data Usage settings allow you to set an update frequency and manage when the app should auto-update. This allows for offline reading of your Pulse feeds, although any external web pages won't be available without an Internet connection.
The News at Your Fingertips! (4 out of 5)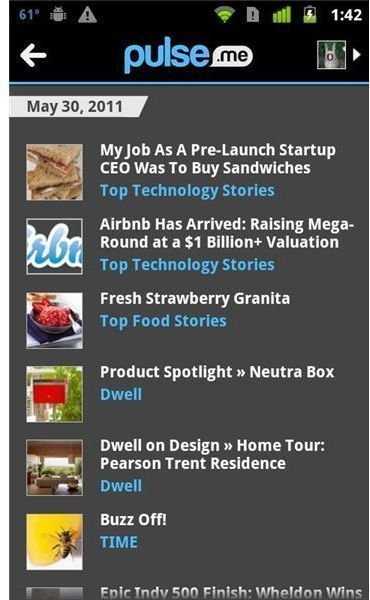 If you have been waiting for the killer app to finally put an end to newspapers, a good quality, well-designed app to stream the news that you are interested in directly to your mobile device without compromising on images and self-configuration options, then Pulse News is certainly the app you should be looking for.
The ratings for Pulse News are very good in the Android Market and it has certainly garnered a good reputation. There is basically nothing as good as this tool for catching up with the news that interests you on your Android, and at the best price going this is an app that you simply have to try!
References