BeyondPod App is the Podcatcher for You
Podcasts On the Go
A podcast is like a webcast, with the same type of audio and video on a variety of different topics, that's presented usually through an RSS feed and updated either every day or every week. These popular kinds of recordings allow people to get quick information on upcoming games, technology, news, and more. And just like social network apps, music apps, and video apps that made the move from our desktop to our tablets and smartphones, podcasts made the jump to our mobile devices. Iin fact, the name 'podcast' comes from their popularity with listeners on iPods.
Android users can rejoice at knowing that there are plenty of podcatchers (those apps that allow for the listening of podcasts) for them to download and here, we'll look at one of the most popular – the BeyondPod app.
Free vs Paid (4 out of 5)
When you first get the BeyondPod app from the Android Market, you have the choice between the free version or the paid version.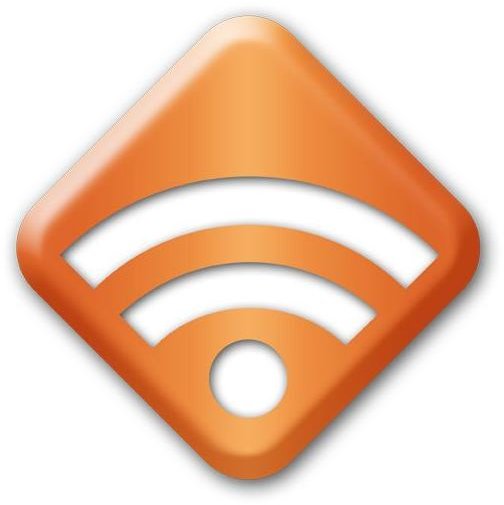 There really isn't too much of a difference between the free and paid one, though the paid version offers you the option to download more than one podcast at a time. To be honest, I only used this option when I was only able to use the Wi-Fi on my Android phone, now that I have service back, I actually don't use it as much as I used to.
The paid version isn't all that expensive anyway. $6.99 gets you an unlock key which basically unlocks the premium BP version.
Features (5 out of 5)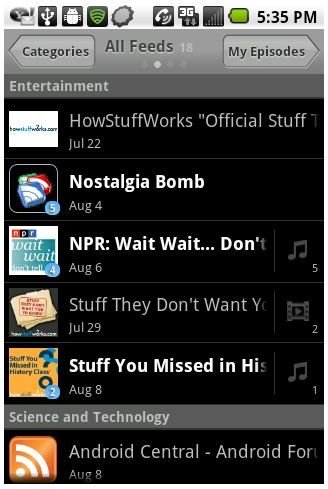 I'm currently using the free version - though I'm seriously tempted to purchase the unlock key - and it truly is my favorite podcatcher. The features, even on the free version, are great. First, you can easily take the suggestions that BeyondPod offers you or you can go exploring the various different podcasts. Everything from NPR favorites to the news to comedy, BP has.
There's a categories listing so that you can group together your favorites, as well as create your own - I have science & technology, writing, entertainment, and blogs. This latest version of BP allows for blog posts as well as podcasts, something that I didn't even know was a possibility.
You can easily see what podcasts you have downloaded by just clicking on that topic, which will give you a list of those podcasts. You can also view all of your downloaded podcasts in order to add them to the player.
User Interface (5 out of 5)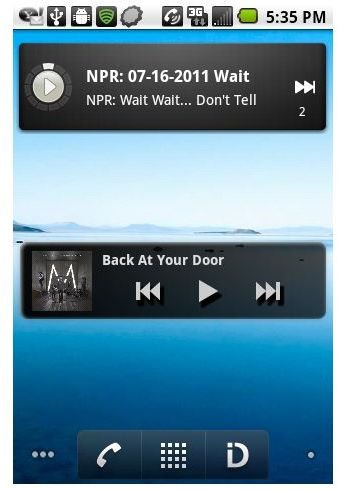 The user interface on BeyondPod is fairly simple. There are several options for getting podcasts – use the already loaded options, go looking through BP's category topics, or bring in your own from Google Reader. Signing in to Google Reader is simple and probably already done for you, depending on if you have already signed in to something (like Gmail) on your phone.
Swiping is how to get to the next screen, though you can also use the buttons at the top to view categories, episodes and the player. The player is by far the most impressive thing for BeyondPod. Instead of using the native Android player, BP uses its own (with the exception of video sometimes), which means you can control it either through the app itself or the widget. The widget in the picture (top) is the regular version, that gives you a fast forward button, a play/pause button, and the title of what you're listening to.
There is a smaller widget which is just the play/pause button, which works depending on how you've set up your playlist, which is also customized. You can either let BP's smartplay add to it or you can choose which podcast goes in what order.
Bottom Line (5 out of 5)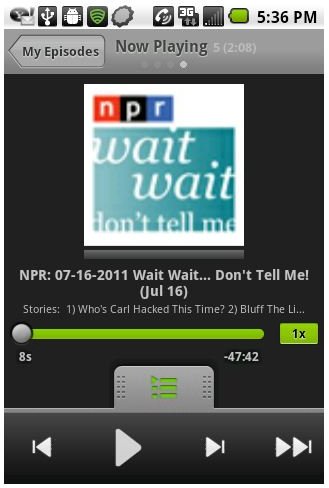 Obviously I'm a little biased as BeyondPod is my all time favorite podcatcher. It's a great app for people to listen to on their phones, either before bed or on the go. The new version's addition of allowing blogs and RSS feeds to be read has probably swayed me away from Feedly (a great desktop app, but not so great mobile app).
Even without the integration of Google Reader, BP has thousands of podcasts that you can listen to or watch – everything from How Stuff Works to NPR's variety showings (even the news!), you will always have something to listen to. The only thing that I'm a bit miffed about is the video podcasts. One of my HSW video podcats no longer does the audio portion nor will it do video, not sure if this is the podcast itself or the actual app, as I haven't tested it yet.
However, even with this minor flaw, BeyondPod is still the podcatcher for me. The free version is absolutely perfect, but it's one of those apps that makes you want to buy the paid version.
You can find the free version at the Android Market, with links to the unlock key for the paid version.
References