Is News360 for Phones Any Good? A Look at the Smartphone News Aggregator
Keeping up on breaking news can be a difficult task, especially when your favorite journalism apps seems to be missing an important story. News360 for Phones looks to solve that problem by bringing you a constant stream of important news stories from over 4,000 sources all around the world. This powerful news aggregator brings you a list of all the important news events broken down by news outlet, subject and even location. The app also gives you a number of features to help you find particular stories and give you additional background on the stories.
News360 for Phones is designed to let you delete all your other news applications and simply use this as a single point of contact for all your news needs. It's robust enough to cover almost any subject that interests you, but can also pinpoint news stories to your physical location.
Will the application make good on its promises, or are you better off just using a few different apps from your favorite news sources? Read on to find the answer.
Interface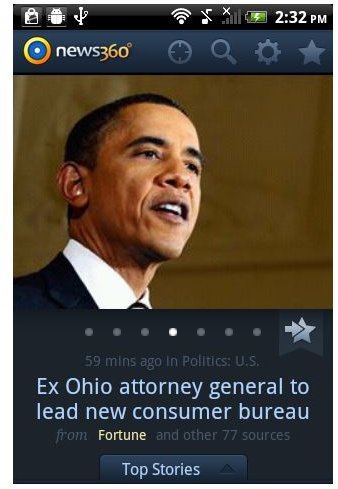 The News360 for Phones interface is both powerful and simple to understand. Without going too far into hyperbole, it's exactly what a phone app news aggregator's interface should be. When you launch the app, you are greeted with a large picture of the first story, along with a category button at the bottom of the page and several features/settings buttons along the top.
Tap the image to read the story, swipe your finger to move on to the next story, or tap the category to change the aggregator to only show certain types of stories. News360 comes with 14 predefined categories, and you can also save your own search terms as categories.
Once inside a story, any images or videos that accompany the news will appear at the top of the screen, along with a truncated version of the story. At the bottom of the page, you can click a button to visit the news site where the story originated in order to read the entire piece, or continue to scroll down to see the same story from a different news source.
The only part of the interface that doesn't perform well is the video clips that accompany the stories. More often than not, a blank screen accompanied by some extremely low-volume audio was all that I saw when trying to access a video. It's not a huge deal for me, but if you enjoy video news on your smartphone, this app may not be what you are looking for.
Features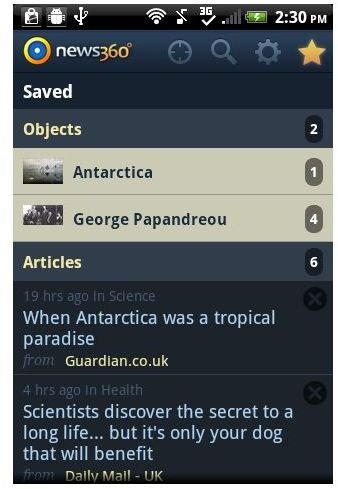 One of the best features that a news aggregator can have is the ability to let you quickly and easily personalize your news feed. News360 will build a list of stories from a single news source if you simply tap the name of the source. You can also search all the news sources for keywords by using the magnifying glass icon at the top of the page.
News360 also lets you go deeper into a story by automatically highlighting certain words in the stories, like significant names of people or places. By tapping those names, you are taken to a Freebase entry for the subject, so that you can get more information, and a little background, on the subject.
The app also places a grey star next to each story, which you can then tap to turn gold. Anything you have marked with a gold star is saved so that you can quickly access it at a later time by just tapping the star at the top of the home page. This little feature is nice if you want to quickly compile a group of stories and then read them all at once. Your saved stories will also include all of the story's text, instead of just the truncated version, and they will be available even if you lose your connection.
Finally, by tapping the GPS icon at the top of the main screen you can compile a list of news stories centered around your current location. You can also pair News360 with TripIt to gather news stories from destinations on your itinerary. The news aggregator will also link with your social media sites to allow you to share stories with your contacts.
Settings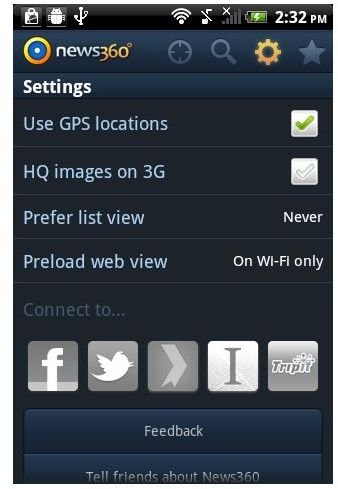 The application is fairly simple, so there are only a few settings, and they almost all center around how much bandwidth you want to use while on the app. You can turn GPS on or off for the app. You can turn off high quality images when using wireless data instead of Wi-Fi. You can also specify whether to run a list view during a 3G or Wi-Fi connection, which will list the stories without the images. Finally, you can choose whether or not to preload the web view, which will suck more bandwidth but will make the overall experience a little smoother.
Verdict (5 out of 5)
All-in-all, News360 for Phones is a great app for anyone who is addicted, or just needs access to, news feeds. Except for the poor video performance, it includes everything that a news aggregator should, and uses a wonderfully executed user interface to get it done. Right now, News 360 for Phones is the only news program I use anymore, and there can be no truer testament to how good I believe the app to be. To top it all off, the app is 100% free.
You can get the News360 for Phones app from the Android Market, or from the News360app page.
References