Magazines on Your Mobile: A Review of the Zinio Android App
Extending Your Digital Life Even Further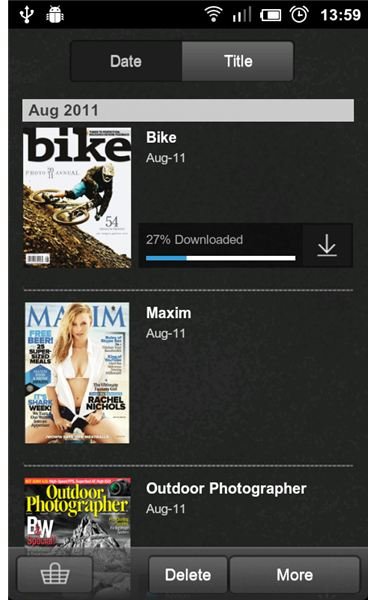 For those of you who are not familiar with Zinio here's a little introduction. Zinio is not an app per se, but a platform where you can read magazines digitally. If you need a more visual explanation, simply browse to Zinio.com to have a look for yourself. You can read all kinds of digital versions of popular magazines such as 'The Economist', 'Men's Health', 'National Geographic', 'Top Gear' and many, many more right on your desktop or mobile device. Apps facilitating the platform have been released for Windows Phone 7, iOS and Android and it is the latter that we are discussing here.
Zinio aims to provide you with a digital experience that very much matches what you would get 'in real life' with the notable absence of dead trees. This means that you can purchase a single issue, a subscription or even browse through free samples without having to go out or get up at all. Zinio manages your purchase history and magazine subscriptions through your account, which means that everything is always synchronized between devices. The platform also promises cheaper rates for magazines as no physical printing is involved. Although this seems logical I was not in a position to put these claims to the test.
Does this principle translate well to your mobile device? Keep reading to find out!
Your Favorite Magazines in the Palm of Your Hand!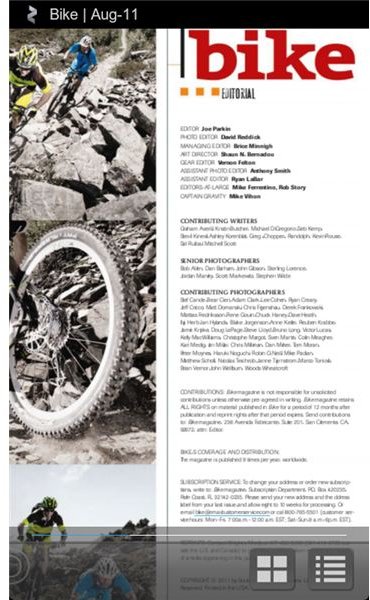 Zinio for Android is a very complete version of the overall ecosystem. This means that you can manage everything, from your account creation to subscriptions, from within the application. This is naturally a big plus as it highly increases the mobility of the app and your opportunity to read your favorite magazine wherever you go. The app is also well adapted to tablets, so Honeycomb users will be able to read their favorites more comfortably on a larger screen.
Even for Android phone users, however, Zinio works quite well and considering the screen limitations this is a bit of a surprise. The magazines' pages are available in hi-res and pinch-to-zoom works fluidly. Although you might want to zoom in to read text, there is one very handy feature to help you even further – the text button. If you are looking to just read the text without having to navigate around the page images, the text button will sort out just the readable parts and reformat it to be a lot more readable. This feature goes a long way towards making the app a success.
To make your reading experience as smooth as possible, the free or purchased magazines are first downloaded before reading is possible. Even though downloaded and stored locally on your device, there is noticeable lag when zooming and moving around the page in terms of sharpening of the page. This is a bit uncomfortable and takes away from the reading experience. However, this is really the only point of concern, as the overall app experience is quite impressive.
Looks and Feel of Zinio on Android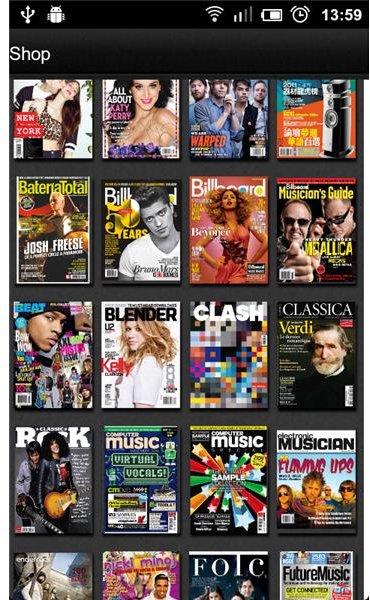 The overall look and feel of the app is very, very good. It is one of those apps that has been finished to a high standard. Although you might be more concerned with how it functions, an app of this type (mobile reading) has to be visually sound to attract a large following. The development team behind Zinio has definitely understood this aspect and has delivered a proper extension to the desktop experience. Everything about the app is very logical and complete, so much so that it almost seems unfair to even speak about Zinio for Android as an extension because it is appealing enough that you may never use the desktop version again at all.
When your account is properly set up you will find a massive database of magazine titles available for you. Zinio has made the sorting out easy for you as you can easily browse around based on genre. A search option is available as well when you want to jump right to your favorite magazine. Last but not least, you are able to browse through featured, top sellers and newly arrived titles so that you can keep up to date with what's new and popular. Since Zinio is free in the Android Market, there is no barrier to stop you from diving in and determining which magazine to purchase at your own pace. Needless to say, Zinio is also a good example of the new in-app purchasing model of the Market.
In conclusion, Zinio is an excellent application and provides a very comprehensive magazine reading experience for your Android device, whether a phone or tablet. The platform as a whole may leave some room for improvement, as I can imagine a subscription-form where physical and digital copies are combined. Nevertheless, for what it does now, Zinio is a great method of reading a wide variety of magazines on the go, nicely complemented with a very solid mobile experience within the Zinio Android app.
References