Android Virus Protection: Review of AVG Security Pro for Android
Viruses on Android, A Real Threat?
A virus threat is not necessarily the first thing you would be concerned about when purchasing a cell phone. However, in the 'new world' of smartphones, this assumption will not do anymore. At least this is what AVG (and other Android virus scanners) would like you to believe. This is a review of AVG Security Pro for Android, but before I dive into the app, I will first shed some light on the actual threat of viruses on Android.
Right off the bat, there is no real threat of viruses on Android. The operating system is, in essence, still a Linux build, which as a core principle is virtually virus-free. Having that said, what can be potentially harmful to Android users is malware or security exploits. Since many apps ask for permissions that might at first not seem directly related to the app's main purpose, you are granting developers access to certain areas of your phone that contain personal or other information. Let's see how AVG Security Pro works and if it can truly help you fill those nasty gaps.
AVG on Android: The Main Features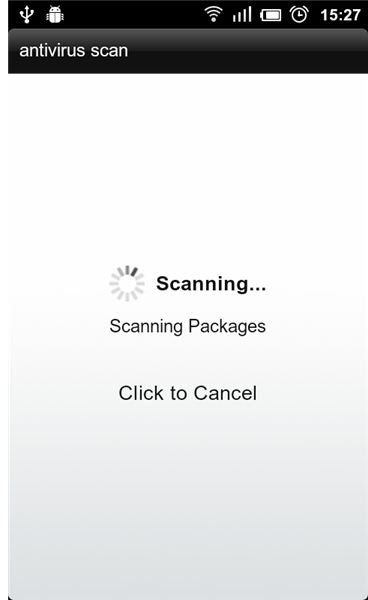 AVG is a household name for everybody using a PC, as it might well be the most famous free antivirus software available. Contrary to this principle, however, AVG Security Pro for Android is not free. As a matter of fact, users have to pay a premium at $4.99. Although this might put you off buying it, in principle it is a small price to pay to protect your Android device.
Security Pro was not always an AVG application, but was later purchased. As AVG also has their own software available, essentially there are two Pro apps available in the Android Market, which essentially share the same functionality. AVG Anti-Virus Pro, which is what the other application is called, costs five dollars more, which makes Security Pro the obvious choice.
The feature set of Security Pro comes down to the scanning of a variety of your phone's contents. It will check your apps, settings, content (SMS, Contacts and Bookmarks) and media (Images, Audio and Video). While scanning, it will look for malware, viruses and Operating System exploits. Additional features include a 'FindR' online service that will help you to locate your phone when it is lost or when it has been stolen and a backup feature, which lets you store away your apps and data. Furthermore, the app can lock your apps by securing them with a password, which can be quite a useful feature and might just be the aspect that most lives up to the app's name. All in all, Security Pro comes with quite a wide array of features that go beyond simply scanning your device for viruses.
Does It Really Provide Protection Against Malware, Exploits and Viruses?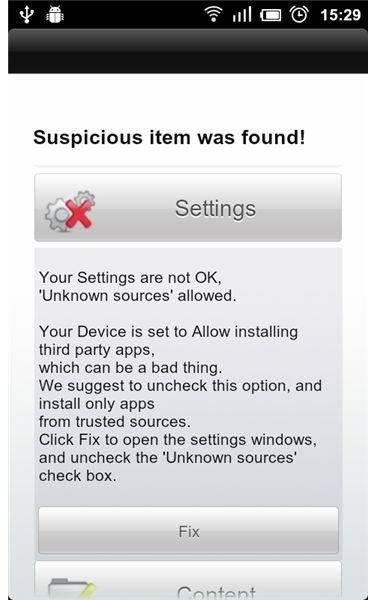 Whether the device-scanning service really works is a bit of a hard thing to judge. When your phone is working without any issues you may find it steep to shell out $4.99 on an application like this. In my case, Security Pro found 'suspicious' text messages, which were then 'fixed'. Since I never had any issues with text messages, I cannot really judge the impact this fix had.
The presence of the application is most noticeable when installing new applications, as it will check if any harmful APKs are slipping through. This is especially useful when you sideload Android apps onto your device. Psychologically, this will help you feel more secure about installing applications on your Android device.
The other feature of the app, which will allow you to locate your phone, does work quite well. As you might be quite willing to pay $4.99 for a phone locator app on its own, this feature might justify the price tag of this app and make it worthwhile. The backup feature also works as advertised, which helps towards adding value to AVG Security Pro.
Essentially, the purchasing cost of AVG Security Pro is justifiable as a phone locator app with the added features of virus, malware and OS exploit protection, as well as app and data backup. Unfortunately, the app is not advertised as such and as virus protection software it remains a bit of a doubtful service. When your phone works like a charm after you install this piece of Android software, you might consider it a success. However, whether or not this is really thanks to AVG Security Pro remains to be seen.
References