PowerAMP Android App Review
What's Wrong with the Default Android Music Player?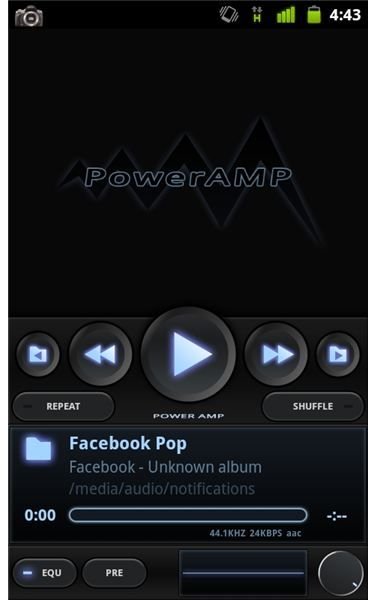 Actually, there's nothing really wrong with the default Android music player. It's a robust, fully functional music player that gets the job done. It's not even lacking in features. But as Android devices mature and continue to advance, so do Android users, and most are demanding more features from their music player.
An example of some requested features could be more presets, the ability to use different skins and a few other things besides. That's where the default Android music player falls short, and that's where third-party music players come in. Offering advanced features, one of these third-party Android music players is PowerAMP.
Delivering the Standard Music Player Features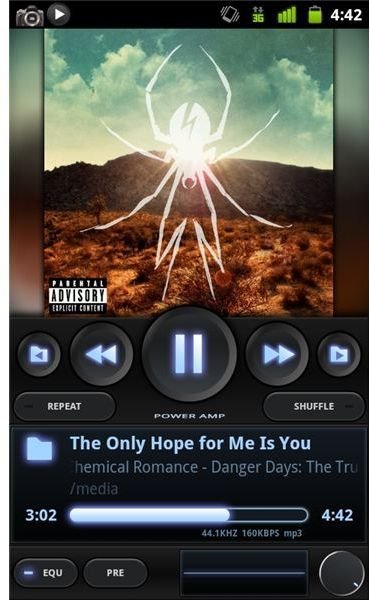 PowerAMP has been in beta mode for quite some time now. But recently an update was made available on the Android Market that unlocks the full version. Being a music player, PowerAMP delivers pretty much what you would normallly expect from a fully functional music player for your Android devices. It lets you play music, use music tracks as your phone's ringtone, add playlists, edit track tags information, search for album artwork, set a sleep timer, and select from several pre-loaded themes or skins. Speaking of themes or skins, PowerAMP has several slick-looking themes that will make you proud of putting the music player as a widget on your phone's homescreen or even using it right on your phone's lockscreen.
When it comes to playing music files, PowerAMP supports MP3, MP4/M4A, OGG, WMA, FLAC, WAV, APE, WV, and TTA. One feature that you will really appreciate from this music player is the 10 band optimized graphic equalizer that you can apply to all supported music formats, presets, custom presets, per-song/per-list/per-output preset assignment.
It also has a separate Bass and Treble assignment so you'll have the option to adjust only one at a time. Other features of PowerAMP include - the ability to use any of the 4 widgets on your homescreen, 2 widgets for the lockscreen with direct unlock, tag editor, scrobbling, visual themes, fast folder scanning, and various customization features accessible on the settings options.
Presets and Advanced Equalizer Features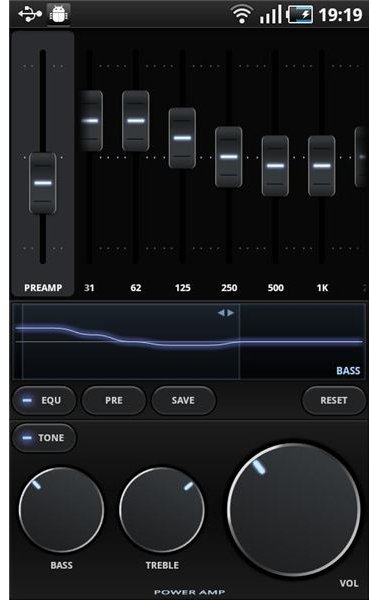 As mentioned what makes PowerAMP stand out from the rest of the third-party Android music player apps is the presets and advanced equalizer features. Remember WinAmp? PowerAMP will remind you of that famous MP3 player for your desktop. This app has several equalizer options including - bass, bass extreme, bass and treble, flat, classical, dance, rock, techno, phone speaker, live, middle, pop, soft, soft bass, and soft treble. When you select any of these presets, you can really hear the difference once it's applied. In other words the equalizer presets really work. If you're feeling more experimental, you can always manually adjust the equalizer settings via a slick user interface. And once you've set the perfect adjustments, the app lets you save that setup and add it to the list of presets available.
Aside from the equalizer features, another feature that you will like about PowerAMP is the preloaded skins or themes. There are currently 4 themes available, namely - Matte Metal, Aluminum, White Plastic and Black Neon. These themes all look gorgeous, especially if you're using an Android phone with excellent graphic displays.
Did We Miss Anything?
PowerAMP is available as a free download from the Android Market. This gives you the app with all of its functionality intact. However, this is just the trial version and will expire at some point in time. To unlock the full version you need to download the unlocker which is available as a separate download from the Android Market. It comes with a fee though – $4.99. But once you've unlocked the full version, you'll enjoy continous updates to the app as well as skip the expiration date of the app.
Just recently, the app was updated bringing in some new features including the ability to shuffle by Artist/Album/Genre selection via the Shuffle button, the option to enable "return to player" button in Folders/Library, option to hide equalizer deck in portrait mode, plus other fixes and improvements.
There are other options and settings that you can tweak after you have installed PowerAMP that will make your phone's music player a standout. You can check these features via the "Settings" menu of the app. There are basic and advanced folder options, headset options, scrobbling options, as well as miscellaneous options including lock screen, look and feel tweaks, and advanced tweaks. Check them one by one and see how they go once you've applied them to your installed PowerAMP Android app.
Best Music Player for Android?
Indeed, PowerAMP is possibly the best Android music player available from the Android Market right now. Its price may be a bit on the expensive side, especially for an Android app, but I'm telling you it's worth it for all the features that you're going to get from this Android app. It will bring new meaning and more dimensions to the way that you use your Android phone for listening to music and managing your music files.
References
Image Credit: Android Market.