MoboPlayer Review: Great Video Player for Android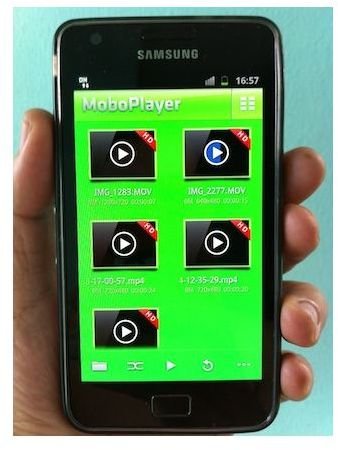 To claim that your app is a better video player on Android is different from claiming to be the best. The developer behind this Android app, called MoboPlayer, is brave enough to claim that it is the best Android video player. For one thing, the crowd is not too thin because there are definitely many Android video players around. But then, MoboPlayer has a bit of an edge over the rest of the Android video player crowd. For one thing, it can play a wide range of video formats such as Xvid and MKVs and many others. Try playing any video format and there's a 99% chance that MoboPlayer will play it. Another feature of MoboPlayer that sets it apart is the fact that it supports subtitles. Of course, we all know that subtitles are very important when watching foreign movies or even TV shows.
The app also features multi-audio streams and multi-subtitles. It also allows you to manage your playlists and continously play the same type of file. You can also sort videos by type, as well as display thumbnail of videos. For the last mentioned feature, I've noticed that it takes the app forever to do this. I have yet to successfully display the thumbnail images of videos that I've uploaded to my Samsung Galaxy S II.
Great but Not So Friendly Set Up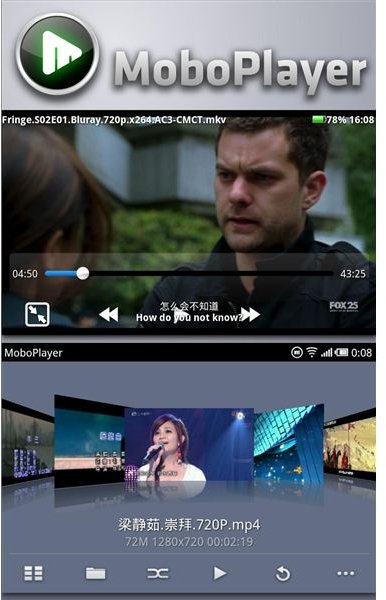 I was ready to give this app a thumbs-up based on the fact that it can play almost all video file types, but, when I installed the app on my Samsung Galaxy S II and started it, that's where the difficulty came in. The first time you fire up MoboPlayer, it will ask you to specify the file directory from which it will get your videos. The good thing about this is that you can select multiple directories. I don't know, it must be just me, but it took me quite a while to figure out how to do this. Anyway, once you've specified the source file directory, the app will load all the album art associated with your music files.
The app's home menu either displays the source directory of your videos or the thumbnail of your videos in grid format if your phone's display is in portrait mode. Try putting your phone into landscape mode and the display becomes cooler as the app now displays the thumbnails in a cool wheel display format similar to how the iPod displays album art.
Playing videos is pretty much straightforward – there aren't many options, except to toggle the full-screen view or go back to standard mode. The app also renders your videos pretty well, meaning high-quality videos are displayed in all their glorious details.
Other Features Worth Mentioning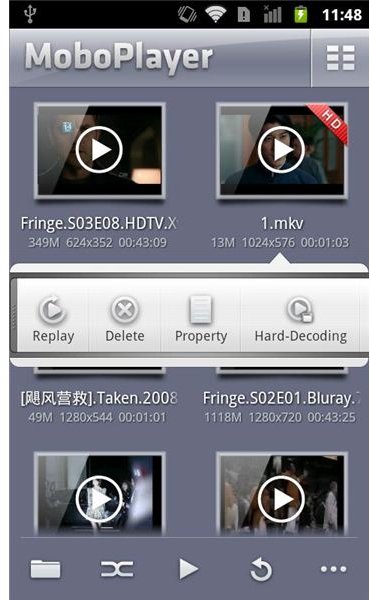 One feature that you may like about this app is the ability to choose the background color of the app's current skin. You can set a specific color or allow the app to randomly choose the background when you start it up. Alongside the background option, which incidentally can be access by tapping the "three dot icon" from the app's main menu, is the settings option. From here you can tweak so many things about the app's overall appearance and performance. These options include File List, Playback, Style of Subtitle, Media library, and version update.
One of the nicest features in the settings options is Gesture Sensitivity which lets you adjust the gesture level when using the app. If you install this app after reading our review, make sure to try the different Gesture Level options. You'll love this feature.
Best Video Player for Android?
I'm using the Samsung Galaxy S II running on Android 3.3. It has the latest default Android video player which I can say is a pretty good video player app and it has one essential feature which MoboPlayer currently doesn't have – video sharing. If you're going to use your phone to watch movies and commercial videos, the lack of sharing features is alright. But then if you're going to shoot your own video clips and you want to share them via Facebook, Twitter or email, well then this app will disappoint you in this regard. Aside from this, everything else about this app is pretty much as good, if not better, than the default Android video player.
MoboPlayer is a great video player for your Android smartphone, there's no doubt about that. But, is it the best video player for Android? I slightly doubt that. Until the social sharing feature is added, I will reserve the best video player title.
References
Image credit: Original photo provided by the author; screenshots courtesy of the app developer.