Spotting Great Food on Android with Foodspotting
Good Eats in Your Area
You may be familiar with Foursquare, Where, or Yelp. These apps allow users to tell friends, families, followers, and fans where they are, whether it be at the local coffee shop or at a favorite hangout. Yelp and Where are especially good for people to post reviews of their favorite and not so favorite places to go, which can be helpful to other users who are looking for similar restaurants or hang out spots.
But what about food? Think about it - have you ever gone to a great restaurant and had a really awesome meal and then proceeded to tell everyone about it? But what if you forgot the name of the dish or which restaurant you were at? As with all things technology wise, there is an app for that and that app is called Foodspotting.
What is Foodspotting?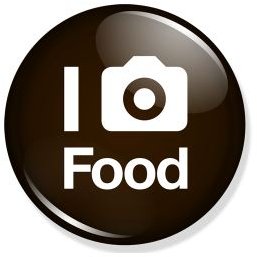 Foodspotting is an app offered for the iPhone, Android, and BlackBerry phones that allows users to find and rate particular meals at the restaurants they dine at. A bit like a standard restaurant review app, this app was actually developed on the basis that, while there were plenty of review apps for diners and restaurants, there were literally none for the foods that were served. To be fair, many times it's a place's meals that will get people to come back or dine for the first time ever, so why not let people know how great the food is?
The way the app does this is to showcase meals that have been favorited or "nom'd" by people who have had them. The more noms, the more excellent a dish was.
User Interface (4 out of 5)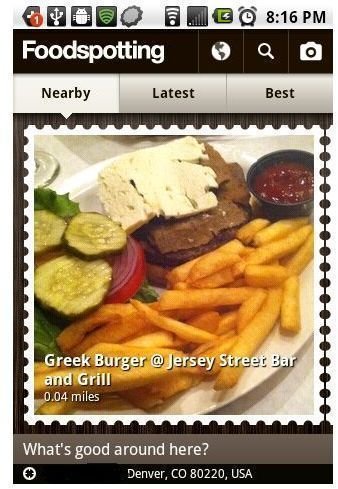 The functionality of Foodspotting is easy and user friendly. The app is easily downloaded from the Android Market for free and is ready to go immediately. The first thing it does is find your location, wherever you are at the moment, and when finished it gives picture displays of great food in your area.
When I first opened the app, it immediately honed in on the restaurant that is next door to where I live and a place that I have wanted to try. The app has three tab listings - nearby, latest, and best. Nearby shows you what meals people have had at restaurants near your current location. Latest shows you the latest foods that have been rated. Best shows you the best meals that people have had.
Features (5 out of 5)
Features are pretty standard for this app. As mentioned, there are different listings for food for the city that you are residing in. Signing up for Foodspotting allows you to nom foods that you've had, as well as recommend foods. This is actually a great feature as it allows you to share with your friends and families (or followers and fans) all the details about a great meal that you've just ordered and are about to have.
Foods are rated by noms, which are basically how tasty the meal was for that person. The best tab has a variety of different meals that are high on the list of noms. The nearby locations actually changed, which surprised me, meaning that the foods listed get updated when someone uploads a nom or meal.
Usability (5 out of 5)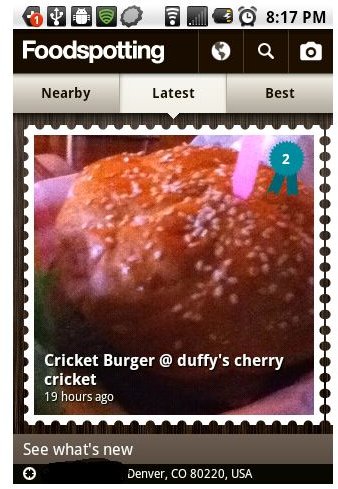 For me, using location based services like Foursquare or Yelp seems a bit pointless, especially when I don't want the world to know where I am, especially if I'm not at home. So the prospect of using this app, while interesting, did pose a question – would it really be something I would actually use?
The usability in the app will appeal to anyone who is traveling or is planning a move. I have just moved to my new city of Denver and while I've visited before moving, I am still not familiar with the area as of yet, not to mention that there are suburbs of the city that I have yet to see. One thing that I thought was surprising, but great, was seeing food listings of places that I've been to when I had first traveled here. The Cricket Burger, for example, shows up a lot on my listings and I can easily attest that these are some tasty burgers and I have yet to try some of the more adventurous toppings.
I'm actually finding myself looking forward to exploring and using the app to find good places to eat wherever I am.
Bottom Line (5 out of 5)
Foodspotting on Android is a great app to explore the different foods within your community. Even if you've been to a standard eatery loads of times, there may be foods that you haven't tried. While this app speaks to the inner cook in all of us, real foodies will enjoy going through their towns and others looking for great meals with plenty of noms.
References
Android Market, https://market.android.com/details?id=com.foodspotting