Review of Firefox for Android Smartphones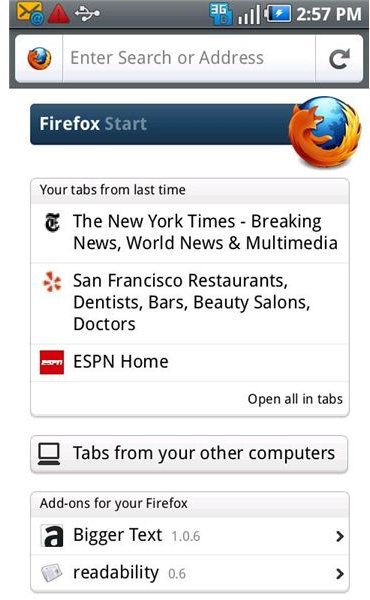 Just the name "Firefox" is enough to bring on some geek nostalgia. When the non-profit, open source Mozilla project released Firefox in 2004, it left Netscape and Internet Explorer in the cold. It felt like a revolution in the way we browse the Internet, with new pop-up protection and a more user-friendly toolbar.
Internet Explorer has improved a great deal since then, and Google's Chrome browser has been introduced and is now, in the opinion of this reviewer, the browser to beat. Now the Mozilla Corporation has unleashed Firefox on the already crowded mobile sphere. Will it make as big a splash on our phones as it did on our PCs? Forget swimming with sharks, when it comes to Android, Firefox has a Dolphin to contend with.
Interface Saves You from Typing (4 out of 5)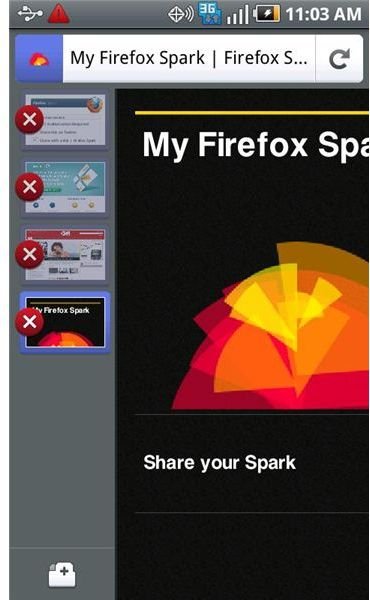 Where the user interface really shines is in its efforts to save you from typing. Even with the keyboard improvements in newer iterations of Android and third party keyboards like Swype, typing remains the weak link in the touch-screen experience. With Firefox for Android, every effort is made to replace typing with tapping. Hitting the combined URL/Search field not only pulls up the keyboard, but also a list of sites you might want to browse. You can choose between lists of "All Pages," "Bookmarks," "History" and "Desktop." Nine times out of ten you'll see the site you want in one of those lists without having to type anything at all.
"Desktop" pulls up a list of bookmarks from your computer and syncing these bookmarks is a painless process. Firefox also wants to save you the precious couple of seconds it takes to swipe to the top of the page in order to see the tabs and navigation links in the stock browser. Swiping to the right at any time will reveal thumbnails of your open tabs, while swiping to the left will reveal the "back," "forward," and "bookmark" buttons. Here's one place where Firefox has a leg up on Dolphin Browser; swiping menus away does not make the page look wonky, until you scroll or zoom, the way it does on Dolphin.
Features and What's Missing (3 out of 5)
If all this sounds great, it is, but here's the catch – no Adobe Flash. Mozilla says they hope to support Flash in a future version, but for now it feels like a deal-breaker. Did you really get an Android, rather than an iPhone, to browse a Flashless Internet? To add insult to injury, Flash is supported on all the other free third party browsers competing for your attention, like Opera, Dolphin and Skyfire to name a few. It's a real shame because the lack of Flash overwhelms the presence of other very useful features. There's the ability to save any page as a PDF from the "site options" menu, for instance, or to share any URL to Facebook in a couple of taps. Most of all, there's the sync features, which could have put Firefox for Android ahead of the competition if not for the lack of Android's favorite plug-in.
Firefox for Android doesn't only sync your bookmarks, but your passwords and history as well. The process is a good compromise between ease of use and privacy. On your desktop, open Firefox and pick "sync" from the "preferences" menu. Follow the prompts to set up an account. On your phone, hit the URL field and choose "desktop" from the list of menus. You'll be given a passkey that you'll then have to enter into your desktop under the "add device" menu in sync options. The process happens quickly in the background and brings you closer to Mozilla's vision of mobile browsing where typing is kept at a mininum. Passwords are especially helpful. My passwords are a jumble of alphabetical and numerical characters and are a pain to type on any touch-screen keyboard – Swype included. I enjoyed having them at the ready, though I put a pattern lock on my phone while the feature was enabled.
The Final Verdict - It's Average (3 out of 5)
I've rated Firefox as average, but in mobile browsing, average just doesn't cut it. Firefox doesn't load pages faster than any other Android browsers, and while its interface is smooth, so are its competitors. I really like the view of last open tabs and the various lists of sites and bookmarks, and because of those features Firefox for Android will warrant a second look once support for Flash makes it into a future version. Until then, Dolphin Browser is still the one to beat, and with a developer community introducing new add-ons all the time, it's hard to picture Firefox catching up. The irony is, Firefox created the notion of the open-source browser with add-ons. On Android it could be a victim of its own success.
References