NFC Payments on Android Using Google Wallet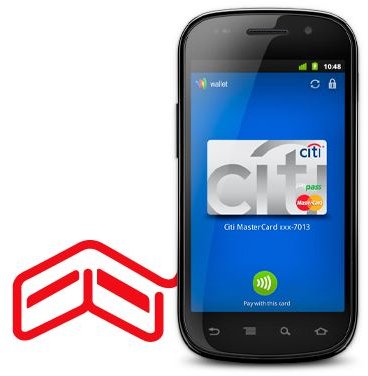 If you'd love a fast safe and reliable way to hold all your credit card information, coupons and financial information then tune in to the next big thing from Google for your Android powered phone. This technology unites your smartphone with your credit card in one device which will eliminate the need to carry bulky wallets and remember different PIN numbers. The phone uses NFC, or near field communication. There are a number of new devices, hitting the market and coming soon, that are offering NFC support and the potential applications for it are numerous.
This short-range wireless technology operates at a distance of typically 4 cm or less. The operating frequency is 13.56 MHz with speeds from 106 Kbit/s up to 848 Kbits/s. This is the same technology that we see in tags, stickers, key fobs, or cards that do not need batteries and also in peer-to-peer communication of powered devices. The main uses of NFC are sharing, pairing, and transactions, making it ideal technology to power Google's revolutionary app, Google Wallet.
Coming this summer, you'll be able to use this service with Citi® MasterCard®, Google Prepaid Card and gift cards at participating merchants. Eventually, Google intends for all of the credit cards companies to be supported. The first Android smartphone to have this service will be the Nexus S 4G by Google which is only available on Sprint. Later, more models of cell phones will be supported.
How the Payment is Handled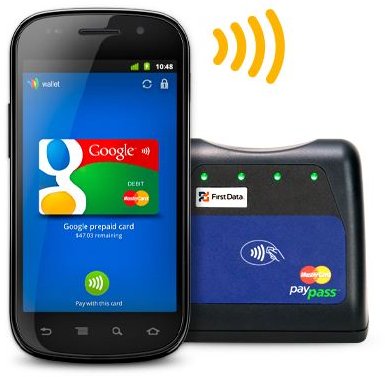 In order to carry on the transaction the store needs to have a receiver like the MasterCard "paypass" reader device. All you have to do is tap your phone on the reader and your phone sends the payment. To use your City MasterCard you need to enter your account information into the Wallet app on your phone. Then the information will be verified by Citi and your credit card credentials will be stored in a secured microchip on your phone.
You can also use a Google Prepaid Card which is a virtual card and can be funded by any other existing credit cards. When you activate your Google Prepaid Card with Google Wallet you get a $10 gift from Google into your account. Also, this Google service can store gift cards from merchants, transmitting your gift card information to the terminal when you tap to pay.
Google Offers and Loyalty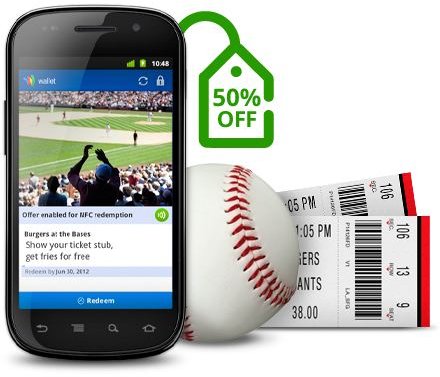 Google Offers are special deals on products and services at local or online businesses for Google customers. When you save or buy a Google Offer the information is saved to your phone and you can get discounts when you use your Google Wallet. It can even store loyalty cards from stores. You can find Google Offers by following this link www.google.com/offers.
The Level of Security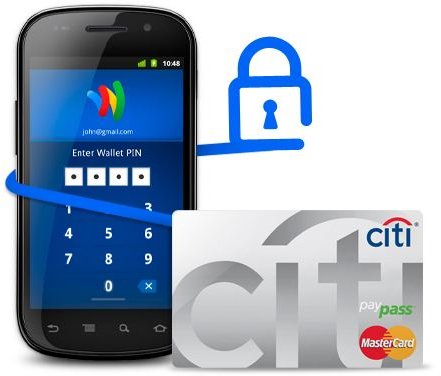 The security of this Google service goes one step further than conventional credit cards. The app can be accessed only if you enter the right Wallet PIN. All the data is encrypted and stored on a separate computer chip called the Secure Element. This chip is like a separate computer, running programs and storing data. Only the programs of the Secure Element can access the payment credentials.
Another layer of protection is provided by the encryption of data sent wirelessly between the phone and the MasterCard PayPass. But, still if your cell phone is lost or stolen the safest thing to do is to cancel your credit cards.
The Future of NFC Technology
NFC devices will eliminate the need to carry credit cards and money. Paying will become more secure than ever. Imagine one device for phone calls, surfing, emailing and finally, shopping. The apps will also evolve. One example will be buying a train ticket – just select your destination and tap your phone to buy the ticket to that destination. When the transaction is done you get a virtual ticket on to your phone which the conductor can check with his NFC device.
How about vending machines that have no buttons? Just select what you want from your phone app and then tap the phone to buy it. The possibilities are endless. The higher level of security, the faster and easier method of payment, and the variety of potential uses sets this technology a part. It could be a good way to replace the many credit cards, coupons, loyalty cards and bills in your pocket. One day paper currency will be obsolete; services like Google Wallet will take credit for this next step in payment evolution.
References