Review of the Google Docs Android App
A "Must Have" Upgrade?
One of the great advantages with mobile phones is that they offer an opportunity to work anywhere you like, to some degree. The Apple iPhone and Windows Phone both have mobile versions of Microsoft Office applications available, while Google Android has various office editors and viewers, most commonly QuickOffice.
Which all seems fair enough, until you consider that Google has its own office system, Google Docs. This browser-based cloud office solution is a popular way to write and edit documents on netbooks and similar devices with an Internet connection, but strangely has been unavailable on Android.
Until now.
It's Free, and It's Here! (4 out of 5)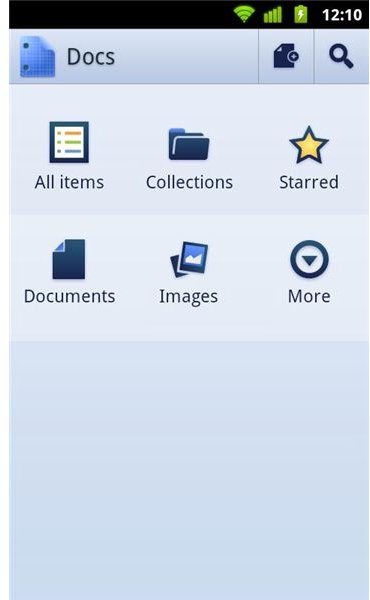 Many Android users will be celebrating the release of the official Google Docs Android app, not least because it enables them to discard the very poor My Docs alternative. While this app had its heart in the right place it was singularly unable to deal with being offline for more than a few moments, something that is very likely to occur when using a cloud-based app with a mobile Internet or Wi-Fi connection.
Obviously the official Google Docs app will overcome these issues, right?
Featuring the ability to view and edit documents and spreadsheets, share them with collaborators and even photograph a document and use OCR to convert it to text, Google Docs is free from the Android Market and is designed for use with Android 2.1 or later. Installation is quickly completed, meaning that you will be up and running in minutes.
Editing Documents with Google Docs (4 out of 5)
Using Google Docs on an Android device is very simple. After download from the Market, you can open the app and sign in with your usual Google account details to view and edit already created items, documents and images and create new ones. Although text and number entry is simple, there are a few expected formatting features missing from this tool, sadly, and when documents are opened they are indistinguishable from the versions seen in the Android browser viewing the mobile webpage version of Google Docs.
Depending on the size of your Android keyboard this will either be easy or a little uncomfortable, but the app is ideal for using with always on wireless connections, less-so for mobile Internet connections.
Drawbacks of Google Docs (1 out of 5)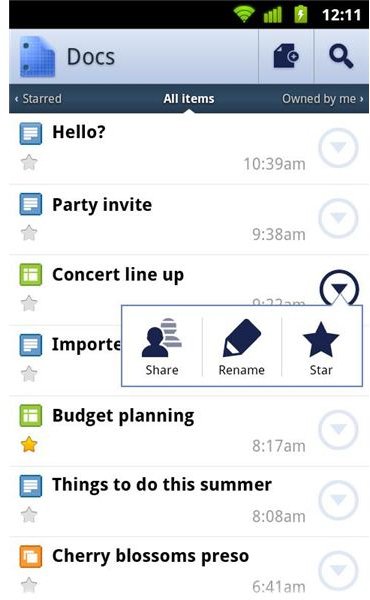 I recently took my Android device on the road in order to get some work done in preference to a netbook (I was travelling light). My main tool was going to be the My Docs app, with the plan being that I would write on my phone and then save the work to the cloud, picking it up in my web browser when I got home.
Sadly this didn't work out thanks to poor connectivity during the journey, so I ended up downloading a notepad app and writing in that.
I was cursing the lack of an official app that day…
However, things are never that simple. As easy as Google Docs is to use on an Android phone, like My Docs it is nothing more than a front end for the website. Although there is local caching of documents (according to the settings menu in which you can set a cache size) if the connection you are losing drops, your work is beyond reach, which pretty much negates the point of caching.
Ultimately there is a lot missing here. The Google Docs app for Android is nothing more than a menu for the service, just like an official version of My Docs, and until issues with cloud synchronization can be addressed there is nothing to choose between the two.
Disappointing.
References
Screenshots and references from Google Docs app for Android.