Voice Alerts Android App Review
Why Voice Alerts?
What is it going to take for you to respond to a phone call? Obviously the call itself and some sound theme that will alert you to the call. But that is all. However, there are other types of alerts that you should be aware of besides calls. Like SMS, and a low battery.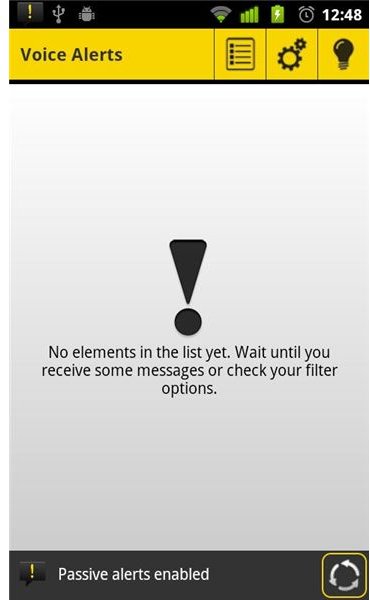 The underlying structure of this app works with the text-to-speech library that is available in the Android Market. If you don't already have it you need to download this free library.
In general this is what this app does. It reads the unread e-mails you receive on your Gmail account. By design, it is configurable so you can choose to read the attachments, as well as the date, or limit the number of characters being read per e-mail. But that is only the start of the feature set.
See Also Android Apps For Translating Speech to Text
Android Voice Alerts Features
Here are some of the specific features that come with this app.
Time changes: it can be configured to "speak" the current time in 15,30 and 60 minutes intervals.
Battery alerts: You can configure Voice Alerts to let you know the battery status of your Android. For example, if it has 5% power left you can get an alert. Also if the battery is in the process of being charged or when completely charged, you can get an alert.
Memory alerts: You can get a voice alert to inform you that the memory level is too low.
Message on Boot: You can get an alert when an app is being loaded and complete, or when it is removed.
Network availability: You can get an alert when when the connection to the network is interrupted and re-established.
Wifi connections: It can alert you when your phone connects to a Wi-Fi network.
Twitter integration, You will also know if you have Twitter messages from followers. You also need to have Twidroid, which comes in both free and full versions installed on your phone.
Night Mode: You can deactivate Voice Alerts at night or specify a time-range for Voice Alerts to be activated or non responsive.
Shake to Stop: If you don't want to hear an alert, just configure it to stop by shaking your phone.
Bluetooth response: If you have a Bluetooth headset you can configure Voice Alerts to be activated or deactivated when your mobile device is attached or not attached to a Bluetooth Headset. If you are driving this feature is useful.
Cost $4.82
Issues
Here are some of the reported issues with the Voice Alerts program app: The voicemail portion has problems with Samsung Android phones, it doesn't function correctly. The latest release sometimes keeps on talking even after a call has been sent to voicemail. So you have to stop and restart it to clear the process. Some users have reported that the app closes unexpectedly, but it is not clear which mobile phone version of Android they were using. Other users have reported that it won't let them sign into their Gmail account or tell them when they lose network connections. Nevertheless, the overall rating for this app is 4.05 out of 5 stars. The majority of users were very happy with the app.
Summary
Looking over the opportunities created by using this app, you have to feel impressed with what it offers. There are many possible configurations with Voice Alerts. It is flexible and can make your Android more responsive to your needs. Be aware that you may have to download the text-to-speech library for many of its implementations to take effect. But this is an app worth getting.
See Also: What is the Best Dictation App for Android?
References