Redbox Android App Review
One convenient way to rent a movie is to use a Redbox Kiosk. With approximately 26,000 pickup and drop off locations in the US and Puerto Rico it is likely that you can find a Redbox Kiosk near where you live. However, before you go to the kiosk it is a good idea to first check what movies are available and reserve the ones you like before you go make the pickup. You can check for a kiosk that is near you and also check what is available at that location by using the free Redbox app for Android devices.
Finding a Kiosk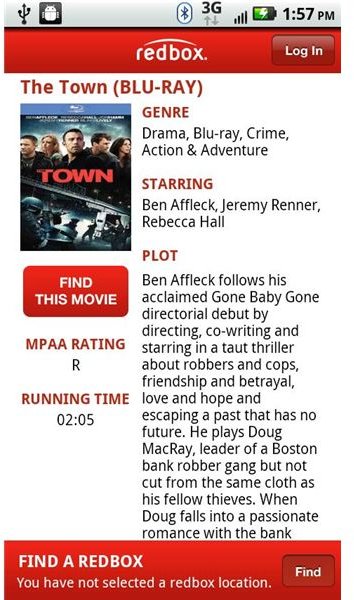 Once you are signed up for the service you can use the app to see what DVDs and Blu-ray discs are available at a specific location and make a reservation. You can also save a default location (Kiosk location) that you expect to use most of the time and check what movies are available at that location.
If you are out of town and want to find the nearest Redbox location, you can click the Change button at the bottom of the app and select "current location" to get a list of nearby Redbox properties. You can also enter an address, city, state or zip code to do a general search. The app will then show you search results, which include the address, approximate distance and navigation information to the kiosk.
Using the App to Rent a Movie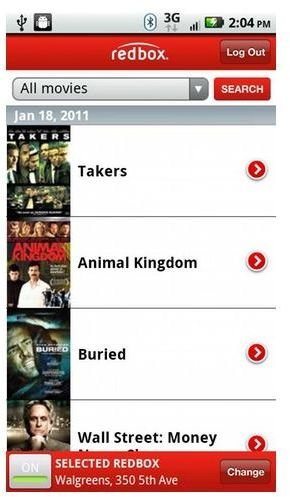 The Redbox Android app will show a list of the newest movies along with previous releases that you may want to watch. At the top of the app, beside the search button, is a genre list from which you can search for drama, family, romance, suspense and all the other categories.
Unfortunately, you can't use the app to search by directors, actors or ratings, which means that you are pretty much limited to searching for movies by title and browsing by genre. It would also be nice if the app had movie trailer previews but you will need to find that resource elsewhere.
Once you find the DVD or Blu-ray movie you want to watch, you must login to reserve it; you will be billed $1 plus any applicable tax for each night you keep the movie: when you rent a movie you have until 9pm the following day to return it. If you keep the movie for 25 days your card will be charged the retail price of the disc ($25 + tax for standard DVDs and $34.50 + tax for Blu-ray Discs).
Reserving a movie guarantees that it will be available to you until 9pm the next day. While the service makes it convenient for you to get a movie, the choices are limited to just those that are available at the kiosk at the time you want to rent.
It is important for you to remember that a movie that was previously available may not be there once you show up at the kiosk. Therefore the reservation feature is essential; if you see a movie you want to watch, make sure to reserve it so you can be sure that it will be available for you when you get there to pick it up later that day.
You may also be interested in how to watch movies on your Android phone and our review of the Blockbuster Android app.
References
Redbox, https://www.appbrain.com/app/redbox/com.redbox.android.activity
Image Credits: