Fox News Android App Review
For those of you who can't get enough of Fox News, there is an official Fox News Android app available so you can stay in touch with what's happening on that news and entertainment station.
We live in a fast-paced world that has tons of stuff happening all the time. Keeping up with all the news and updates can be challenging if not impossible, especially since it isn't practical to stayed glued to your television all the time just to stay up to date. One way that consumers can stay in-touch is with their mobile phones.
Fox has acknowledged the mobile trend by developing and releasing apps for the iPhone and Android platforms – other smartphone users can access a mobile version of the site via a web browser. The Fox News Android app is a completely free mobile version of the news site, so it can be downloaded for installation on compatible Android smartphones.
User Interface and Features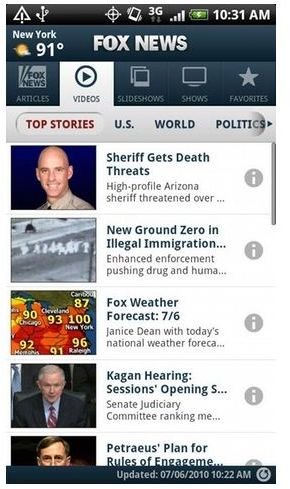 Once the app is launched users will notice a tab at the top from where they can access the latest articles, videos, slideshows or build their own favorites list. There is also an option to view popular Fox News shows such as the O'Reilly Factor and America Live. Frequent users of the app can also bookmark their favorite Fox News content for future reference.
If you prefer to search Fox's content by category there is a ticker style band that runs across the top of the app from where you can select a favorite content category – the ticker style category list scrolls horizontally so you can drag it to the left or right to get to the option you want. Videos are available for on-demand or delayed viewing so this is a great way to catch up on shows that you missed or re-watch something interesting that you have seen in the past.
You wont be able to find all the content that airs on Fox TV in this app though, nevertheless the app does carry a condensed version of most of the content that airs on the channel.
According to Fox, "The app features Fox News alerts with breaking developments on the day's most important stories, news from the U.S. and around the world, Fox News talk radio, photos and video."
Stability
Unfortunately, as of late Fox seems to have lost its commitment to maintaining the app. While many of its users find the app very useful and even indispensable, at the time of this review the app caused frequent forced close issues. To be fair to Fox, some of these issues could have been caused by recent software updates of the app and may be just as easily resolved. That said, the Fox News Android app is quite useful.
References:
FoxNews.com. July 14,2010. Fox News Launches Android Application https://www.foxnews.com/scitech/2010/07/14/fox-news-launches-android-application
Image Credits:
"Fox News Android app," https://www.appbrain.com/app/fox-news/com.foxnews.android