What Is NVidia Tegra Zone? Android's Next Generation Uncovered
A Place for NVidia Tegra Phones
With a change in hardware that will see Android phones coming into line with Android tablets, dual core handsets are likely to become commonplace in the next two years, enabling impressive graphics and gaming to become an expected part of the Android experience.
The vast majority of devices will feature NVidia Tegra 2 dual-core processors or similar next generation components.
What this means is a revolution across the Android platform, one that will give mobiles a key selling point, namely excellent gaming and video playback capabilities. To promote this, the NVidia Tegra Zone app has been launched on the Market – but is it just a big promo or does it fulfil a more vital need?
Slick User Interface (4 out of 5)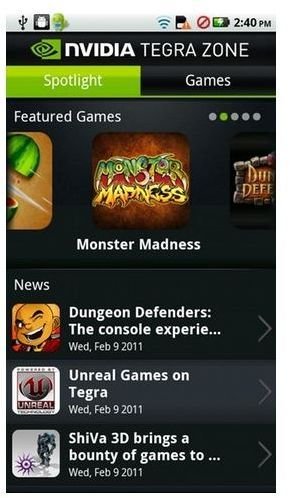 Available free from the Market but strictly for NVidia Tegra 2 devices running Android 2.2, the app offers two sections, Games and Spotlight, in order to promote the already available titles for Tegra-equipped Android mobiles (and tablets).
Not dissimilar to a magazine, the app offers an interesting selection of written content in the Spotlight section, and both Spotlight and Games are accessed with a slick user interface that can be scrolled through displaying text and images that can be viewed in full screen mode.
Limited Choice of Titles (2 out of 5)
At the time of writing, just eight titles are listed in NVidia Tegra Zone (one of which is yet to be released) – all of which can be purchased and downloaded via the Android Market. As such, it barely seems worth spending the time downloading and using the app as all of the same information can be found in the Market.
All the app is really doing is acting as a rather bulky filter, displaying titles that you could easily search for in the Market with the term "nvidia", and providing additional screenshots and video clips.
Clearly more and more titles are going to be released that take advantage of the CPU, but in the meantime this section of the app is left severely wanting, with only games like Fruit Ninja and Monster Madness listed.
Information and News (4 out of 5)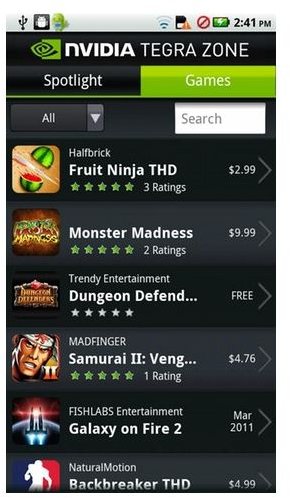 Where NVidia Tegra Zone really comes into its own is with the provision of news and information concerning devices that will be powered by the processor.
As explained earlier, the user interface is split into Spotlight and Games, and a range of interesting content is provided, with details about PlayStation Suite, the Unreal Engine 3 (which has enabled PC games to be converted to run on Tegra devices in a matter of hours) and information about the NVidia Tegra 2 itself (specs such as 3D gaming, physics acceleration, 1080p video, etc).
The only thing that is really missing is any regular updates to the content – a quick browse through the Spotlight section reveals articles added on just a couple of occasions each month. More information like this will certainly make the app a first call for anyone wanting news as well as games.
Needs More Content (3 out of 5)
While a useful app that serves the purpose of collecting all of the relevant data about the NVidia Tegra 2 processor and the currently available games, it feels a little cynical, or at least ill-considered. There is even a search tool – given that eight each of articles and titles are listed in the app, this seems rather hopeful!
With game ratings and user reviews providing a sort of "potted Market" the app would be a much more useful and honest app if it focused on articles and interviews with relevant industry and gaming figures.
References