YouTube Leanback Review - Leanback and the YouTube Remote App
A New Age for TV
If you haven't heard about the rage in Internet TV, sit back and you'll hear a tale. Technology has grown in leaps and bounds, changing everything we previously used to do into things we can now do in front of our computer monitors, on the go, and even through our television sets. Internet TV is basically the ability to watch Internet videos or services, like Hulu or Netflix through your TV.
This has already started with Netflix users being able to stream their accounts through, either their gaming consoles (Xbox 360, Wii), or though third party connections, such as Windows Media Center. Media Center is just one version of hardware and software that is available for retail purchase that connects an Internet ready TV to the hardware.
One of these programs is the newly released Google TV. Though still in the initial stages, Google has released a YouTube program that allows for you to watch your favorite YouTube videos. This is known as YouTube Leanback.
Concept (4 out of 5)
The concept for YouTube Leanback is simple - it allows for full, HD video playback of your favorite YT videos in full screen. If you are signed in to either your Google or YT account, the listings that show up will be those based on your favorites or YT subscriptions that are shown in what is called your feed. You are also able to search for videos, as well as add videos.
The good thing about Leanback is that, if you're considering getting Google TV, you do a test run on your computer. GTV works with a single keyboard, so you'll be able to use your computer keyboard to navigate, however, I found that using the mouse made for a much better and quicker way of getting around. You can also use the YouTube Remote app on your Android cell phone - more on that later.
Video Selection (3 out of 5)
Well other reviews on Leanback state that your feed will show you videos based on your subscriptions - much like how the web based YT works - I would much rather have my subscriptions or favorites listed from the beginning. I was (and always) signed in to YouTube, so being met with my subscriptions or favorites would have been preferable.

Many people might enjoy this, as the purpose of YT is to watch and search for videos; personally though, I go to YT in the event that I can't find certain videos elsewhere (like on Netflix). On the upside, however, I was able to see some of my subscription selections or videos, but again, I was surprised that for some subscriptions (like Star Trek: The Next Generation), actual episodes weren't shown, but instead it was mostly fan made videos.
Video Quality (5 out of 5)
YouTube Leanback presents videos in high definition and full screen, so that you can 'lean back' and watch your video. The quality is quite good (based on my watching it on my desktop). I've experienced watching YT videos on a full screen TV (54 inch) in HD mode and the difference is there and easily seen.
Video Continuation (1 out of 5)
For most videos on YouTube, there is at least a ten minute video limit. This in itself isn't too bad, however, for some reason changes to YouTube seem to have disallowed continuous playback, meaning that if a show or movie you are watching is in, say 3 parts, YT does not jump to the next video.
This used to be something that YT provided, but does not any more for some reason. This is of course a major drawback for Leanback. For an application that will be used primarily for TV use, so that folks can watch their favorites on a big screen TV instead of a 19 inch monitor, the ability for continuous playback is needed. I for one sometimes use the videos as just straight background noise, as some might use their TVs, so to have to stop a task and hit the next video (which also sometimes doesn't show up in order) can be a hassle and I'm speaking primarily as someone on a computer, but I can imagine how annoying that would be when trying to watch through the TV.
I also found that I was unable to view uploaders through the Leanback program, instead it takes the user to the main YT website.
Another drawback I found was the need to favorite videos in order to put them in a listing that I would want to watch, instead of trying to pick through my feeds. Again, that meant needing to go to YouTube proper to do so. The upside was that they appeared immediately in Leanback, but again the downside was that they were out of order. Why would anyone want to watch part 11 first?
I think this is a major setback for YouTube.
YouTube Remote App (5 out of 5)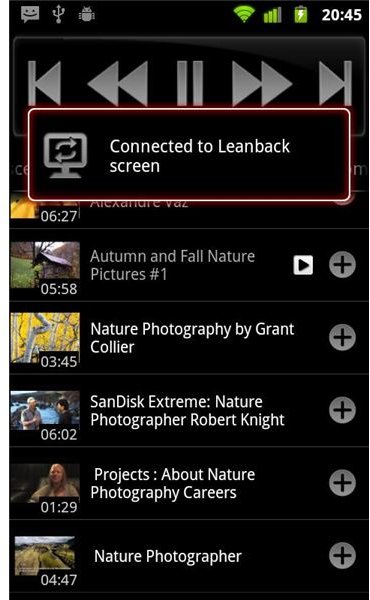 The YouTube remote app is definitely an awesome release for Android cell users. It's an app that you can download through the Android Market that virtually turns your cell into a remote for YouTube Leanback. You can choose your videos from the phone, as well as control the playback, even when the tab (or browser window) isn't in the forefront.
You can also choose which videos show up on the remote, as well as using finger swipes to go through videos and selections. The remote does a better job with subscriptions, however, it only shows up the most recently added videos, which can be a good thing or a bad thing, depending. It was a slightly bad thing for me, as the videos that showed were ones I wasn't interested in watching, but it is a definite good sign if you're waiting for something new.
Overall Impressions (3 out of 5)
There's no doubt that YouTube Leanback has some problems, however, it does look to be a really great application for those with or thinking about getting GoogleTV. While there are downsides, these are attributed to YT itself and at this stage, the program isn't going to be perfect. But there are some good things about it too, such as the ability to show your friends that funny video you saw or an episode of your favorite show without having fifteen people grouped around a computer screen.
If you want to test YouTube Leanback yourself, you can go to the main website and enjoy it on your PC.
References
YouTube Leanback, https://www.youtube.com/leanback
Android Market, https://market.android.com/details?id=com.google.android.ytremote
Images via Leanback (@author account)