Sony Android Reader App Review
"Start Reading Now"
The Sony Reader for Android app opens with your typical login screen – but, with an option to "Start Reading Now." This provides you with all the features of a Sony Reader for Android experience, from bookmarking to highlighting to searching the volume, except you are limited to a sample reading collection.
"Start Reading" Screenshots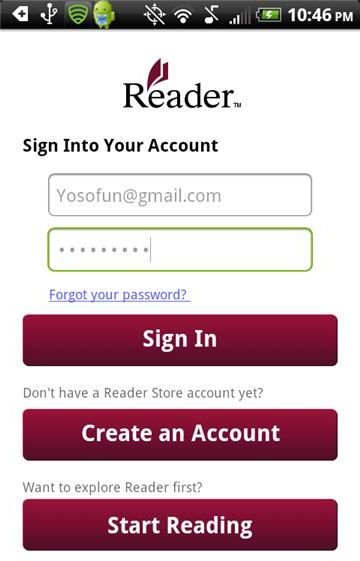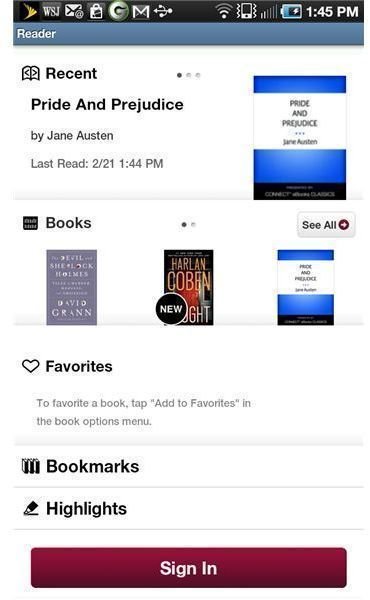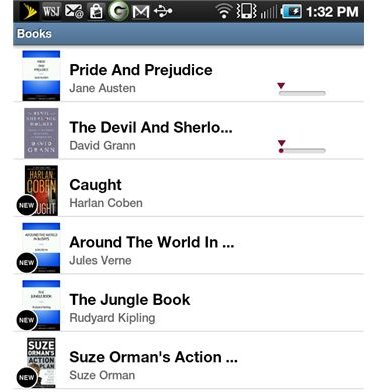 Account Creation
When you're finally ready to curate your own books, the next step is to create an account (or login), to access the Sony Store.
The login creation process turned out to be a hassle. When you create a new account, instead of having the account creation being inline, the app launches your browser. There are elements on the website that won't load on Opera Mobile, so you have to stick with the default browser. Once you're finally able to load the login page, there are the usual entry fields with opt-in checkboxes for various Sony newsletters, promo's and special offers. The e-mail is case-sensitive, so watch out if your Android keyboard auto-capitalizes the first letter on the first field.
Reading Interface
The reading interface features the usual six buttons, upon hitting the Android menu button:
"Books" gives you easy access to the list of books you have in your library. If it's a book you just ordered, you'll see the cover with a download icon overlayed on the corner, where you can choose to download at your leisure (or where data coverage defaults to Wi-Fi).
"Search" pops up a search bar, where you can type in a word to find it in context of the book. Note that, while not case-sensitive, this is an "exact search." For example, if you type in "fountains " with an extra trailing space, it won't search for "fountains," (with a comma).
"Appearance" gives options to change the brightness of the screen along a slider, from very dim to very bright. Plus and Minus buttons increase the font size from very small to very large. Formatting - As expected, the Reader works well for well-formatted texts (this includes some movie scripts - they read well on landscape mode!). The caveat is on care, and for certain texts that don't flow-well with various screensizes, their rendering may suffer.
"Jump To" lets you easily jump to key pages, whether specified in Contents or by yourself via Bookmarks and Highlights.
"Add Bookmark" is a toggle that goes to "Unbookmark" when there's the usual iconic dogeared mark on the top right hand corner of the page. These bookmarks can also be "jumped to" via the previous interface.
"More" loads a menu with two more options:
"Book Info" shows purchase date and current reading position.
"Add to Favorites" adds the volume to a list of favorites for easy access later.
"Highlighting": Touch press to highlight. A bulky, bubbly highlighting interface pops up. It's difficult to highlight a word to the exact beginning of a paragraph, for example. Highlights are accessible via the "Jump To" and other list interfaces.
Screenshots of Reading Interface Features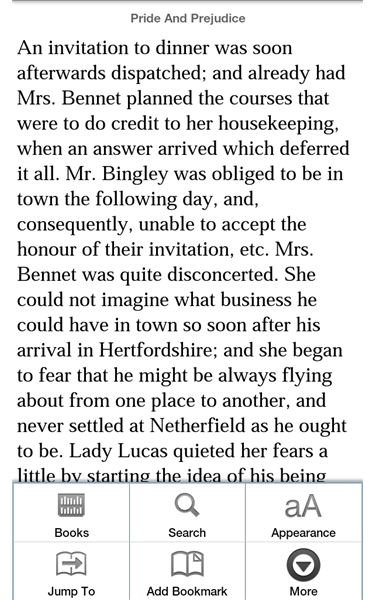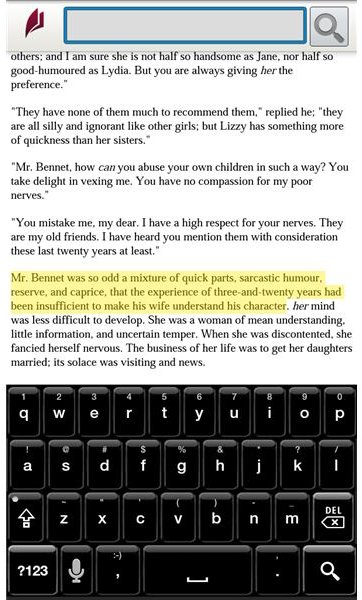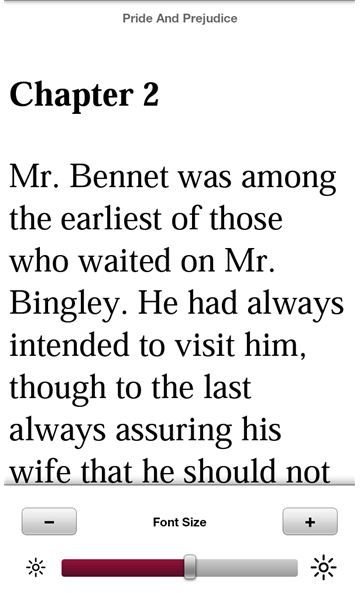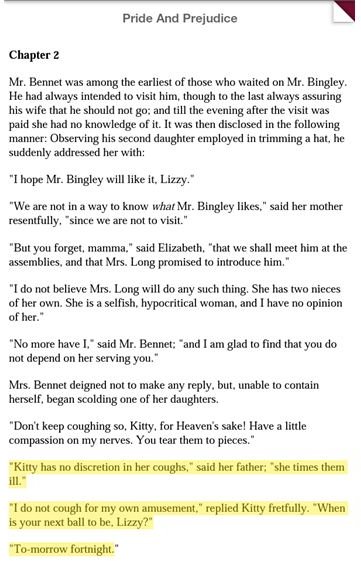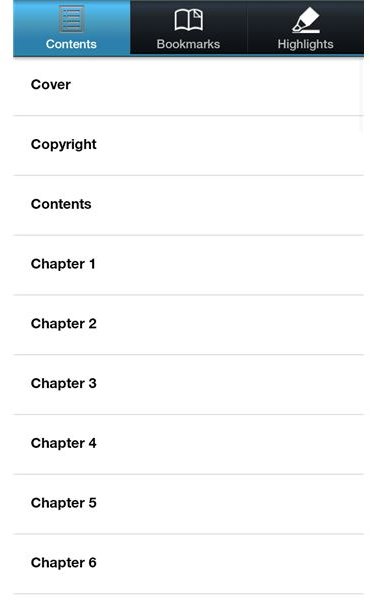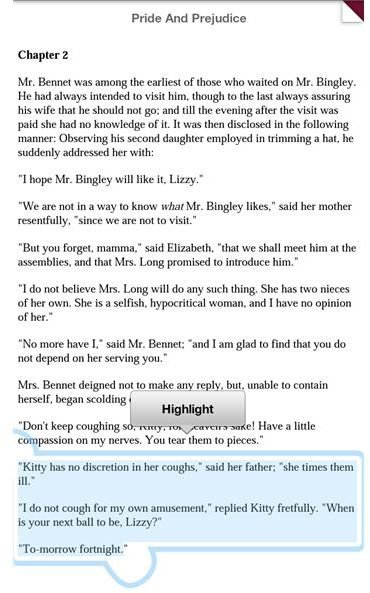 Sony Store and Content Selection
Because the store can currently only be accessed using an external browser, searching for books is much easier done on a computer, using a regular browser. Once you've found what you want to purchase, type in the name in search on the device to purchase it. Otherwise, you'll run into way too many "launch external browser" prompts.
On Selection: It looks like the Sony Reader Store has everything the Kindle Store has, but Amazon will price-match on the Kindle edition if the Sony Reader Store has that occasional dealbreaker. There are a few apparent "Reader Store" only editions, which are short-edition gems, such as "Interview with Anne Rice" (Dated Nov 18, 2010. Tidbits-this-particular-Anne-Rice-fan-did-not-know: We both love Frances Ford Coppola and Baz Luhrman. Rice would cast Ridley Scott as director of Angel Time/Of Love and Evil, and Michael Pitt to play Toby and Matt Bomer to play Malchiah).
The reviews for each volume in the Sony Reader store come from Goodreads.
One major minus so far is that the Sony Reader store has limited access to public domain books. The selection of volumes from Google Books is not yet accessible via the Sony Reader for Android app. This inconvenience means you'll be paying 95 cents minimum for a badly formatted copy of King Lear, for example (yes, as with most eReaders, formatting issues abound, especially for dramatic, public domain works).
Automated Syncing Across Devices
While the Sony Reader for Android app has plenty of room for improvement, it syncs purchases across devices seamlessly. I was able to purchase books on my HTC Evo, then have the volumes instantly show up on my Tab, without having to hit the refresh button.
Screenshots of Reader Store and Syncing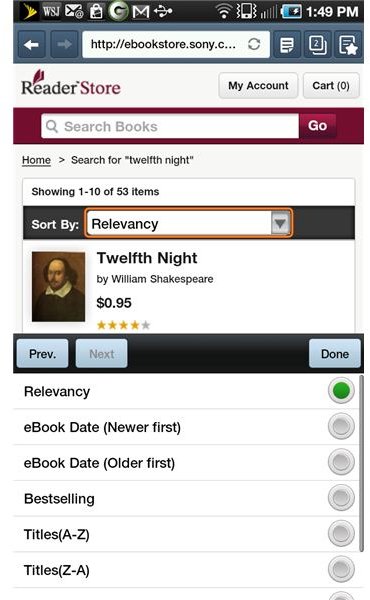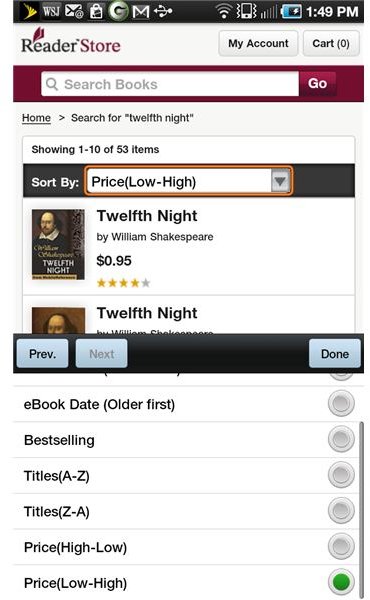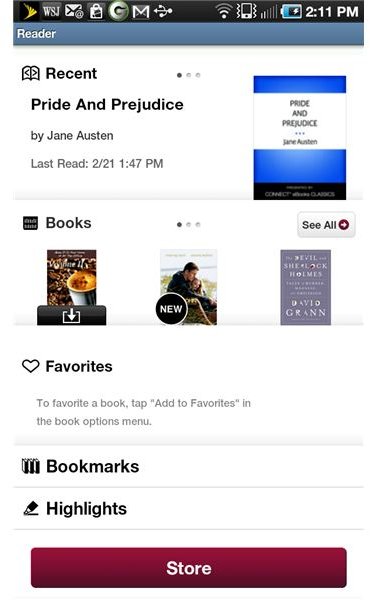 Conclusion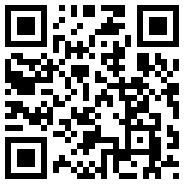 The Sony Reader for Android is a well-rounded eReader app that has all the usual features you've come to expect in a reader app. Highlighting is a bit awkward to use with its bubbly interface, compared to Amazon Kindle's straight-on highlighting. Being able to easily jump to another book from within the reading interface is convenient, as well as much-more streamlined syncing. The Sony Reader Store is a hassle to use completely on the mobile device, and is easier used when browsing the site on a regular computer. While Goodreads reviews are often good, it would be helpful to also interface with other reviews within the Sony Reader Store. The selection of public domain works (available for free) appears limited until Google Books is enabled on Sony Reader for Android.
References
Author experience.
Android Market, https://market.android.com/details?id=com.sony.drbd.mobile.reader&feature=search_result