Review of Android HanDBase
Android HanDBase App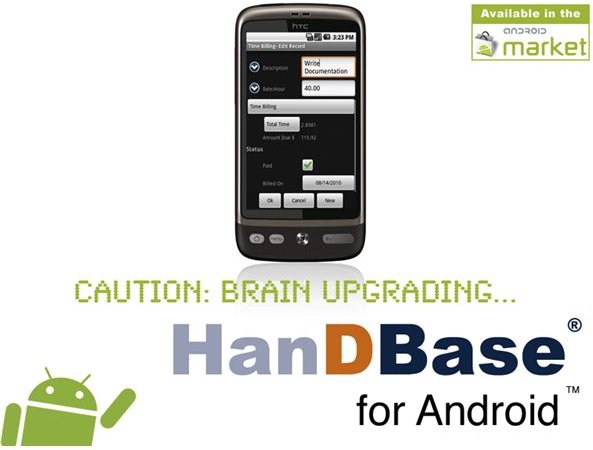 Android HanDBase is a relational database application with cross-platform availability, including an optional desktop component that converts data from other formats to HanDBase so you can carry your important data with you. For synchronization with desktop computers, DDH Software, Inc offers different add on packages.
Getting Started
To get started, set up an Android device to synchronize with the HanDBase client on Mac or PC Desktop. Simply connect your mobile device via a USB cable to your computer and start HanDBase. From the device menu, choose 'Sync/Configure Android devices.' A pop up window will appear, add your Android device to the list of synchronized devices by selecting the '+' sign.
Next, open any existing database (CSV format) in HanDBase on your Mac or PC Desktop and import the CSV file as a new database. This new database will be saved in the documents folder of your Android device. You cannot store the file wherever you want. However, once the databases are installed on your Android device, HanDBase is pretty easy to use.
Features
Android HandDBase's key features are:
Android HanDBase has few basic screens - a list of databases, the database view screen, and the settings screen. Tapping on the title of a database from the list of databases, opens and exhibits the contents of the database. Once inside the database, you can customize the way you want to view information by choosing which fields should appear, what order to show them in, and the width of the field. You can also give unique names to each view.

While viewing a database, tapping on the Android menu button will let you add new records to a database, re-sort data, apply a filter, search, and delete or email records. From the database properties, you can change view options, create new views and modify the characteristics of the fields, including their names, type, and size.

You can customize and edit database fields by renaming the fields, choosing the type of data like dates or text, and selecting the field length. Android HanDBase also includes a relationship field which lets you create databases that will link to and extract data from another database stored on your handheld. From within the properties settings, you can also reorder the fields.

HanDBase software also provides options to encrypt data. It includes security options for password protecting and encrypting the information that you don't want to share.

You can even e-mail data records via this application.

The startup action can also be modified to open using a specific view or the last view used. For large databases, you can identify from where within the data set, the database will open.

Lastly, DDH Software, Inc. maintains a gallery of over 2,000 database designs available for download for Android users.
Conclusion
HanDBase is a longtime favorite app that is available on almost every mobile platform. Its user- friendliness, easily readable screens with plenty of viewing and customization options makes it an impressive application that searches, sorts, edits and filters every kind of information. However, the synchronization process with the PC desktop isn't very intuitive. Overall, it's one of the most reliable and complete relational database applications for Android devices. The app is available in the Android Market for $9.99.

References