Android App Review: Colornote Notepad Notes Review
Android Colornote Review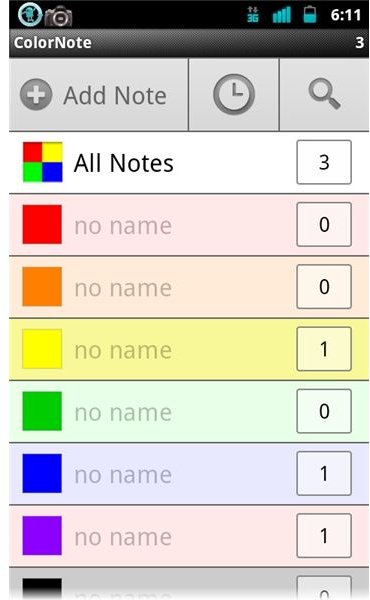 As simple as this app is, it can still be very useful. It's a plain and simple notepad app, a list app, and to-do app rolled into one nifty and useful free Android app. If you're too busy with your day-to-day life that you tend to forget things that you need to do or remember, you'll certainly find Colornote Notepad Notes app useful.
To simply describe this Android app, allow me to say that Colornote is a notepad app that gives you a better note editing experience. It provides you with a quick and simple way of writing notes, e-mails, messages, shopping lists and to-do lists. But as I mentioned, what makes this notepad app interesting and fun to use is the facility for organizing your notes into color.
The Colornote Android app gives you a 9 color selection to use in categorizing your notes, plain and simple. Can you imagine how fun and clear it is to check out your notes in multi-color listings?
Another nice feature of this app is the fact that it also allows you to create checklists for things you need to do, say a shopping list. Like when categorizing notes, you can also assign colors to this to-do category.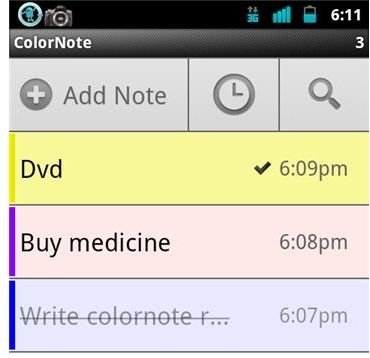 Colornote also allows you to make a note as a reminder. You can set a note to be an all day reminder, time alarm or pin it to your Android phone's status bar. The app description also says that you can add a note as a widget to your phone's homescreen. Unfortunately, I can't seem to find out how this works. Colornote will not appear on the list of widgets whenever I'm long pressing on the home screen. The only thing I can do is to pin a note to my Android phone's status bar.
The app also lets you create secured backups of your notes to your SD card. Likewise you can select a password to lock or unlock your notes. Another nice feature of the app is the two-views which you can use for displaying your notes - that is by list or boxed grid view. Personally, I prefer the grid/box view more than the usual list view.
Our Verdict
Obviously, we will recommend this Android app. And by enumerating its useful and powerful features, this Android Colornote review will convince you to give this app a try. If you're a mobile warrior with too many things to keep in mind and remember, you'll certainly need a good notepad where ever you go. If you have an Android app, you don't need to get those traditional notepads. Your Android cell phone and this Colornote Notepad Notes app is enough to get you through your daily chores. The app will ensure that you'll never forget important things anymore.
Colornote is available as a free download from the Android Market.
References
Colornote Notepad Notes: Android Market.
Image credit: Screenshots of Colornote Android app courtesy of the author.